Quality personnel training program documents
Quality personnel training program documents established to recording training subject, activities and review details for improvement of training programs.
Quality personnel training program documents are prepared, maintained and update for collecting information of training program of quality concern, training subjects and its concern activities, review records of quality personnel training for managing training requirements, identify training needs of quality inspectors, company individual, specific requirements for quality inspection and internal quality system maintained and education for quality inspectors. The training program for quality personnel is arrange for aware and trained quality inspector of each stage of quality or quality testing, inspection conducting in various processes are conducting, requirements of testing and standards for quality to maintain testing criteria, requirements of quality testing for product and improvement of quality inspection in company by proper awareness training program. The purpose of quality personnel training is to provide quality inspection training to each quality inspector to deliver performance at quality inspection processes effectively and enhance product inspection during quality concern process at various stages of inspection. Quality personnel training program is group training program but the review of the quality inspection training / quality training and its documentation are conducted individual and same the reviews records are maintained and update.
Quality personnel training program documents, formats are prepared by human resources department and human resources department is responsible for provide formats, documents and individual information to quality department for identification of training needs for quality inspection and inspection criteria, quality manager is responsible for conducting those formats and documentation for identification of requirements for training where all the quality inspections, product standards requirements for quality and technical information which is needs to deliver in the product manufacturing and inspection process. quality manager is conducting all the quality personnel individual information for provides training, identification of quality requirements as per product, the documentation are maintained by quality manager during the training program and filled information as per index are provided by human resources, quality personnel training program reviews are conducted by quality manager as per training provided, see picture below given as example format of quality personnel training program for education purpose: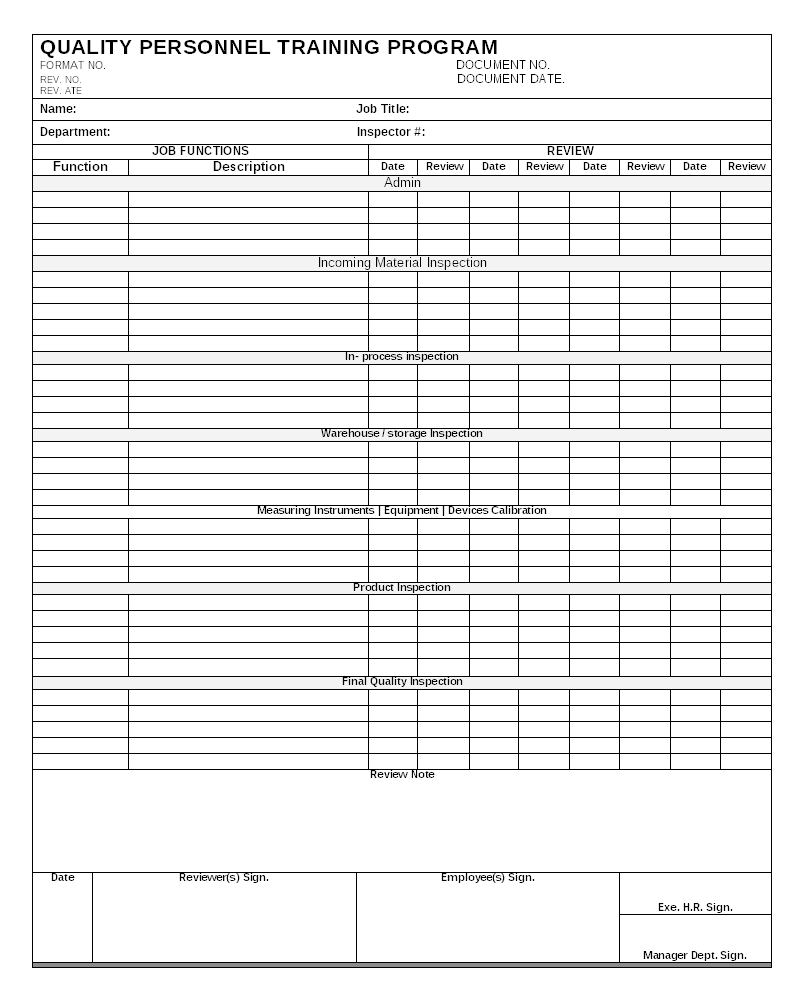 Quality personnel training program is conducted by qualified trainers where each activities of the company's where quality concern issues or quality inspections are required, generally its concern from raw materials to final inspection of the product are covered, in process inspection, warehouse and storage inspection, how to maintain measuring equipment, devices and instruments for quality concern, product inspection and packaging of the product are also covered for maintain quality system in internal management system. The documentation of quality personnel training program are maintained and storage at human resources department and same document copy with quality department for further analysis and determine training requirements.
——————————————————————
Download format in word document | Excel Sheet | PDF format
——————————————————————
Related Posts: