Employee attendance document
Employee attendance document established to recording monthly information of individual employee to manage attendance for payroll.
Employee attendance document prepared, maintained and update for recording regular attendance of employee, the records are maintained on base of the daily attendance register, this register is used for recording monthly records of individual employee which is manage for annum, employee attendance information of individual employee are managed and update for payroll works.  The human resources department is conducting this process for managing individual employee records, the general requirements of the payroll is maintaining monthly attendance of each employee working in the organization. Human resources department executives are calculating each employee daily attendance and managing records in single format for monthly basic which is maintained for year to maintain individual employee's records, where present and absents are managed and also manage leaves that provided by company as extra are calculated and carry forward as requirements that is in case employee on leave that adjustment are manage accordingly. The records of each employee are manage in single format but individual balance of leave is manage as per monthly deduction of leave from leave balance, and same the balance leaves are forward to next month, and individuals records are maintained for the year.
Employee attendance document is prepared by human resources department, and human resources manager is responsible to assign duties to concern peoples, provide guidelines and procedures for employee attendance documentation & payroll for each employee, and also to monitoring and controls over activities of the employee attendance documentation and system deployed for payroll that is employee attendance management. Concern appointees are responsible for managing daily as well as monthly attendance of each employee of the company and identify payable to employee accordingly. See picture below given as example format of employee attendance records for education purpose: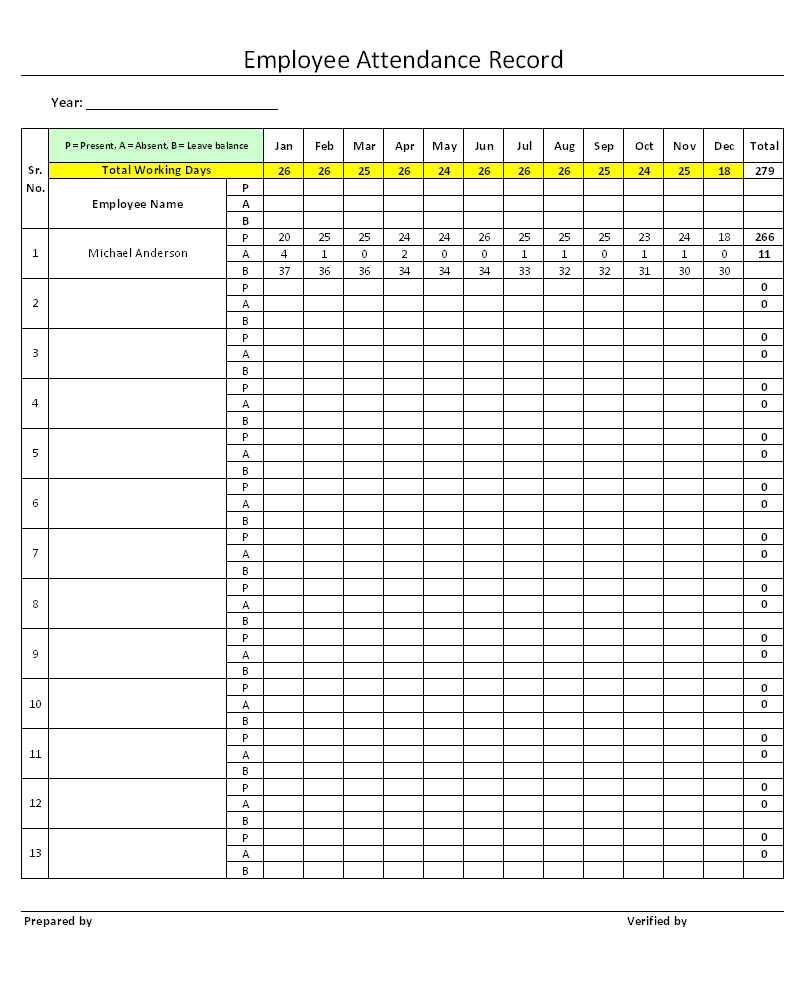 Employee attendance record format is used for conducting monthly attendance records as well annual records, the records are managed for employee attendance to use for payroll individual employee. The records are verified and approval as per requirements or as per frequency defined by management for human resources, generally monthly records verification are suitable for human resources manager, and on base of the records further processes are conducted. Employee attendance records are maintained and update as per monthly basic and its records are maintained for year, the record storage and updates is maintained as per standards system.
———————————————————————————
Download format in word document | Excel Sheet | PDF format
———————————————————————————