Equipment operation startup checklist is prepared to ensure all functions and operations are working properly as parameters required.
Overview to equipment operation startup checklist
Most of the businesses are using the equipment operation startup checklist for the verify equipment function on start any operation. The startup checklist may includes the various function verification such as: Spares & Parts, cleaning, Materials, and fuels etc. Normally, equipment operator verify these functions with equipment checklist before start any operation.
This is simple checklist document may help to check out with pre-printed function list. These list may help to ensure all functions and operation condition. Even more, this checklist may also include operation requirements, materials, safety, equipment condition, housekeeping and 5s etc around the place.
What can verify with the checklist?
This checklist may use before start any equipment's operation. The checklist may help to verify following:
Safety of the equipment and around the place where equipment installed.
Equipment failure
Equipment general system.
Malfunction
In case of non compliance are found during the verification of checklist. The maintenance team should immediate repair these parts where issues are identified.
How to prepare equipment startup checklist?
Use manufacturer manual for preparing equipment checklist.
It is very important thing that you have to consider before the making a equipment checklist. Each equipment have its own functions and complex system. Before the making a checklist, review equipment's manufacturers' manual for accurate checklist.
Normally, each equipment needs it's specific checklist. But generally some information are common with each equipment checklist. First of you have to include general points which are basically use for checklist. Later on, specific points which are comes from equipment manufacturer's manual. These points which is more specific and accurate as per equipment functions.
Who will prepare the checklist?
This is actually join operation, equipment manager, production manager, equipment technicians, maintenance team and equipment operators are join for making a checklist. They are identify each function requirements, listing spare & parts, general information, uses of equipment etc. These basic information may help to prepare accurate checklist which may use on regular basis.
Some of the points that may also needs to focus for preparing checklist are:
Check out each parts, which are in trouble.
Verify the spares & parts, identify and categorize the parts which are in critical items.
Understand regular operations of equipment.
These simple and basic information may help to prepare perfect checklist that will in regular operations.
See picture below given reference example of equipment startup checklist which can directly used at plan with individual company requirement: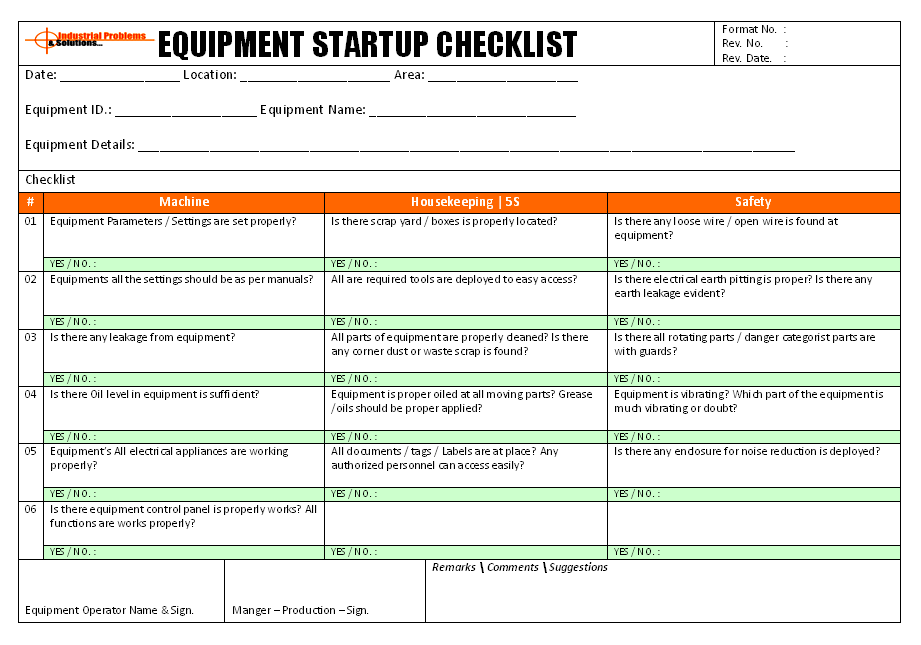 Who will use this checklist? & How to use?
Obviously, equipment operator will use this checklist. Normally, on before the equipment start, operator will be verify the checklist points' to ensure all functions, condition are good. These process will be perform regular basis.Later on completion of all verification, operator will be submit this checklist to equipment manager.
—————————————————————————–
Download format in word document | Excel Sheet | PDF format
—————————————————————————–