External rejection documentation
External rejection documentation establishment required collecting & record information from customers had rejected quantity supplied to customers.
External rejection documentation are prepared, maintained and deployed in system to managing records are generated due to external rejection, external rejection records are provided by customers against the materials are supplied to customers, during customer internal inspection supplied materials are rejected or part of quantity is rejected that the rejection notes and concern documents are provided by customers, those records are maintained and recorded in external rejection records for further analysis that is identification of reasons of rejection occurred, requirements of actions and determine actions for product quality improvement. External rejection records are managed for each customers separately as returned or reports are provided, the product quality is depends on feedback are received from customers and external rejection reports is helpful for improvement of product quality.
External rejection documentation prepared & managed by quality department, quality manager is responsible for conducting rejection records, quality manager communicate with customers for rejections, identify reasons of rejections, prepared documents for external rejections & analysis documents and records for determine action plan for improvement of product quality. The quality inspection team is also re-verify all returned materials which are rejected by customers to ensure that materials having defects are from raw materials or in-process / manufacturing defects to identify mistake / error for preparation of mistake proofing planning or incase the raw materials defects that inspection processes are verification needs to conducted how the materials are released after raw materials defects, in case the in-process defects that on which processes having the defect is occurred, which processes having and on which machine the materials was processes are common analysis are conducted and determination of actions plan are prepared and same are implemented where required. The documents of external rejection is pivot part that whole process is conducted, see picture below given as example format of external rejection report for education purpose: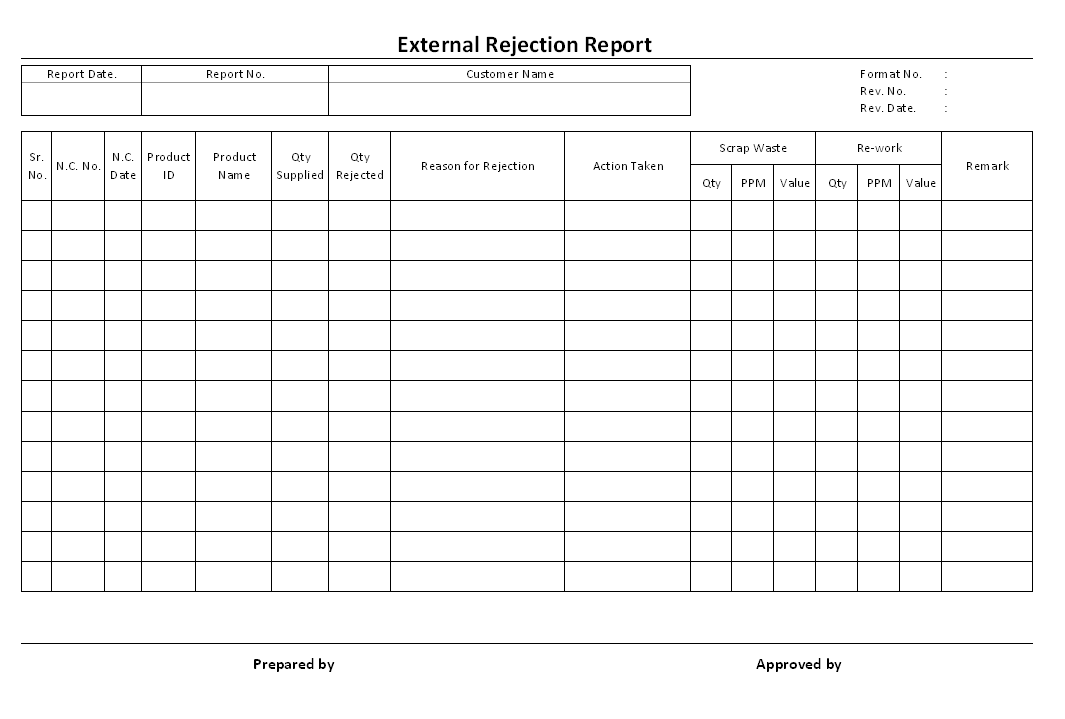 External rejection report is format is prepared by quality department for managing external rejection records, as returned or rejected materials by customer. The records are maintained for identification of root causes of rejection, the material rejected by customer is conducted for re-inspection by quality inspection team, inspection processes are conducted to find out the reasons behind the reasons and same the action plan are prepared and implemented as required. The records are needs to maintain as per internal management system formats.
————————————————————————
Download format in word document | Excel Sheet | PDF format
———————————————————————–