Equipment repair cost accounting
Equipment repair cost accounting is process that conduct for accounting maintenance expenses of equipment for annum.
Equipment repair cost accounting process establishment required to managing documentation of equipment maintenance and identify cost of maintenance of individual equipment during the year, the process is conducted to calculate whole repair expense of equipment are done for running the equipment for manufacturing or supporting processes and its expenses records are maintained in the document for managing overall expenses of equipment, equipment repair cost is calculated by equipment manager for maintaining equipment and balancing equipment budget for annual. Equipment manager is conducting whole process for accounting purpose, but this process is also conducted for identify maximum reasons that equipment is being goes down during the year, and its important part of the calculation of maintaining records and processes for identify reasons behind equipment breakdown and repair costs to easier for determine actions to minimize breakdowns during the years to take necessary actions on it.
Equipment repair cost accounting process is established and deployed to managing equipment maintenance concern records to identify maintenance cost of individual equipment and also for collecting information of breakdowns occurred during the year, and reasons for breakdowns are occurred are managed and identify specific reasons that frequently happened and conducted probability of reasons for breakdown are noted and equipment manager is determine action plan for minimize breakdown on specific reasons are happened with equipment again and again, the identified reasons are conducted for implementation of action plan determined during analysis. On base of the equipment expenses whole budget and its concern analysis records are also conducted by management for further actions. The records are managed of expenses or cost records in equipment repair cost log, see picture below given as example format of equipment repair cost log for education purpose: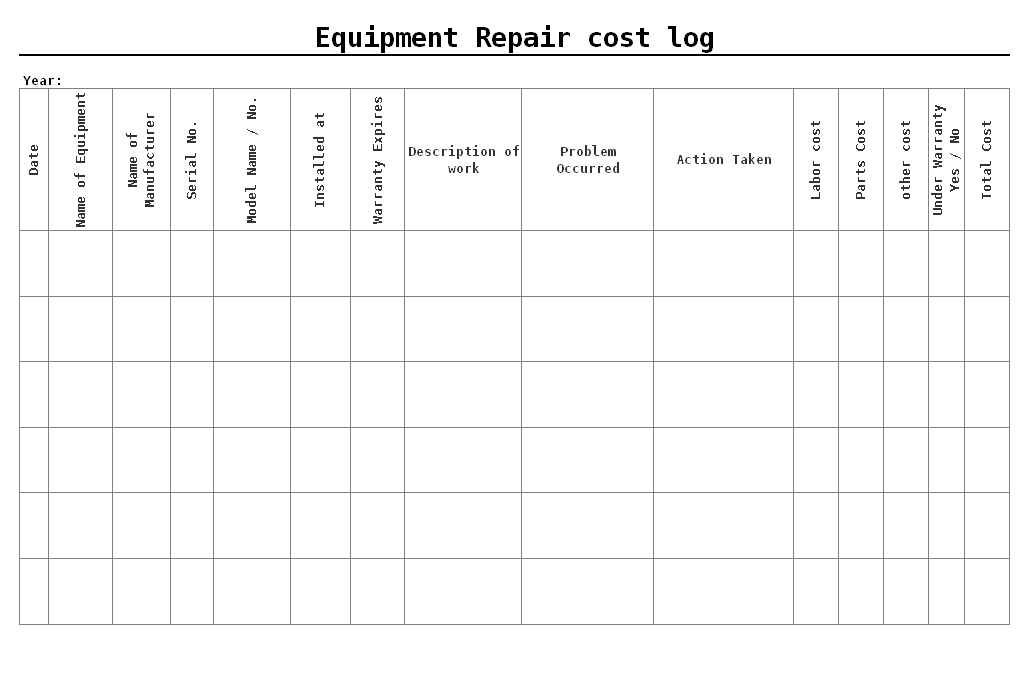 Equipment repair cost log format in used to managing records of each equipment maintenance and its applied cost during the year, the records are established by equipment manager for conducting records and analysis purpose, on base of the record analysis equipment manager can determine actions for equipment improvement and identification of resources requirements for particular equipment. The documents are maintained as per requirements or any equipment occurred maintenance during the year. The records are maintained as per standard system that is management adopted system for internal management processes.
—————————————————————————-
Download format in word document | Excel Sheet | PDF format
—————————————————————————-