Fire extinguisher training verification quiz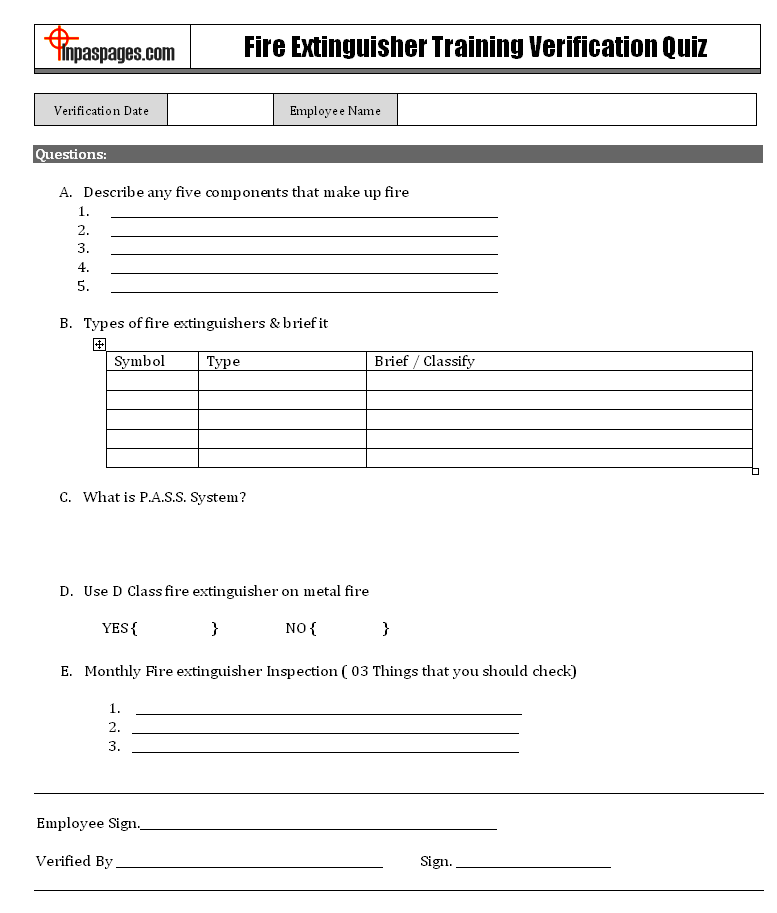 Fire extinguisher training is awareness training for the used of the fire extinguishers, awareness about type of fire extinguishers, where to used, during the fire accident how to and which type of fire extinguisher need to extinguish, which types of fire extinguishers are and what the role in the emergency of fire. Fire extinguisher training is providing knowledge about type of fire. In the fire extinguisher training through internally immediate actions on the fire extinguishing methods, try for termite fire accidents & loss of the assets are in middle of the training.
Each training needs its auditing effectiveness, fire extinguisher training effective checking is important for the trainee, on base of the information, knowledge fire team are prepared & effectively act on real emergency time, hence verification is very important after training of fire extinguisher. For the fire extinguisher training verification, some basic question that is quiz for the checking of effectiveness of fire extinguisher training, some questions are as below for your reference:
Describe any five components that make up fire. – This question is knowledge of the flammable material information which is normal in industry, but when the departmental training that is difficult to find the components.

Types of fire extinguishers & brief information – classification of the fire extinguisher – in the industry four types of the fire extinguishers are used which is effectively use and on which material which fire extinguisher needed, during the training are provided.

What is PASS – PASS is the system for the use of the fire extinguisher, pass full description as below:
P = Puss the Pin

A = Aim the hose.

S = Squeeze the handle

S = Sweep
Fire extinguisher monthly inspection check points, what should prefer? Etc. type of question that important for the find out and motivate to trainee to get from books.
EXAMPLES, SAMPLES & FORMATS