Inventory tracking sheet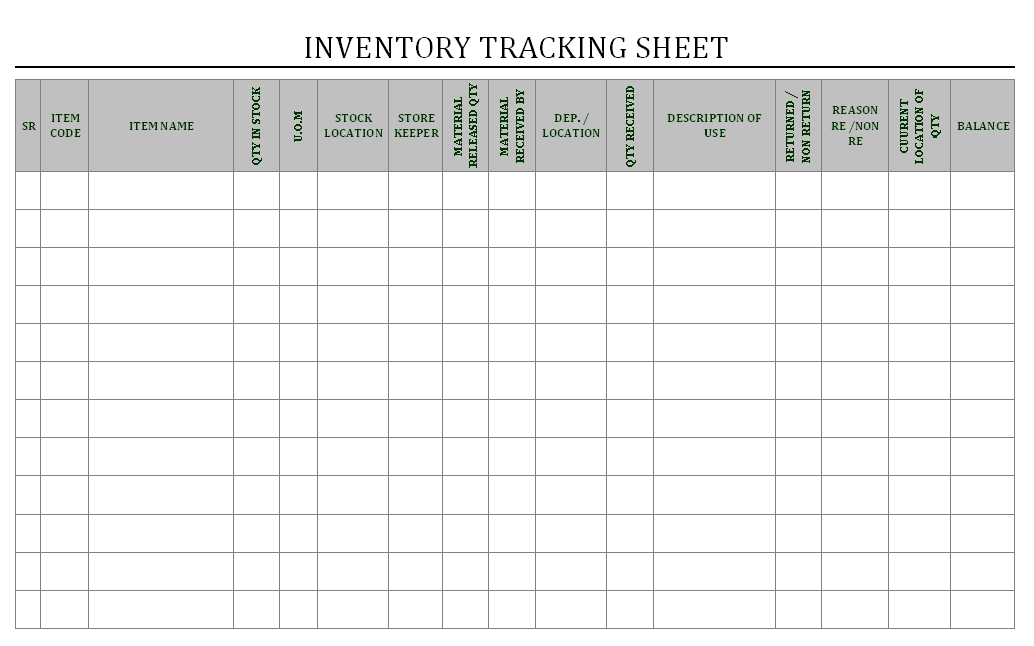 For the manufacturing unit as well as any corporate section which is directly attached with material inventory that required to each material separately recording identifying actual and accurate stock as and when required. For the tracking of each inventory material needs to tracking sheet or structural record to possible tracking each material.
For the inventory tracking sheet, here as below given example format as below:
Item code – item code is unique to easier for identify the material on base of the item code, this vastly used in the manufacturing units where thousands of material are stored and easy to find any particular material.

Quantity in stock – as on material record sheet on date how much material is available in stock

O.M. – Unit of measurement, quantity which in stock and transiting are measuring in unit.

Stock Location – currently the material is on which stage or location, this is very important to location should be accurate / place should be clear and well know words should used to easier for all the concern.

Store keeper – Name of the person who handing the storage material

Material released quantity – this is issue from the store on request of end user department.

Material Received by – name of the person who had received the quantity

Department / Location – Name of the department or exact location to easier for find out place.

Quantity received

Description of use – Details of the material are used at which place, accurate information help to identify material application

Returned material / Non Returned information should be mention.

Reason for Returned / Non returned material – full information of the returned or not returned material, whether it is used in application or possible its just a tooling material which is used as supporting in manufacturing or other process that returned to store.

Current location of quantity – material which is released by the store, name of the place where actually moved by user department, this is help to tracking the real place of the material

Balance – End of the whole process what quantity having with store.
EXAMPLES, SAMPLES & FORMATS
You would also like to read