Fluid used document
Fluid used document is established to recording liquids, chemicals etc, in processes and to identify hazardous fluid used at various locations.
Fluid used document is prepared & deployed in the system as per environment heath and safety system to ensure that fluid used in the manufacturing processes and supporting system, regular used in production lines are managed properly and for identification that liquids are used in processes are hazardous or non-hazardous, in case any fluid identify as hazardous that needs to special treatment with it during handling, moving and used in various processes. The purpose of preparation of document for fluid used is to managing records for identification of hazardous liquids are used in various processes and in various production lines, and to managing each fluid records to tracking for further requirements in manufacturing to ordering and balancing for compliance of manufacturing requirements. The documentation for recording and managing information to collecting from various processes, manage fluid and its used, instructions notes and other documents are conducted, verified and manage for further analysis in case fluid identified as hazardous material, the materials are conducted for improvement of system  for human and environment safety.
Fluid used document is prepared by department supervisor and submit to management representative, management representative is responsible for conducting records from various department and especially from purchase department that handling purchasing materials where the entire material safety data sheet are recorded and stored, management representative collect copies of MSDS for identify hazardous fluid which used in various processes and departments. Management representative is also responsible for analysis all information and data collected from various department to manage and deploy system for environment and human safety against fluid's hazardous and provide secure working environment to peoples are working with it. See the picture below given as example format of fluid used record which is used by management representative for conducting further actions, the format is provided for education purpose: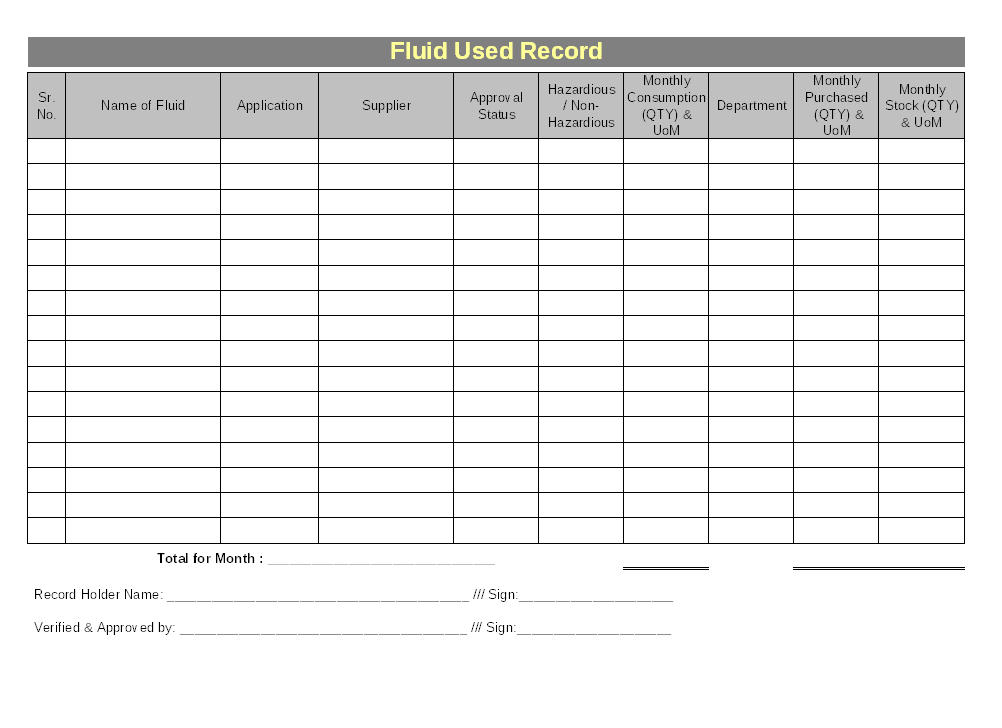 Fluid used record is maintain all information concern fluid used in various department, the records are handled and update by management representative for conducting and manage as per standard management, the records are used for improvement of safety and environment system in the company that important to identification and documentation requirements for safety concern.
————————————————————————–
Download format in word document | Excel Sheet | PDF format
————————————————————————–