Hand tool Inspection – Safety Requirements
Hand tool inspection process is to ensure the hand tool used in the various processes and maintenance activities are properly inspected and maintained safety requirements.
Hand tool is frequently used in manufacturing processes, electrical and maintenance activities to perform tasks and supporting to requirements of the activities are needed hand tool, mostly in maintenance activities hand tool is most frequent used materials on the failure, setting up and other requirements of the machinery, equipment, instruments and devices that should be accurate & safe to work during any task raised for it. Hand tool inspection is requirements to concern of safety in work environment, hand tools that supporting tools of manufacturing activities that some processes and on failure mode maintenance task is raised and activated that hand tool used are common in those task, inspection of the hand tool is provides assurance to peoples who handle the task will be safe during the performing task.
General Guideline
Hand tool Inspection should be complete on frequency defined by management to support of maintenance department, responsible person to do inspections at the prescribed intervals.
In case the hand tool inspection is not found satisfactory that inspector should contact with maintenance manager to correct the hand tool identified non conformity, error or any damage.
The hand tool is not found in order that defective, mistake; inaccurate as per specifications that should be immediate actions should be required by maintenance on reporting of inspectors. Each action should be comply requirements of specific requirements of hand tool and safety.
In any hand tool is identified as defective that should immediate tagged defective and should be reported to concern personnel for further actions on it.
Check each hand tool in used should be proper checked and verified and should be approved by authorized person, in case of modified, self made tools that should be approved by engineers and approval authority to considered and certificate by concern authority.
All the hand tools should be clean conditions, any visual or any kind of damage is not acceptable, slippery handles or loose handles, loose bolts and parts are not acceptable, in case found immediate non complied reported.
The entire hand tool should be proper storage and handling processes are safe and available with storage department.
Hand tool user should be proper trained and certified by concern authority to used in processes.
The Hand tool storage and maintenance department should maintain and update the list of all significant hand tools which is used in processes and also all hand tool which is under maintenance or none conformed during the inspection, each under repair tools should be proper labeled by under maintenance. Hand tool inspection is conducted by qualified personnel and its records are maintain for the same, for the documentation of the hand tool inspection, see picture below which is used to proper inspection by checklist format: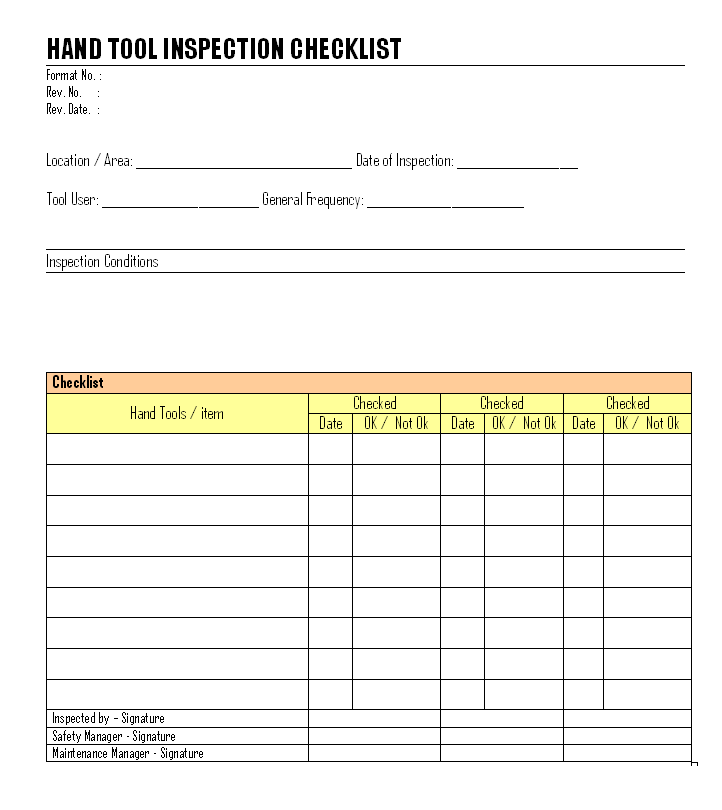 In the hand tool inspection checklist all the concern points are conducted to takes individual hand tool for the identify mistake, defects i.e. non conformity to comply the requirements of standards, and also in the hand tool inspection, inspection team is comment or suggest its view for the improvement of the system or hand tool safety and effectiveness in the process, all the findings are conducted by inspector and reporting to concern department i.e. head of the maintenance department and also submit to management for the immediate actions are taken on priority. On compliance of all required actions that maintenance team is contact with inspector to clear the non conformity on after conformation of re-inspection of hand tool.
All the records are maintained by maintenance department and qualified equipment inspection teams, and same the copy of the each activities are submitted to management and safety office to conform and comply requirements of safety in workplace.
———————————————————————–
Download Format Word document | Excel Sheet | PDF Format
———————————————————————–