Hazard Analysis form
An organization are manufacturing unit, workmen must in touch with the heavy engineering products, machinery and equipment which can be create any significant hazards that directly or indirectly effects are comes on the human health and safety.  To concern of the health and safety, process wise / department / activities wise hazard are identify, analysis and its controls are deployed for the minimize risk on the humans who are working in company premises.
Through hazard analysis form, some required format is given as below:
Process – name of the process where hazards are going to identify.
Activities – activities and its sub activities are very important to understand the whole processes, on base of the activities hazard is easier for identify with which subject that hazard directly concerned. During the hazard analysis activities is base platform the identification of the hazards.
Hazard – Identified hazard name and its descriptions are motioned in this form, activities wise hazard identification and note down is primary requirement of the hazard identification and assessment process.
significant – identified hazard is significant, if the hazard is identify as significant that action are required to minimize its risk at level to non significant are equally affects.
Non significant – identified hazard is non significant that no meaning that there are no any action required, if the possible that eliminate non significant hazard from the process, here hazard is need to eliminate not the minimize risk.
controls – controls and its measures are depends on base of the hazards, each control points are effective on base of the activities, each controls can be engineering change, change in process or alternative solutions are taken as the actions, some hazards are controlled through personal protective equipment.
This format is made simple to given primary requirements, actually hazard identification & risk assessment is very lengthy process which all the above fields are merge in single format, but for the education purpose simple start up is great to reach at higher assessments.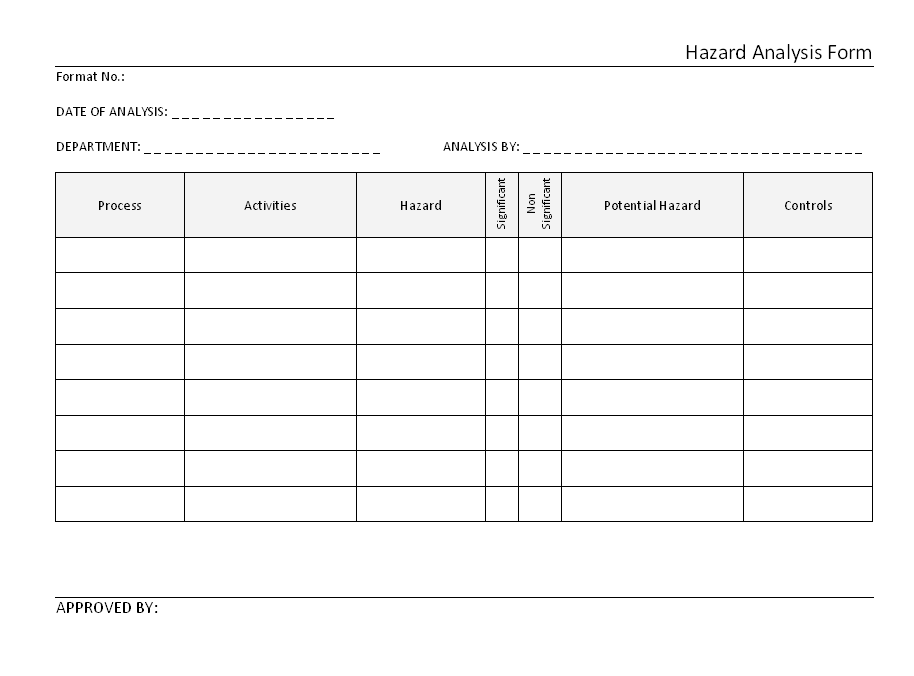 EXAMPLES, SAMPLES & FORMATS