Chemical Waste Inventory Sheet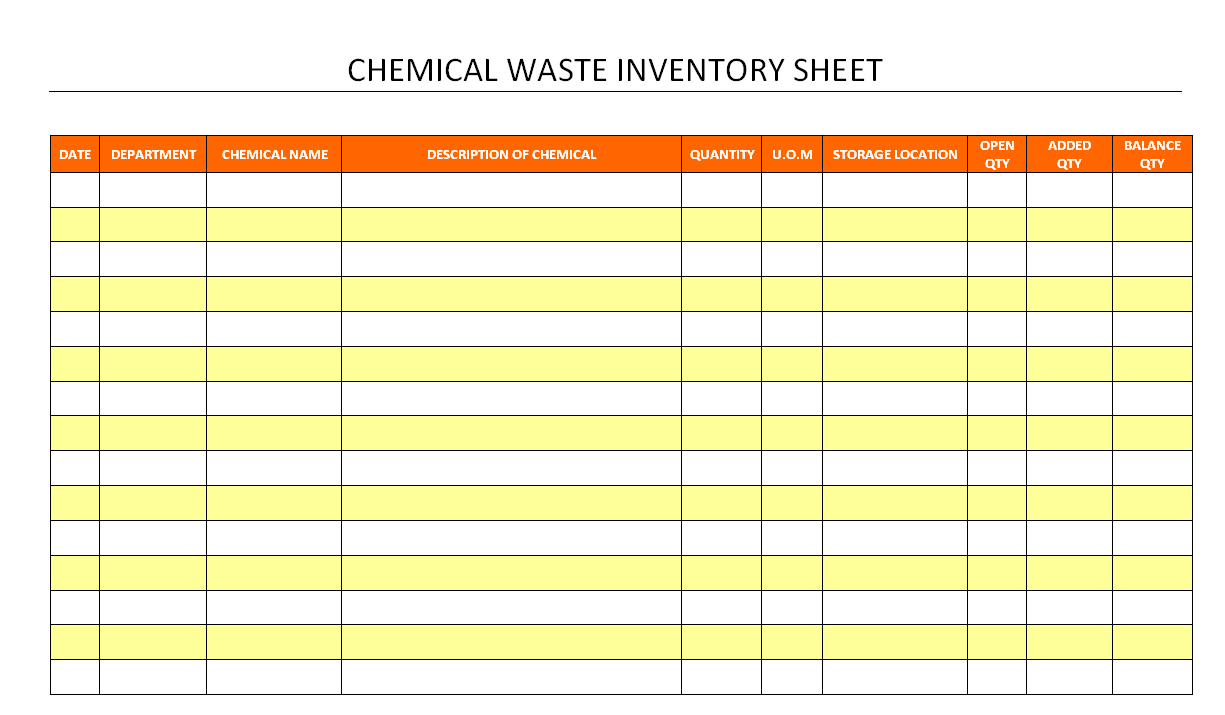 Name of Department that chemical waste generated during the manufacturing / non manufacturing / process supporting chemical waste, recording of the department name is very important that generating the chemical waste.

Chemical Name – Name of the chemical, Chemical is always categories in hazardous material hence the all waste should be take the care during the working with chemical / handing and storage of chemicals.

Description of Chemical – All the details of the chemical to easier for the storage / handing and maintaining stock of the chemical, some chemicals categories may higher risk that need to separate storage in storage unit, hence details of the chemical is very important in that cases.

Quantity & U.O.M – Quantity of the chemical and Unit of measurement, Chemical's can comes in any form that can be powder form, liquid or solid that need to unit of measurement to identify the material.

Storage Location – Location should be specific & separate of categorized chemicals.

Open Quantity / Add Quantity / Balance Quantity – All the generated chemical is storage and information comes in line with chemical waste generated and separately management.
EXAMPLES, SAMPLES & FORMATS
You would also like to read:
PHYSICAL VERIFICATION OF CHEMICALS
HAZARDOUS CHEMICAL INSPECTION CHECKLIST
CHEMICAL HAZARD ANALYSIS WORKSHEET
CHEMICAL STORAGE ROOM SAFETY INSPECTION CHECKLIST
SAFETY INSPECTION CHECKLIST POINTS FOR CHEMICAL PLANT
CHEMICAL PARAMETER TESTING REPORT
PHYSICAL INVENTORY COUNT SHEET