Heavy Equipment Inspection Checklist
In manufacturing unit, equipment is important part of the product manufacturing and movements, heavy equipment are used not just in manufacturing unit but all the areas where heavy material movement, working for the large scale development or any hard work that human are takes time there heavy equipment are used to quick and smooth working with minimum time, due to this unique requirements that possible with heavy equipment for work floor, companies are affords heavy equipment & maintain for the same.
Heavy equipment is mechanism that required timely maintenance and cleaning lubrication inspection, if the all done properly that heavy equipment work smooth without any disturbance, for the timely inspection required the points that used for the inspection are below:
Equipment Parameters: Parameter of equipment that is temperature of motors, engine etc.. Are should not increased than specific required, there are two many parameters need to on place that checks as instruction / guideline given by O.E.M of heavy equipment.
Visual inspection:  inspector can visually see, check each part that first view equipment part's damage / leakage or any other doubt can raised that visually checking is most important for heavy equipment.
Technical Details' inspection: some technical details of heavy equipment as given by manufacturer, all should be full fill that's are very critical should be meet perfectly, in case any leakage found that equipment should be go for maintenance.
Mechanical Testing: Heavy equipment is working with various mechanism, some hydraulics systems, electronic systems etc… Checking / inspections are possible with testing equipment that mechanical testing are most important that possible through tools, gauges or devices.
records of recent testing: during inspection must check previous records of testing that possible, by mistake previously any parts are marked as fail or for asked for repairing but still not given, on the records that information are help to correct the any mistakes, further previous reports are also indicate any week parts may fail in nearest future in case indicated in report, now inspector can recheck those part for current status. There are too many information can help for inspect.
Energy consumption checking: energy used in heavy equipment are check, records meters, emission testing etc.. Information gives the details of primary energy leakage, efficiency of engine or any part failure reporting.
recent preventive action records: As same previous preventive action that information that used for current inspection, preventive action effectiveness are also checked in current inspection.
All above required points that used for heavy equipment inspection called checklist for heavy equipment inspection. Heavy equipment inspection checklist is help to inspector who going to inspect the equipment, without skip or forgot points each points can cover during inspection. Checklist are mostly used for the inspection should be covered all the parts of heavy equipment, any parts are not inspect properly can stop the equipment or possibility of preventive maintenance are labs.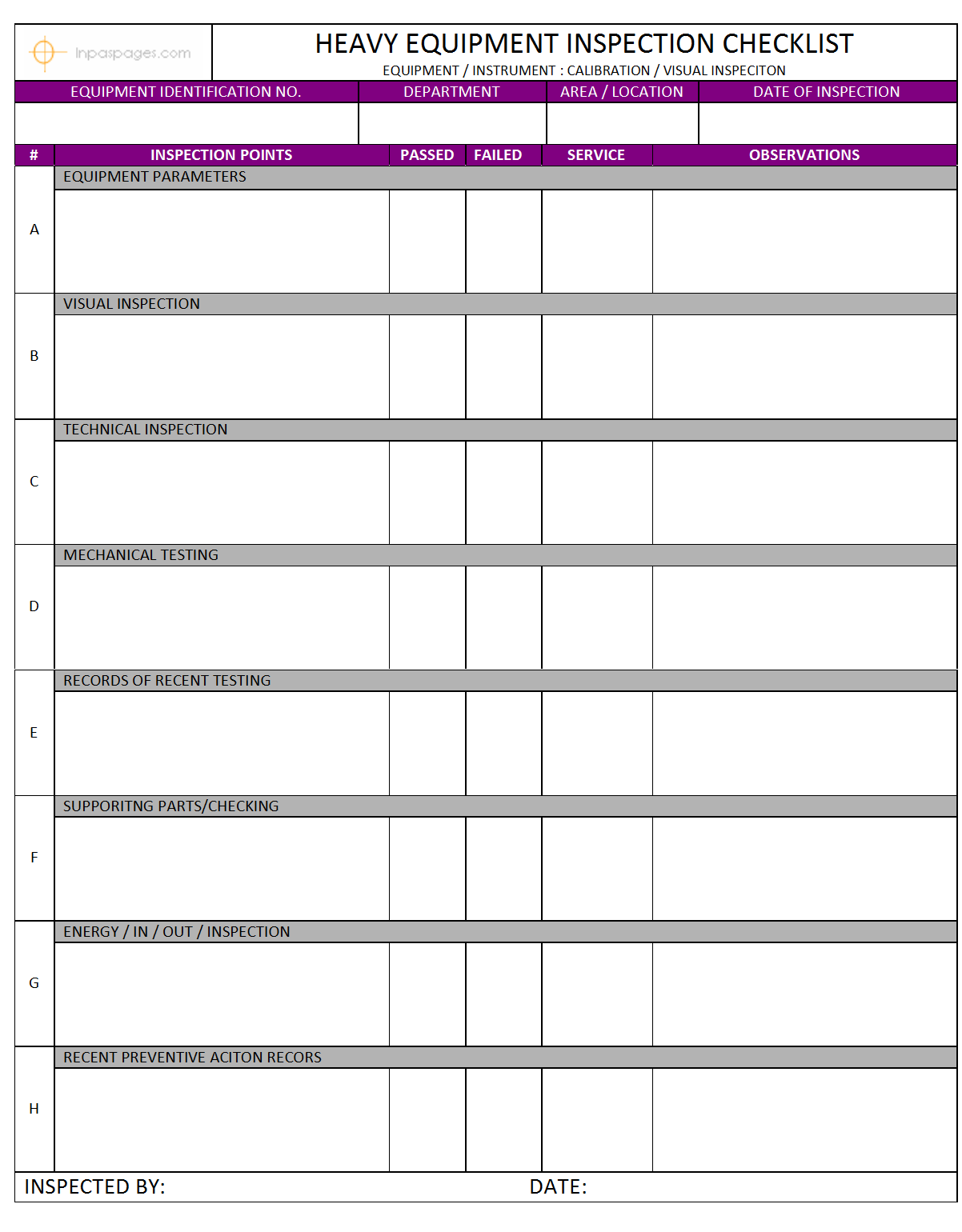 EXAMPLES, SAMPLES & FORMATS
You would also like to read:
| HEAVY EQUIPMENT FAILURE ANALYSIS FORM | LIFTING EQUIPMENT REVIEW FORM | EQUIPMENT TEST RECORDS | BELT & SLING INSPECTION CHECKLIST | NOTIFICATION OF VIOLATION FORM |