Hoist Inspection Checklist
Now days, hoist is base requirement if the industry are manufacturing or used heavy machine at plant, movement of material or machinery or any thing that possible with hoist. Overhead crane equipment is used mostly in industry for the material movements as easy working flow.
Hoist is the mechanism that required timely cleaning and maintenance, if the proper maintenance is not schedule that possible the hoist disturbs working. To consider serious requirements here available hoist inspection checklist that ready made can apply to your organization reason is hoist are same at all industry, but here inspection points are only given for crane, because general used of hoist are in industry is crane and mostly over head crane that used for material movement.
What mostly inspect in hoist? What points are needed to care for hoist?
Rope Anchorage / Rope certifications
Bearings / Gears / Rollers / Pins / Shafts / Clamping
Excessive wear of Brake & Clutch system
Drive Mechanism / Chains
Load Control Mechanisms
Limit switches / Devices
Hydraulic Systems ( Leakage)
Fuel System (Leakage)
Electrical control system
Fuel oil Level / Engine oil Level / Hydraulic Oil Level
Lubrication at each parts
Wire rope & Certificates / identifications
corrosion on wire rope / hoist parts
Each connections / Fittings / Nut & Bolts
Hoist inspection checklist points as given above is general, all points can use at any hoist at industrial used, mostly above all points can helpful for inspection of hoist and important too.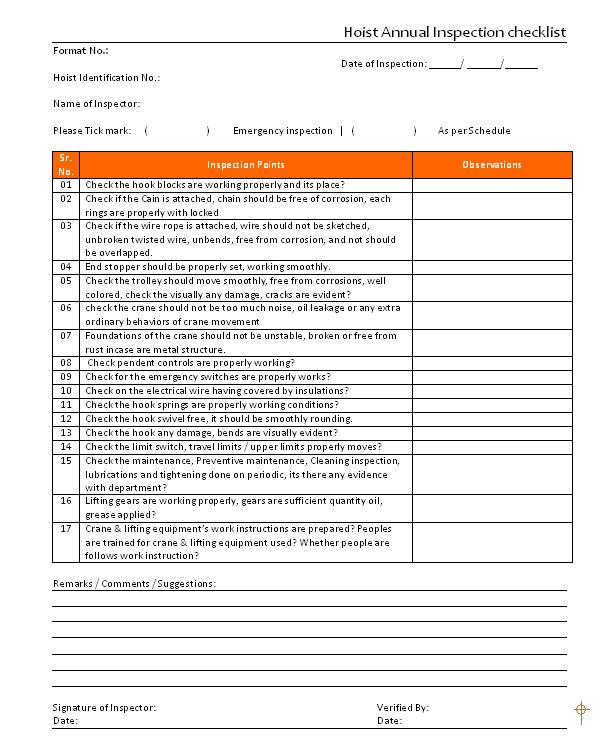 EXAMPLES, SAMPLES & FORMATS
You would also like to read:
| BELT & SLING INSPECTION CHECKLIST | CRANE & LIFTING EQUIPMENT SAFETY INSPECTION CHECKLIST | OVER HEAD CRANE BREAK DOWN COST ANALYSIS | OVER HEAD CRANE BREAKDOWN ANALYSIS | LIFTING EQUIPMENT REVIEW FORM | EQUIPMENT TEST RECORDS |