Human resources complaint handling and documentation
Human resources complaint handling and documentation process is conducted to managing, understanding employee troubles & it for solutions.
Human resources complaint handling and documentation procedures is conducted for all incoming complaints form employees are manage as per type of reasons, nature of complaints and understanding employee basic troubles, root causes of the problems and helps to identification of the solutions to managing internal balance to judge personnel in working environment, human resources is conducting all complaints but the solution for the particular complaints are conducted by concern department manager, human resources with contribution of management peoples, human resources department is provides documents, evidences which is provided by employee, present witness against management and concern manager for the correct actions. Human resource job task is coordinate with all the parties for particular complaint raised from workplaces. Human resources department is also conducting some complaint which are really very serious at it place that department executive directly contract with management which is on priority to short and its subjective matter is serious for the workplace and employee. Some safety concern complaints, work environment concern complaints are discussed with safety officer to identify solutions.
By human resources department collecting each complaint from internal department are conducted as per complaint details, nature of complaint and its description. Shorted all complaints are conducted and put on priority for the solutions. On base of complaint elements human resources department is coordinate with concern department head, person who had complaint and person against complaint raised with witness and evidences are given by employee against someone. All the details are filled and proper number is given for the identification and traceability of complaint. Responsibility of handling complaints and documentation of complaints is human resources department and solution for particular problems and solutions of concern department head, see picture below which is filled by employee and submitted to human resource department, the format of the complaint is human resource complaint form, see picture for reference: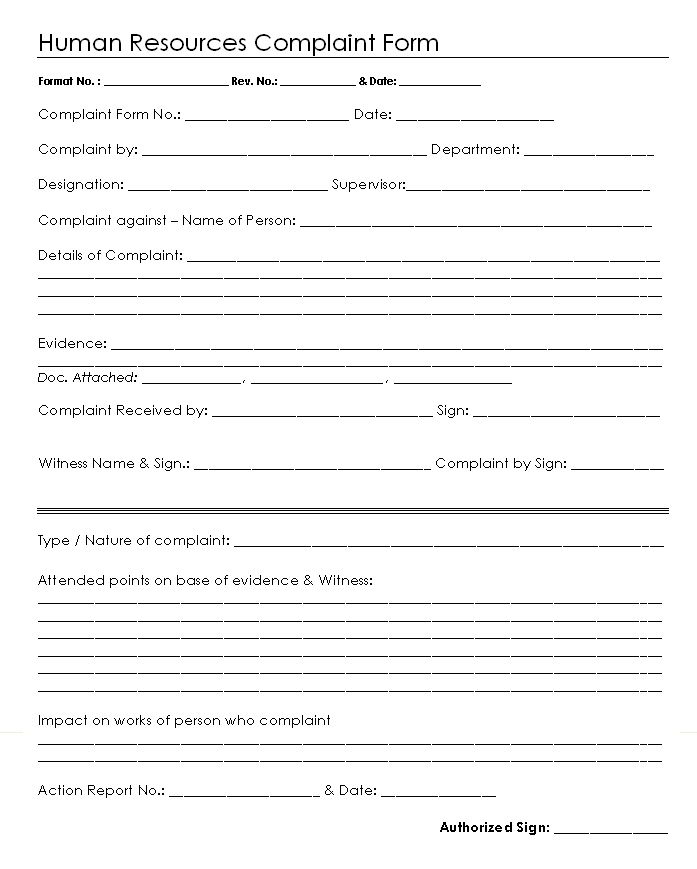 As you can see picture above is for reference, the document example format is given for reference, but it can also apply in regular works in human resources department, in the format almost all concern details are given, in case need more information is possible to add in format, the documentation for human resources department is very important because the department is bridge between employees and management, so its important that all documents are accurate and complied for each sections, requirements of company and resources.
——————————————————————–
Download format in word document | Excel Sheet | PDF format
——————————————————————–