Hydraulic jack inspection process
Hydraulic jack inspection process is established to ensure all factions are properly works and sufficient to conduct any task for hydraulic jack in workplace.
Hydraulic jack inspection process is established for inspecting all the parts to ensure all functions are properly works, and hydraulic jack is sufficient to conducting any concern task in the workplace. The process is conducted by qualified inspectors where all the functions, joins, testing are conducted and records are maintained of each inspection process. The inspection process conducted at various places where maintenance team is responsible and role as audittee to conducted all required corrective actions for hydraulics jack concern. Hydraulics jack inspection is conducted to verify all the parts and its function to avoid suddenly breakdown events during important task, the jobs of hydraulics jacks are important in maintenance activity and the tools should be perfects for any task that any maintenance engineer is expect.
Hydraulic jack inspection process is prepared and established by maintenance manager, and all concern activity, procedure deployment in system and concern peoples are follow up monitoring are conducted by maintenance manager. Management committee is select qualified inspectors for hydraulic jack inspection and its concern activity. During the inspection of hydraulic jack inspection, qualified inspectors are monitoring, inspect and verify all task concern it, documentation preparation of inspection and its records are maintained during inspection, inspectors are manage checklist where all important points are mentioned which needs to verify physically. See picture below given example format for Hydraulic jack inspection checklist for education purpose: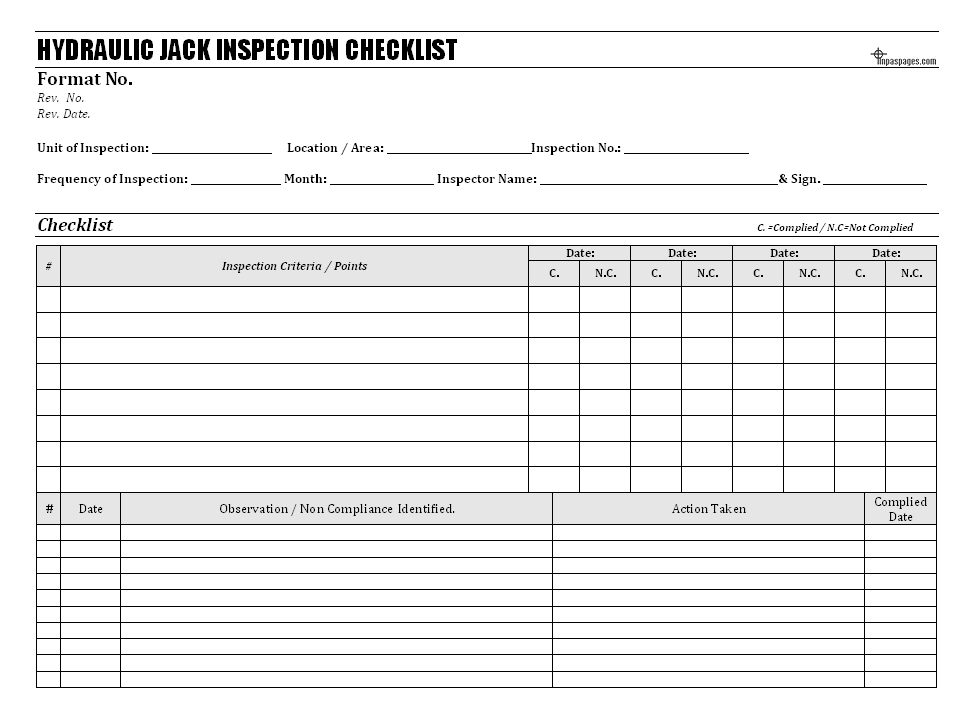 Hydraulic jack inspection checklist is prepared by inspection team with contribution of maintenance manager; all the checklist points are verified by concern management during preparation of checklist, the checklist is used in inspection process which is conducted as per inspection frequency decided by management. See some basic points which hare used in checklist of hydraulic jack inspection:
Verify there are hydraulic jack number is readable, clear and legible?
Is there hydraulic jack conduction, where structure, free of dirt, and without corrosion?
Is there hydraulic lubrication leakage or damage identified? And all jacks are properly lubricated as per frequency defined? Or as on requirement?
Whether oil seals are in order? And perfect for working condition?
Is there pressure released valve are at place? And operating freely without any tension?
Is there maximum mass load is indicate? Is there any display problem identified?
Check whether piston is properly in working order?
What is method to replacement of jacks? Maintenance mode and return used method?
Verify jacks in use have sufficient to lift and sustain the loads?
When the last hydraulic jack inspection conducted? Is there records are evident?
Are there repair or replacement parts examined for defect? What is the frequency as per maintenance schedule? What are self life / time line for replacement of any parts of hydraulic jack?
What criteria are verified when returned jack from maintenance?
Hydraulic jack inspection checklist is conducted during inspection process and concern person are responsible to conducting corrective actions, all non-conformance identify during inspection. Inspectors are filled inspection checklist and report of inspection is submitted to maintenance manager to determine action plan for corrective and preventive actions to improvement of hydraulic jacks and concern parts to avoid any failure during working tasks.
———————————————————————
Download Format in Word Document | Excel Sheet | PDF format
———————————————————————