Inspection proficiency review of employee
Inspection proficiency review of employee process is conducted to appraisal employee inspection skills & ability to conducting inspection task in processes.
Inspection proficiency review of employee procedure or process is established in the system to ensure the employee inspection skills and ability to conducting inspection processes in manufacturing at various levels of tasks by appraisal employee individually to managing pointed employees for verification and assure the proficiency, verification proficiency as per job function. Employee inspection proficiency review and concern processes are established by general manager for various management, staff, product or quality peoples, all the documentation are maintained accordingly, hence the documentation parts are collected and storage as human resources department, along with single copy are storage with general manager for reference of individual person. The process is maintained to improvement of the quality inspection system in the workplaces, so it's important that each employee who is concern with inspection process or concern with production lines should be well aware of inspection processes and accurately perform task on required.
Inspection proficiency reviews is established by general manger to support of human resources department and departmental head or various parts of production lines, the system deployment and maintain responsibility of general manager and also for responsible to each stage of process should be conduct properly. The system is concern with quality of the product that quality manager should be involve in the whole process to ensure the proficiency of review met the requirements of quality improvement & product quality inspection requirements for inspection criteria in in-processes and final quality products. For the conducting inspection proficiency review of employee needs to documentation for conducting records and maintain system, see picture below given as example format of inspection proficiency review for education purpose: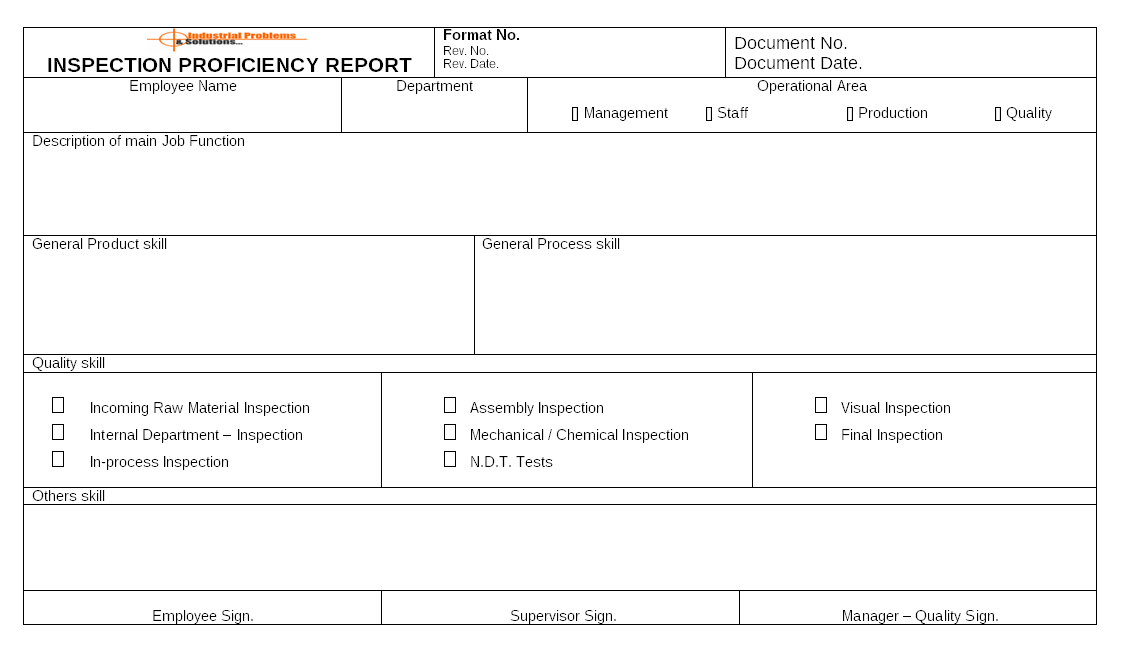 Inspection proficiency report included all the requirements processes of manufacturing and supporting which can directly affect product quality, employee skill for the inspection processes during manufacturing processes is much important to managing quality during production running for the controlling of variations and deviation in product by actively monitoring of employee and conducting unusual various can harm product quality. There are also important decisions are taken by management to considering inspection proficiency report that employee deployment and managing production lines as per skill and experience are achieved by employee, on base of the this report, management determine which employee having much proficiency at which place, so its important for deployment of employee and production lines too. The documentation are maintained and updated as per frequency defined by management and storage for long term to help for manpower management.
————————————————————————–
Download format in word document | Excel Sheet | PDF format
————————————————————————–