Inventory disposal documentation
Inventory disposal documentation established to manage record of inventory disposal to ensure disposal process is conducted properly.
Inventory disposal documentation are prepared for recording inventory concern information and its disposal processes to ensure that inventory disposal processes are conducted proper and its as per defined system, the documentation are prepared and maintained as pre-defined system by management to conducting the inventory disposal task. The purpose of the inventory disposal is the task of disposal and other concern activities are conducted properly and all the disposal methods are used in processes records maintain and implementation more effective. Inventory disposal documentation is the evidences of disposal of inventory, some reasons are documentations are required very accurate, there are most important reason that in case the material are considered in the hazardous category, all concern information of inventory disposal should be maintained properly to evident against government as the proof of transition, in case of the sold material that should also required all evidences like person or company who purchased inventory that should be authorize to purchase materials which are considered as hazardous category and its license number, contact details and other information about materials should be properly handled in document.
Inventory disposal documentation are prepared by inventory management and used when the inventory disposal required, the format are used for the inventory disposal should controlled document to easy for filled and audit the inventory records. The system should be maintained during the inventory disposal reason that there are two type of disposal for the inventory, one is the sales inventory and considered as scrap and waste that will be need to individual disposal system and method, the format for the inventory records are maintained in inventory disposal form, see picture below is given as reference document and education purpose: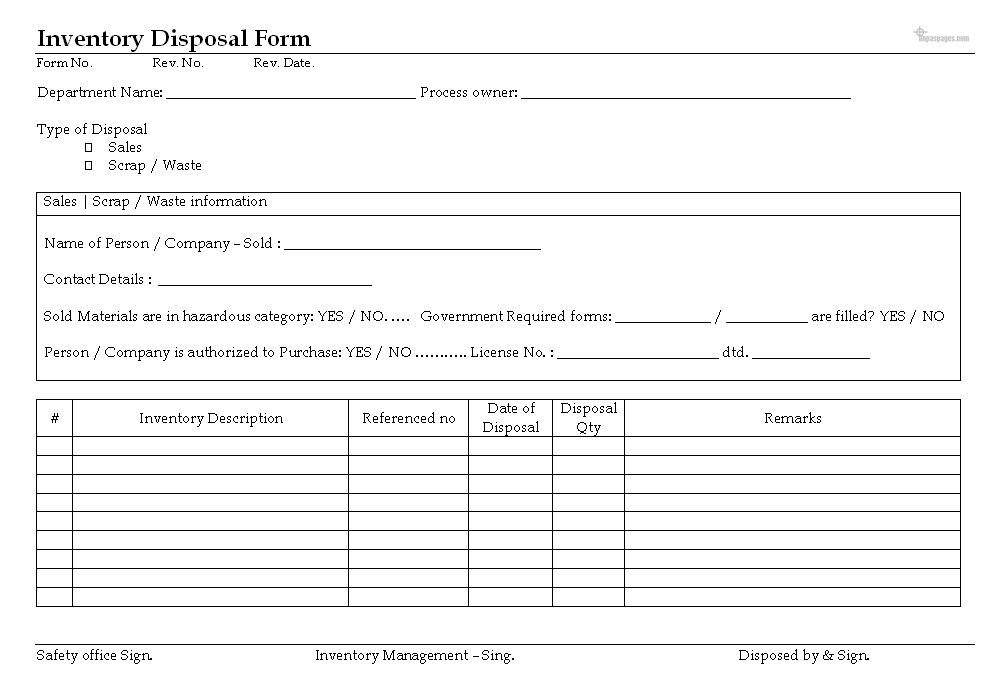 Inventory disposal form is conducted by inventory management to recording purpose but the important that all the details requirement of format is needs to properly conducted, the inventory disposal methods should be properly handled and concern records should be maintained in the inventory disposal form, there are most important is method of disposal, inventory can be dispose as the sales to any person or company and second is considered as scrap and waste, in case the considered as the scrap and waste that those inventory and its disposal should be conducted by any method which is acceptable to environmental requirements & by system government concern requirement can be fulfilled. There are also important that in case the materials are sold to any person or company that all the requirement information, company or person who purchasing the inventory should be authorized to purchase material, if the material considered as hazardous and government rules are applicable, more that person or company should be licensed to purchase particular materials and its disposal processes should be certified by government In case the government rules are applicable on the inventory disposal that company should comply requirement of government and concern forms and document should be submitted to government, and details of the form which submitted are need to mentioned in inventory disposal form.
Inventory disposal form is also verified by safety office & available at the place as the witness of the process, there are also responsibility of safety office to all inventory disposal process are conducted by safely & comply without any environmental issues and on satisfaction, safety office is permit to further actions on disposal.
——————————————————————–
Download format in word document | Excel Sheet | PDF format
——————————————————————–