Internal Audit Checklist for Control of Documents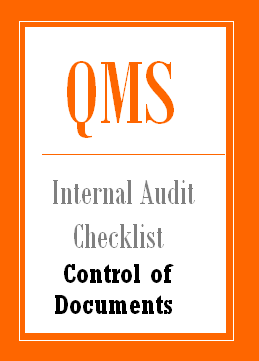 Is a documented procedure available for control of documents required by the QMS?

Are document references given as defined in the procedure for Document Control

Is there a distribution list for documents that are circulated as hard copies or in soft copy?

Do all hard copies / soft copy bear the remark 'Controlled Document' and the indication of originating site / authorised person?

Is there a master copy of all valid documents / forms available?

Do all documents/forms in use show the correct version number as indicated on the master copies?

Do documents that need control for a limited period indicate the validity date?

Are all requirements for changes sent to Management representative?

Are obsolete documents taken out from points of use and suitably marked to prevent their unintended use?

Are standards and specifications checked for updates and validity?

Are local procedures / work instructions / forms referenced as per work instruction?
Control of Records
Are records suitably referenced for easy identification and retrieval?

Are records securely stored and protected against dust, rodents, humidity / fungi, flood, heat, or any other source of damage to ensure legibility throughout retention?

Is the integrity of records checked during internal audits?

Is the retention period for records defined in the Record Retention Matrix?

Are records disposed of after the stipulated retention period mentioned in the records retention matrix?
Related Topics: