Key Process management system
Key process management system is procedure to establish system for managing key processes of quality management system concern.
Key process management system is standard system which all product and processes quality improvement, product realization and management system which through finest goal to achieve maximum customer satisfaction by establish, monitoring and improvement of key processes and its management to proper handled for improvement in product quality. Key process management is managing all the processes which are established and defined by management, top management identifies the key processes for the quality system implementation in company and also determine requirements of key processes, product realization processes and concern documentation to recording information of during the implementation of processes through monitoring, identify measurements and measuring analysis for individual key process improvement.
Management is responsible for identification of key processes and it's implementations actions and to determine requirements for the proper implementation and management of system, management is conducting process required measurements, frequency of measurements, proper planning of measurements and functionally accurately system provides to department for ground implementation. Management also determines standard method to conduct analysis of the key processes to achieve targets. Management also responsible to determine key processes master records and its documentation, see picture below given in format of key process master records for education purpose: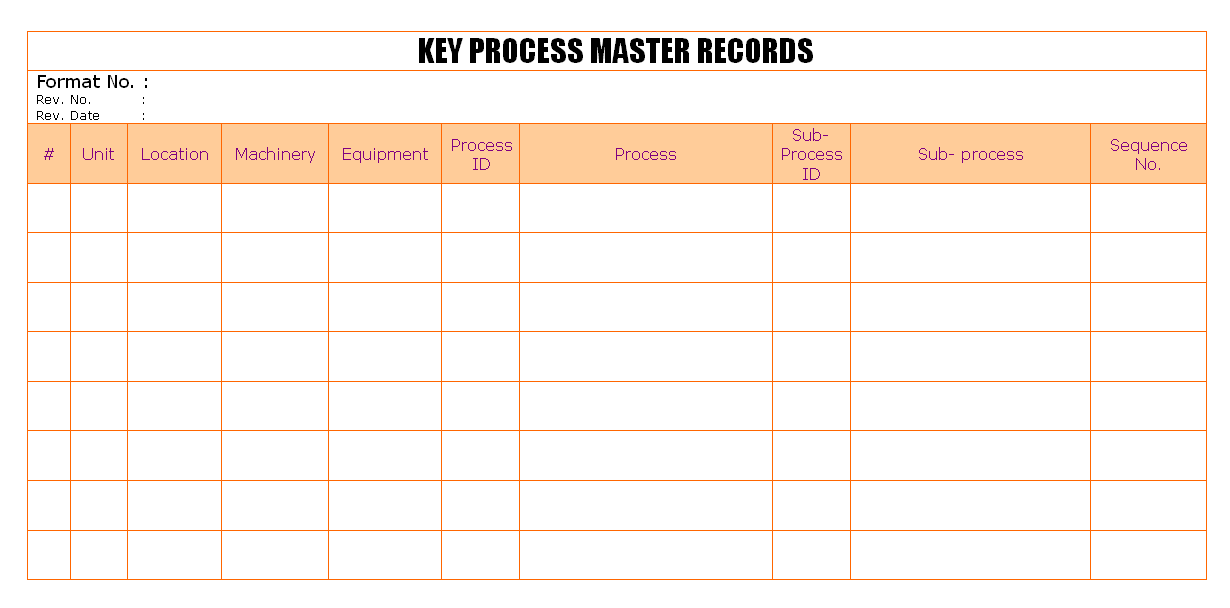 Management is defined key process and implement for quality system, management will not to need conduct other supporting processes system where supports manufacturing and other processes, but management conform requirements of the processes, documentation requirements and return records to easier for analysis information to ensure key processes in active mode. In the amendment of the key process are conducted on the customer feedback, all key processes are managed to customer requirements and specifications and standard method compliance.
———————————————————————
Download format in word document | Excel Sheet | PDF format
———————————————————————