Verification planning procedure
Verification planning procedure documentation is established to ensure the planned standard requirements are complied with satisfaction.
Verification planning procedure and its documentation are prepared / established to ensure all planned schedules, activities and managed concern supposed processes is complied all requirements of standards, standards requirements are defined / determined to considered international standards and processes requirements for quality or any other concern are established, maintained and updated with internal management satisfactory and end users satisfactions. The purpose of document is to establish proper procedure and dedicate to concern peoples for determine proper actions and provides verification system through achieving satisfactions and goal as per planned as standard requirements.
The documentation for verification procedure are prepared by general manager and provides to concern manager to implement at process level, the system is applicable to all manufacturing and supporting processes which directly or indirectly affecting standard requirements. General Manager is provides supporting system to department manager, hence department manager are deployed, monitor and implement in production lines and supporting activities. General Manager is responsible for providing fields to concern manager can implement procedures & get result back to improvement of procedure through proper verification planning. General manager is also provides verification planning to departmental peoples for verify its internal product, process and system verification as per standard requirements, improvement of quality in product, processes and system with enhance productivity, see picture below given as format of verification planning sheet as example and education purpose: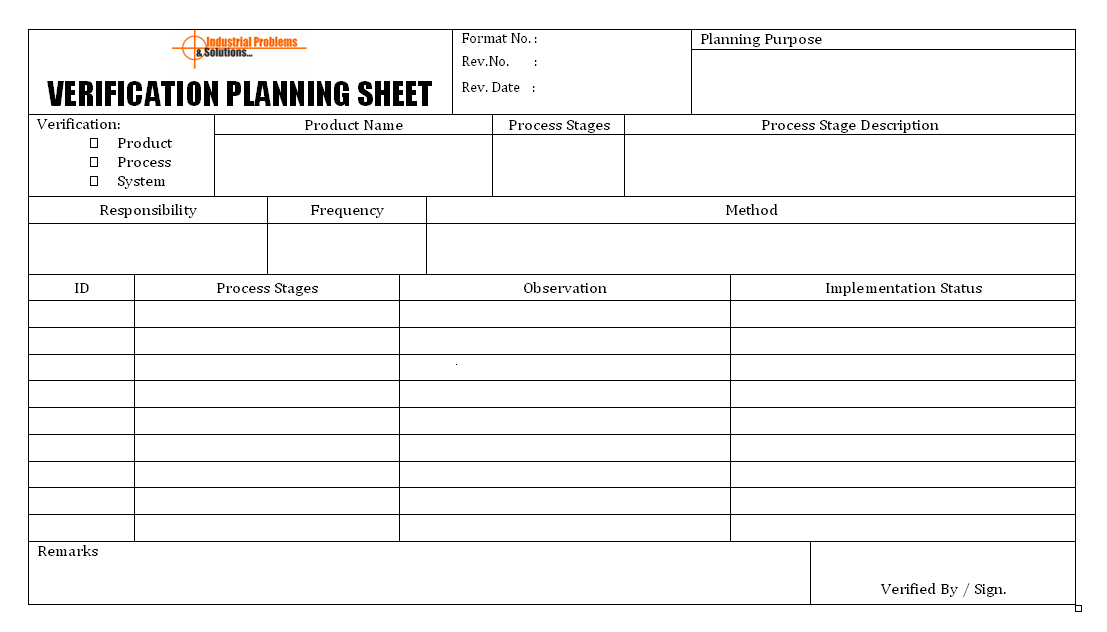 Verification planning sheet is document is conducted during verification procedure, and through this document verification planning requirements, standard requirement for product, processes or system are conducted as per planned in verification planning sheet, verification planning sheet is covered all the activities, products and processes and individual stages of processes are also covered to ensure the system is complied required standards and implemented work instructions and standard operating procedure in company.
Verification procedures are support system of the verification that all the verification stages of processes are conducted as per frequency defined by management as per requirements, and as per standard requirements management is determine method to conducting verification process in field. The standard methods are covered documentation review and on site verification which covered all required parts, location of the unit. During the verification process, process conduct to ensure the implementation as process wise and its current status in established plant, observers are also identify any non conformity in current system to implement standard system.
———————————————————————–
Download format in word document | Excel Sheet | PDF format
———————————————————————–