Learn how to evaluating outsourcing providers
This guideline is helps to all the sourcing provides (services) to approvals, evaluation & re-approvals to judge its product quality & performance.
Evaluation of the outsource providers that can be product and services providers are qualified to considering its product quality, quality of services, performances and delivery etc.,  to directly or indirectly effect on the product quality which manufacturing by company. This instruction helps to identify, monitors and controls on the outsource supplier to ensure outsource provides are maintain quality of the product & services by approvals, performance evaluations and re-approval processes. Company shall be conduct the some basic processes that judge the system or the outsource providers, internal quality & process system which is evaluation by internal audits at supplier end.
The evaluation of outsourced service providers covered documented method for approvals, evaluation & re-evaluation and re-approvals to assess program for the outsourced service providers. The guideline applicability is also conducting the purchase & services related activities including laboratory testing, calibration and maintenance of measuring equipments that may affect product quality, which are belonging outsource services.
Outsourcing service providers approvals, re-approvals, monitoring and evaluation process is conducted by purchase department (RM & consumable goods), Head of production (if outsourcing concern) and quality peoples is responsible for ensuring that the services and implement of instruction effectively.
What is Approval Criteria?
For the existing and new out sourced service providers will be in approved on defined criteria are as below:
History of service providers is important for approval process, companies past experiences, market reputation and manufacturer reputation by sub dealers are considered as criteria.
Cost of services to company and financial background
Terms of delivery and supplier capability of delivery, availability of resources in terms of manpower, machinery, equipment and testing facilities.
Standards requirements like International standard certified or equivalent
For the approval all the outsourced providers are provides concern data for the approvals as format system maintained by company.
All the collected data from outsourced service providers are verified and approved by the concern authority and put on final verification for the approvals.
On final verification and approvals, evaluation concerned head of department shall decide for outsourced service provider's final approvals and which service providers need additional requirements before approval & rejection of particular provider.
On base of the service provider information, collections and analysis and verification final approval list are prepared, all the approved outsourced providers list are maintained, updated on timely by the concern department. Approved outsourced provider list are maintained with following fields:
List of Approved Out Sourced service provider 
| Sr. No | Name & Address of outsourced provides | Contacts | Commercial Details | Approved for Department Supply | Services Provides | Approved services |
| --- | --- | --- | --- | --- | --- | --- |
| 00 | | | | | | |
| 01 | | | | | | |
| 02 | | | | | | |
| 03 | | | | | | |
What is Re-approval Criteria?
Re-approval of all outsourced service provider shall be initially approved for some period as company will decided and after the time period company will takes for the re-approval to any outsourced service provider in process.
Completion of approval period, re-approval process is beginning on base of the re-approval defined criteria and specifications requirements of the company level requirements.
In the re-approval process, after approval time period data are collected and analysis to get the performance results, on base of the data analysis and reviewed results are if found satisfactory, outsourced service provider will be re-approved for defined time period.
If any services are not frequently in use, there are possible to as and when approval system applied.
Outsourced providers performance Evaluation
Outsourced providers performance evaluation is conducted annual basis, every beginning of the financial year, performance evaluation & review are recorded to evaluation the provider performance. Outsourced provider performance evaluation period can change if on any critical situation & time demands. Quality capability of the outsourced provider is evaluated & approved for its services uses by internal quality concern, product quality improvement. For the performance evaluations are conducted on basic concepts and parameters to need considered for evaluation of outsourced service providers is (1) Quality of works (2) Time frame / response – Delivery terms included (3) Guaranteed Works / Supplies.
Company is managing many types of outsourcing providers that should be unique identification of the services are depends which type of the time periods and other concern criteria shall be used. Basically some needs are verified for the different outsourced providers are certifications, personnel competency, and available organized structure / infra shall be carried out.
In case any provider's performance are found unsatisfactory for any particular parts that company should re-audit its and collect the corrective actions on the particular part of the providers' end. In case of any service provider performance information is missed / not available for evaluation that in cases providers' analysis and evaluation are conduct as and when services are required. Some services are provides by the suppliers that are distributions branches that directly connect with the company, all the information of distributors branch can evaluation's first step is survey of the distribution by method to conduct evaluation, here as below given example format for provider survey form: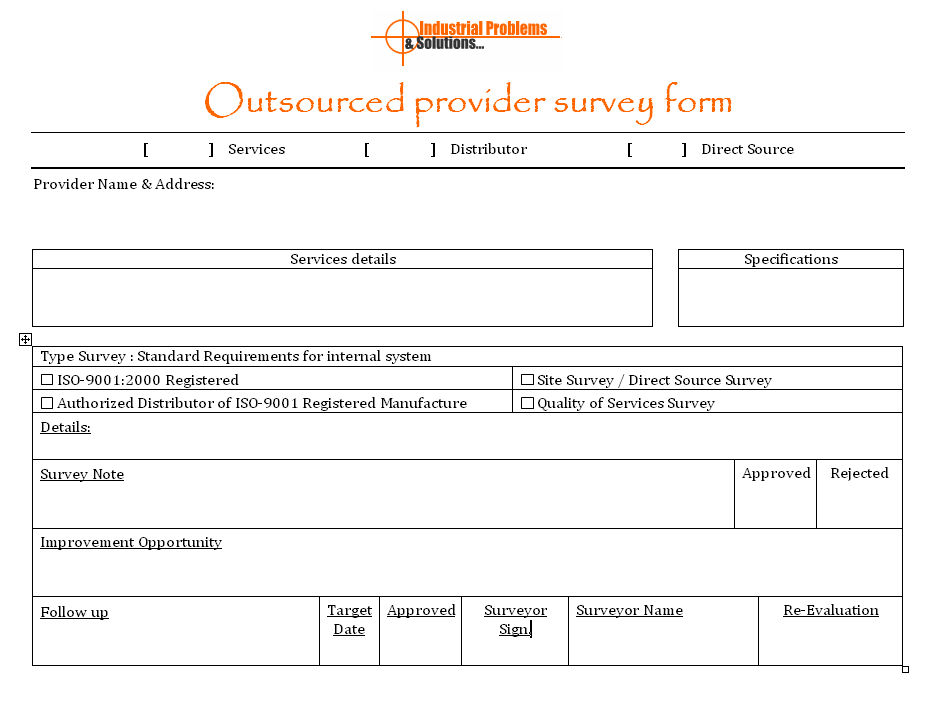 Evaluation team are conducting the data and analysis for the evaluation, mostly team are compare the ability to meet quality, process controls over the activities, standards and delivery systems, for the new supplier evaluation conduct on base of the documents are provided, there are some necessary documents are (1) certificate of the quality system (2) Quality System Procedures (3) Capabilities – process Equipment & machinery (4) Internal audit at provider's end. (4) Analysis of the testing of services. Provider's Quality improvement is also responsibility of the company after approvals, hence timely internal audits are conducted by company quality peoples at provider's facilities.
Quality performance monitoring
Outsourced providers evaluation, quality performance monitoring are conducted as the same of the other suppliers, there some basic requirements are conducted for the middle of the analysis, to measured quality performance there some basic method are used, analysis & monitoring on the quality performances is continually monitored by supply quality of providers is reviewed as on base of quality system, process reviews, trends and troubles review are major quality concern, reviewed on actions of further requirements of the quality improvement.  For the improvement of the provider quality Supply Company is conducting the internal audit at provider end, all the audit results and compliance are fulfilled by providers to take corrective & preventive actions on it.
—————————————————————————————–
DOWNLOAD FORMAT
—————————————————————————————–