Utilization of resources | The procedure is needs to establish for implementation of manufacturing processes & product quality through identification & improve facilities, resources utilization.
Introduction
The process used for identify new machine, facility and tools which are in use in form of bill of materials. That may in use in regular production lines as supporting materials in manufacturing facility. Actually, the purpose of the process is to effectively improvement of Utilization of resources uses for producing materials. It may includes the improvement of product quality percentage of utilization of resources.
Management is responsible for establishment and implementation of this process. Management establish cross functional team for arranging processes for identify requirements of resources. Production team is also needs to contribute for the implementation of processes.
Implementation phase
In manufacturing, requirements of resources and facility implementation are prime requirements to comply the product quality requirements as on change of technology, customer requirements and product quality implementation. The machine, utility and testing equipment is part of the manufacturing and quality to producing and verification of product quality that on completion of product finalization needs to ensure the quality of product by various testing equipment and utility are depends, and the identification of new machine and testing equipment helps to reduce the defects and assurance of product quality.
The cross functional team is responsible for conducting the procedures and prepared the documentation related to stages of implementation as identified, the resources management and identified to only considering particular product or customer requirements are separate documentation and its implementation and monitoring as well as controls over the processes are conduct. See picture below provided for education purpose: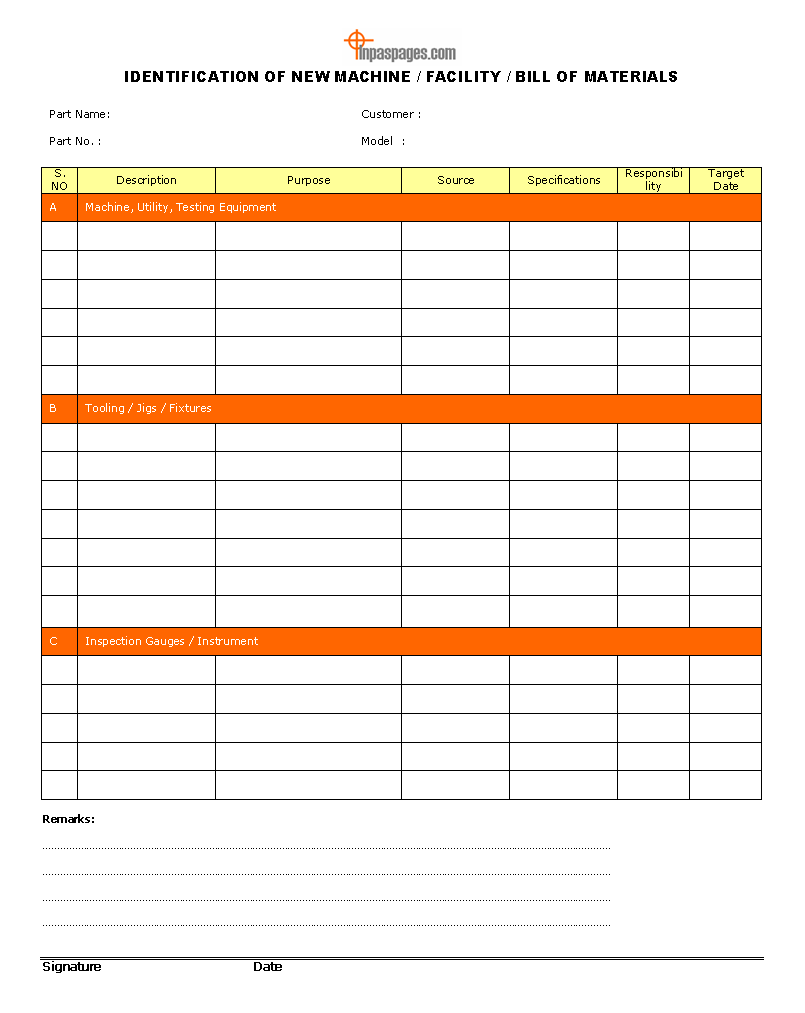 Documentation
The format is used to recording information of identified resources by cross functional team to manage and implement process requirements. To considering specific requirement of product / processes or customer technical and specific characteristics to meet end application requirements.
The identified machinery, equipment, facility or tools which is used in regular tasks are managed production lines are conducted by cross functional team for implementation, hence the cross functional team is prime responsible to prepare documentation of each identified requirements and resources used in tasks to implement product quality, quality test to ensure the product meet customer requirements.
————————————————————————————————–
Download format in word document | Excel Sheet | PDF format
————————————————————————————————–