Management responsibility for quality management system
This article describes management responsibility / commitment for quality management system in organization.
This article describes the management commitment for the quality management system, and for integrated management system in organization, the management should committed and responsible to implement quality management system / integrated management system manage to enhancement in product quality, quality works, time management to achieving customer satisfaction by continual improvement in system. The management / management team is identify requirements of quality management system, continuing suitability by reviews existing system, understand customer requirements for improve customer satisfaction through internal quality management system.
Management commitment / Responsibility
The management team is responsible for reviews of department wise objectives and identification of company level objectives to focus on quality management system improvement.
The management should be considered company level objectives, customer requirements, market status to establishment the quality policy and reviewing it for continuing stability, the established quality policy had conducted to communicating important customer requirements, statutory and regulatory requirements.
Top management is responsible for identifying the key processes (Customer related processes, internal management system and process realization processes are considered as key processes or organization) are involved and effectively implementation in quality management system.
For the managing all the required processes verification and its effective implementation needs to establishment of review team that conduct all the concern processes of quality management system, to reviews and identify system requirements.
Identified management review team conducting processes for identifying the input information, data & graph manage for effective reviews.
The management team should be scheduling reviews and conduct the documents, processes to manage and implement as compliance of quality management system.
The tam should be responsible for gathering information from various department, the reports and data from the responsible functions and for ensuring adequate employee awareness of quality management system.
The team should be conduct and reviews the information, monitoring on the progress report on actions assigned to them at management review meeting.
Management team had establish quality policy, and review its suitability during the monitoring and reviews meeting, the team should communicates the quality policy and its requirements like employee orientation training, training requirements as per job, resources requirements. The management is responsible for conducting information and manages records of each key process in master list, and also documents of the product realization processes for monitoring and analysis the key processes. The management team managing records to monitoring and controls over the quality management system processes, by monitoring measuring and analysis processes by managing records in the specific format. The format covered the process requirements, measurement frequency, planned measurement, function responsibility for measurement and analysis, and its methodology, the quality objective measurements and improvement targets are covered. See picture below: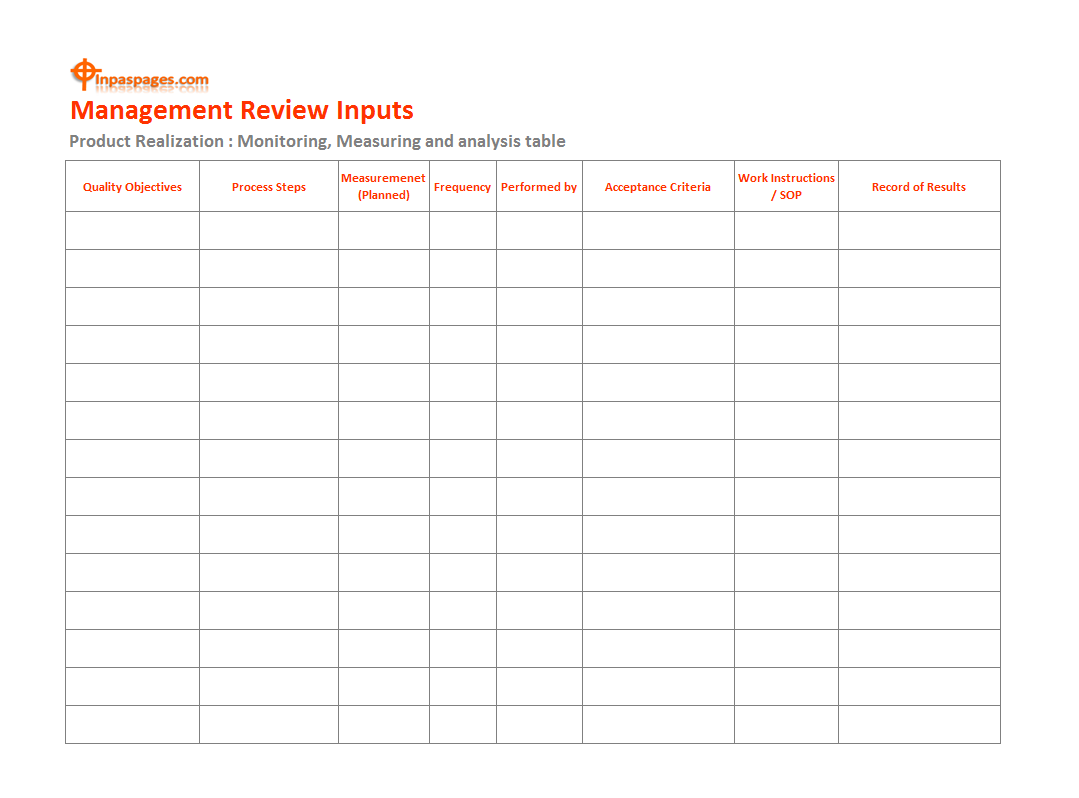 This format is help to conducting review processes to determine the improvement, the management will identify as table describing about product realization processes, monitoring and measurement. The result inputs form the reviews are used for the customer feedback, and assign further requirements projects to related personnel for concentrate concern meetings, communication with customers, and studies end application requirements.
Management Review
The management review team conduct "Management Review meeting" as per frequency defined or as generally conducted quarterly reviews to appraiser the continual improvement and progress status of quality management system in satisfying the clause requirements of international standards system. The management appointee "management representative" is arranging the management review meeting and responsible for manage all the activities related to quality management system / integrated management system. The management representative is responsible for collect the information and reports form various departments, for the reviews and discuss in management review meeting as per schedule defined, and also prepared agenda accordingly, generally agenda are set as per quality management system monitoring, measuring and analysis table results and outputs of analysis on based data of it, the actions planning are managed as discuss in management review meeting. Management is update the records, setup of new quality objectives and setup of new achievements i.e. goal as appropriate to achieve continual improvement.
---
Download management review inputs – table format
---