Machine guarding – Safety requirements
 To prevent incidents during working on machine and equipment, needs to installation of machine guards at each rotating parts is basic safety requirements of health and safety system.
The OSHA (Occupational safety and heath administration) required guarding for each machine and equipment at rotating and transverse parts or wheels or any materials where machine parts, functions, supporting belts and others or processes may cause serious injury to humans body. The requirement for machine guarding may be found at all the areas of the organization, the safety requirement has no limitation of scope to secure equipment and machinery, and more secure environment mean more productivity. This document helps to defining machine guard and identification and needs of training to appropriate user or operators.
In the regular tasks at any place of working area needs conduct various processes that machinery and equipment should involved, so its important that any machine part, processes, function that might cause injury must be safeguarded, the machine safe guards are managed as per machine and equipment type, identified hazards and category of hazards must be controlled by any method. Generally there are some general controls is to the machine or equipment possible to redesign to isolate hazard possibility. The safety team should identify the areas where generally mechanical hazards occur or possibility of occurrence, the dangerous rotating parts in most area require safe guarding, are generally in the organization is, the places where work is performed on the material, such as boring, shaping, cutting and shaping works  are done.
Generally in the manufacturing and engineering units having a wide variety of mechanical motions & actions may present hazards to person working around it, these can be considered and include the movement of moving and rotating parts like moving melts, meshing gears, rotating cutters and parts that impact or cut off. Due to variation in movements, different type of hazardous needs to effectively implementation to protecting operators from the hazards present.
The safe guarding is preventing contacting hands, arms or any other part of body from contact with rotating and moving parts of machine and equipment. The safe guarding eliminates the possibility of person working with it or working around the machine and equipment to contacting moving parts. The installation and foundation of the safe guards should be fixed, and without authorized personnel no body should able to easily remove the safe guard, because a safeguard that can easily be made ineffective is not safeguard at all. Safeguard is making safe human and machine that which parts are made covered to drop any object fall into moving parts that can damage machine and injure someone.  The safe guard should be enough safe to create new hazard, generally we can see safe guard metal edges are much sharp and unfinished surface. The machine design should be friendly to managing any tasks like lubrication; maintenance man should be able to lubricate the machine without removing the top of safeguard.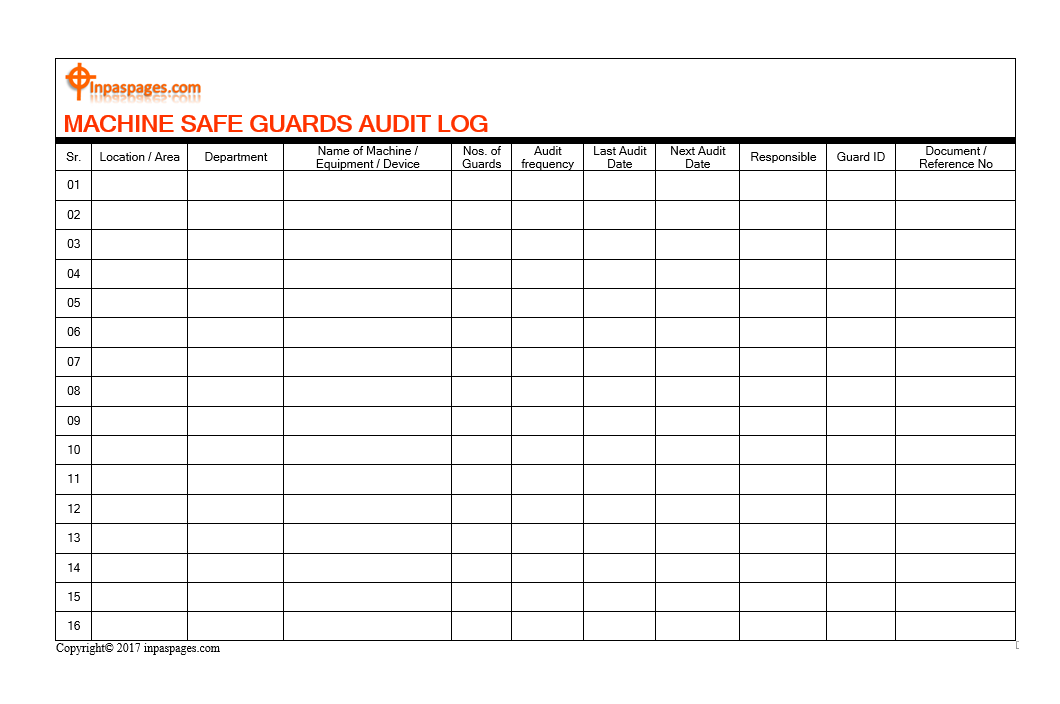 Any operation of processes needs to peoples should properly trained, the management should be provides the guidelines, instructions and proper training to each operator, workmen and peoples working around to maintained and improvement of safety, a details and identification of hazards associated with operation and machines, the detailed information training for the safeguard and how they provide protection, how to used of safeguard. For the new operators and maintenance / setup safety training is necessary, so it's important to provides and verify effectiveness of training and same when new installation of machinery and operation deployed. The documentation for safety guards are maintained by safety officer, hence each machine safe guard should be properly audited as per frequency defined, the safety officer is manage the safety guard audit as requirements, see picture below example format of machine safe guards audit log for education purpose:
---
Download Machine safe guards audit log in Word document | Excel Sheet
---