Material loading documents for production
Material loading documents established to managing materials loading process to managed manufacturing activity as per machinery capacity.
Material loading documents are established, maintained machinery, equipment and its regular capacity are considered in the documents, the records are maintained and update as per machine capacity, required speed and parameters setup for the producing materials, and particular sizes or any concern with specific required with products are taken as examination for making the standardize product sizes or parameters that needs to consider and loading regularly in machine for producing materials, the material loading documents are explaining the standard sizes, specific requirements in the format that help to loading materials on regular basis to maintain machine and product quality. The material loading documents are describing information of material loading standards and possibility of machine to managed on parameters of machine for maintain product quality.
Material loading document is maintained for the raw materials loading standardization to producing materials at particular machine with particular sizes, parameters are considered to managed for each machine as capacity of machine, the material loading and its standardize loading quantity are managed on examination, reviews & monitoring on daily machine production, sample testing on machine and regular records to ensure the machine able to producing the materials on particular speeds for particular product and quantity that considered and note as standards that should maintain best quality of product which are needs to maintaining product acceptable tolerances during examination and regular product processing with raw materials. According to material loading standard document, whole manufacturing processes are maintained to producing materials to maintain quality. The material loading documents are prepared and update as per frequency defined for reviews physically by management, and production manager is responsible for conducting tasks on annual or on new machine installed in facility, the records are maintained and updated for the same. See picture below given as example format of material loading chart that example for records that used as standard format to used in manufacturing processes generally, here below picture given for education purpose: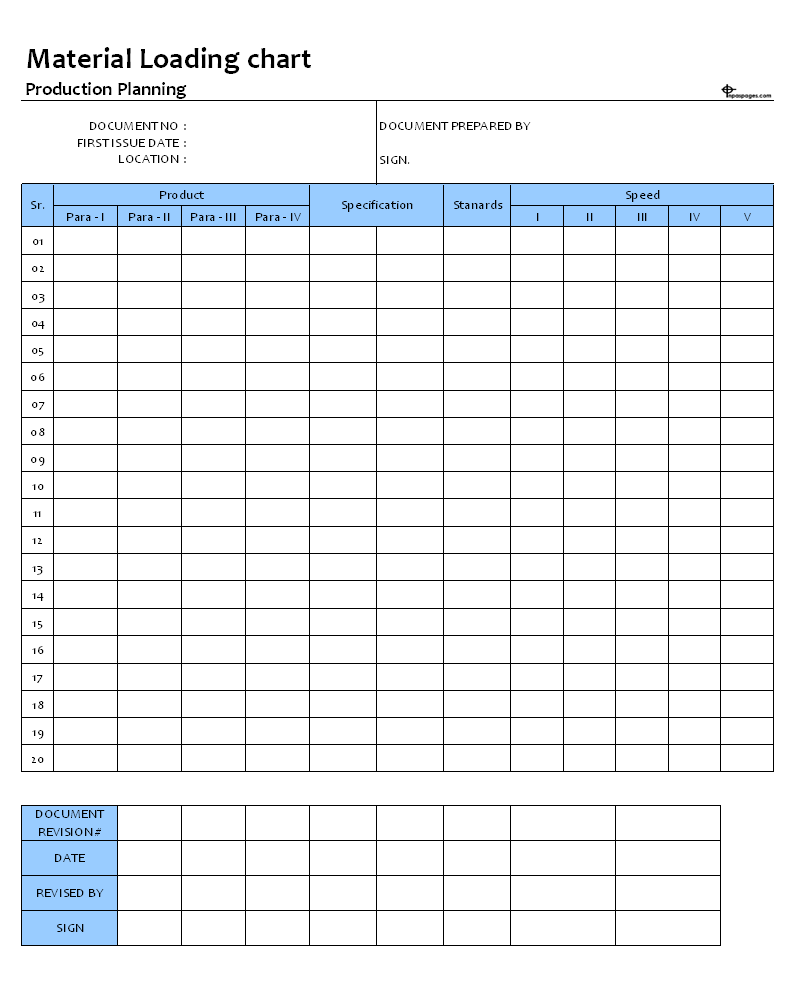 Material loading chart format is used to recording information of material standard loading on machine to maintain quality in manufacturing facility, each machine having its own material loading chart, and for each product and its specific sizes are considered to making standards for loading in the chart, the document of material loading is prepared on base of experience, examination, visual monitoring and calculations for each product size, machine capability and speeds are major factors that needs to monitoring and considering for material loading standard. The documents are maintained by production department, and production manager is responsible for each activity of manufacturing concern, the documents are maintained according to standard system.
———————————————————————————-
Download format in word document | Excel Sheet | PDF format
———————————————————————————-