Customer satisfaction level Analysis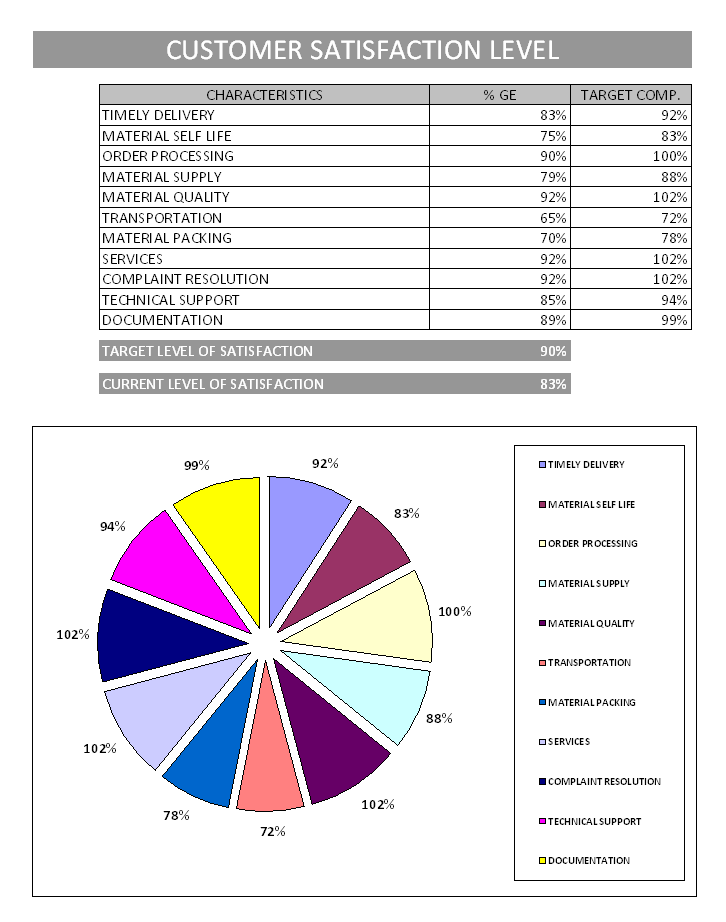 Customer satisfaction level is the measurable target level of compliance of customer requirements, expected services or beyond expectations.
As simple at first look, each one thought that it's marketing task but its wrong, marketing is single contact point between the manufacturing unit and customers, marketing is communicate with customers, understand technical requirements, commercial expectations and services requirements to possible compliance of the requirements of customer through forward details, follow up and return to customer products and services.
Customer satisfactions are conduct through customer feedback, comments and suggestions, marketing collecting information of the customer feedback and communicate with top management for the improvements to respect of customer feedback, on base of the customer feedback customer satisfaction level can possible to define for the equally, hopefully decisions that help to positive approach to compliance on requirements of market.
For the define customer satisfaction level required analysis of collected data from the customers feedback, customer feedback figures and ratings are given are useful for establish, maintain & update customer satisfaction level, customer satisfaction level are pivot to needs for achieve by suppliers in various fields. As you can see above picture is indicates characteristics that help to manage customer satisfaction level and reach to level of achievements as goal are decided. To consider each characteristic and its rating percentage are indicate the requirements and improvements in services, enhancement in quality of the product or services.
See picture above mentioned there target level of satisfaction is 90% that decided on base of the customer requirements, expectations that complete fulfill, mostly peoples are thing that why not 100%, actually 100% customer satisfaction level is difficult or impossible if the directly define as target, but through improvement, market reserve, customer communications and relationship, product quality, documentations and others main characteristics monitoring possible to achieve goals. But each year define target level achievable on base of the current situations, possibilities and available resources.
As we can see picture above show the target comparison percentage that found on base of the 100% against target level of satisfaction
Target comparison = (Characteristics % x 100) / Target level of satisfaction
This formula helps to graphical presentation to easier to focus on the weak characteristics which serve by company, hence weakest characteristics are consider for improvement separately characteristics to reach level of target level of satisfactions.
EXAMPLES, SAMPLES & FORMATS
You would also like to read: