Mistake proofing system implementation
Jump to:
Mistake proofing System Objectives
Mistake proofing system standard levels
Mistake Proofing System Procedure
Mistake proofing system or error proofing is tools that deploy to establish method that will ensure that routine processes will not allow defects.
The purpose of establishment, implementation and upgrade the system in manufacturing processes to ensure that all the processes are conducting and implemented with process controls that helps to identify, monitor and controls before the process establishment on the mistakes, processes are fully controlled that will not allow defects during the manufacturing process. The processes are implemented with mistake proofing system through possible to identification and eliminate of the possibility of gap to go by the mistakes, errors in the regular processes. Mistake proofing system helps to eliminate identified human errors can cause mistakes or defects are results waste or reworks and permanent material rejection that cases, mistake proofing helps to determine the system eliminate human errors, machine errors and by mechanical, engineering or procedures system to helps eliminate mistakes in manufacturing process.
A Structure are build in manufacturing processes, system by engineering, mechanical changes, amendments or additional controls are deploy in the regular process so that errors, mistakes are possible to eliminate and never become defect in each stage of the production. Customers are expecting the material with 100% defect free that team is conducting all the possible ways to elimination of the defects hence mistake poof system helps to do it. In the most cases inspection by quality controls are conducted but still defects are still remaining in the product that customer satisfaction level is reduce with product quality.
Required mistake proofing system for:
Reduction turnover cost, employee training cost and manufacturing cost in the processes.
Multiple processes for various product manufacturing.
Customer End application processes defects are identified
Occurrence of mistakes, errors are high and repetitive
Special reason can reoccur
Peripheral failure costs are exceeding.
Poor procedures and standards
Non conforming material used as raw
Worn Tools and BOM
Faulty machinery
Reasons of human Mistakes
Concentrating on works
Misunderstanding
Inadequate training
Ignore rules
Lack of decisions or gradual decisions
Not followed standards / work instructions / SOP
Improper guidelines
Mistake proofing system objectives
Identification of causes of defects
Effective implementation of mistake proofing in working environment system
Zero Defect product
Cost controls by process analysis ( Time Study)
Mistake proofing system Standard levels
Detect Error – mistake proofing system is defect the error by devices or methods that system is automatically identify error which first level of standard.
Eliminate error – mistake proofing identifies error, fixes error or automatically indicates warning or stop the process before it's become defect.
Detect defect – Detection of the defect through auto debug system by devices to self checks or successive checks. On detection operation will be stop until the defect is fixed.
Mitigation & impacts – Implementation of the mistake proofing system is conducted by system establishment through warning notices, training, checklists and base models deployment.
Mistake proofing system procedure
To conduct each process stages in manufacturing, prepared flow chart / flow diagram to understand the process sequences for identify potential failure mode in process by errors / human mistakes in manufacturing process flow.
Determine causes of identified failure mode / possible errors and mistakes in process, identified potential failure sources.
Prioritize the identified cause base on the techniques / experience, there are some ways to prioritize individual causes for:
Elimination – Elimination of the process, system or parts from the system's sequence, remove from the process steps to eliminate possibility of the mistakes.
Substitution – used the substitute process, system or parts that on base of experiences to eliminate possibilities of the human mistakes.
Facilitation – some engineering changes, process sequences changes or any management change through facilitated the system for the easier for the operating the process to eliminate possibilities of mistakes
Mitigation – on assurance of the process sequences, eliminations, substitute individually or jointly works to decreased error / mistakes in system that proper improvement and sustain the system for improvement to impacts all the part of the system.
For each cause, implement right method or device for the mistake proofing system to implement potential error occurrence. There are two types of the mistake proofing devices:
Control devices for eliminates the possibilities of the mistakes by automatic ways like, strip, terminate.
Warning System that identify mistake, error by pay signals or blinking, alarms etc., methods used for warn the operator.
To check effectiveness of the mistake proof system should judged for a period after month or quarter.
Verification and validation of mistake proofing on implementation and updating in necessary documents.
Mistake proofing analysis is subject to implementation and updating the internal system which installed in machinery, equipment and manufacturing processes and avoid the system errors, human error during the producing the material, this mistake proofing analysis helps to improvement in system to allocating devices, system to immediate actions are possible to prevent mistakes, errors in system, here as below given example format for mistake proofing analysis form for reference: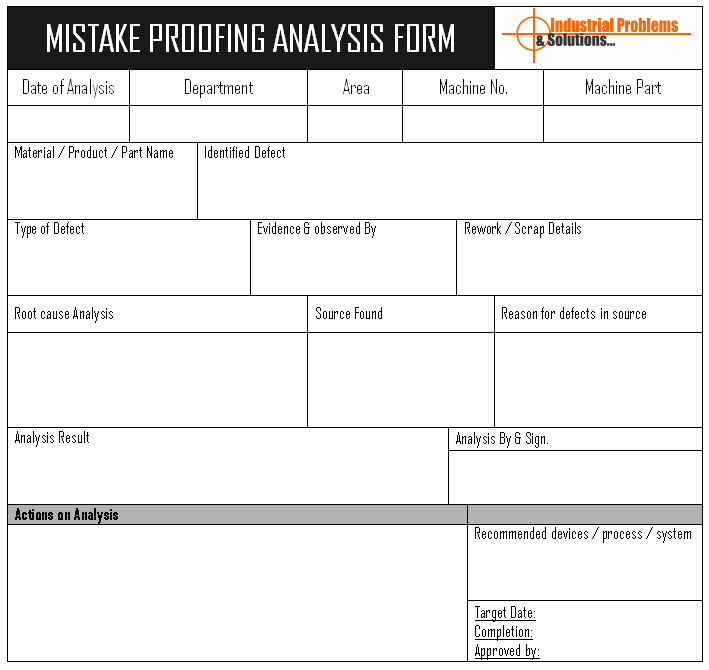 In this format as you can see picture above, all the processes of the analysis is conducted on base of the evidences and observation of the system, collection of the data and information form the manufacturing processes to awareness and analysis the rework information, data and scrape information, types of defects are occurred in product and what is the reasons behind the mistakes that can be machinery errors, human errors and system procedures errors which is directly effects on the product quality, to achieve the zero defect motive is fulfill by deploy devices and system in the manufacturing processes to avoid it.
On base of the type of defects, team is analysis the root cause to find out source of defects, by root cause possible to tracking the material and defect occurrence in the system by monitoring, whenever reach to source that reason of the defects are finding works are started by analysis how, when, and what is the reason behind the defect are occurred in the product. In the mistakes proofing analysis form is format which all the information is entered for recording purpose, all the analysis results are mentioned in its and analyst is remarks its observations to avoid the mistakes in the system by preventive actions.
In mistake proofing system control, mistake proofing works, continual improvement and management involvement for the elimination, replacement and deployment of controls required. For the zero defect product proper trainings, documentations, observations, monitoring and mistake proof planning for the implement are base factors for effective implementation.
———————————————————————-
Download Format in Word | Excel | PDF
———————————————————————-