Monthly stock statement prepared for the managing records of monthly stock at warehouse, to ensure the inventory management and storage product condition.
Overview to Monthly Stock Statement
Monthly stock statement is establishment to managing records of monthly stock of warehouse. To ensure the record inventory, and effective management of storage product. The monthly stock statement documentation is prepare for the conducting regular records update and its monthly balance management. It may use to verify the current stock on hand, and identify the stock requirements and procurement for further stock as requirements of product and type of requirements of end users.
The stock statement manage monthly, hence the records and its concern checking and verification of storage are verify and submit records monthly basis. The records of stock statement is conduct by concern supervisor to physical verification of warehouse. These record verification and comparison of records to ensure the stock mention in register is actual as physical stock.
Using for verification of stock
This is the important tasks for the store department that each materials item should be properly verify its stock by supervisor of each transition made during the month. Monthly stock statement documentation is prepare by store department head. On completion of all the verification in the store, where physical, daily registers and records are verify and compare to ensure the stack materials are in store department are as actual as mention in the registers.
In case any discrepancy identify that needs to reconciliation of full documents and physical verification to matching the stock. The statement is prepare on compete the tasks and submit to management for further actions.
Monthly stock statement documentation is manage by store department to ensure the material storage is in good condition. The product storage maintain quality, and inventory management of each product stored. the store manager is responsible for all the concern procedures, documentation and implementation of store concern procedures. Supervisor are provides the status of monthly stock, and register that all the records are maintain, as per documentation and maintain register.
Monthly Stock statement format
The store manager is prepare the monthly stock statement. See the picture below given as example format of monthly stock statement, below format provide for education purpose: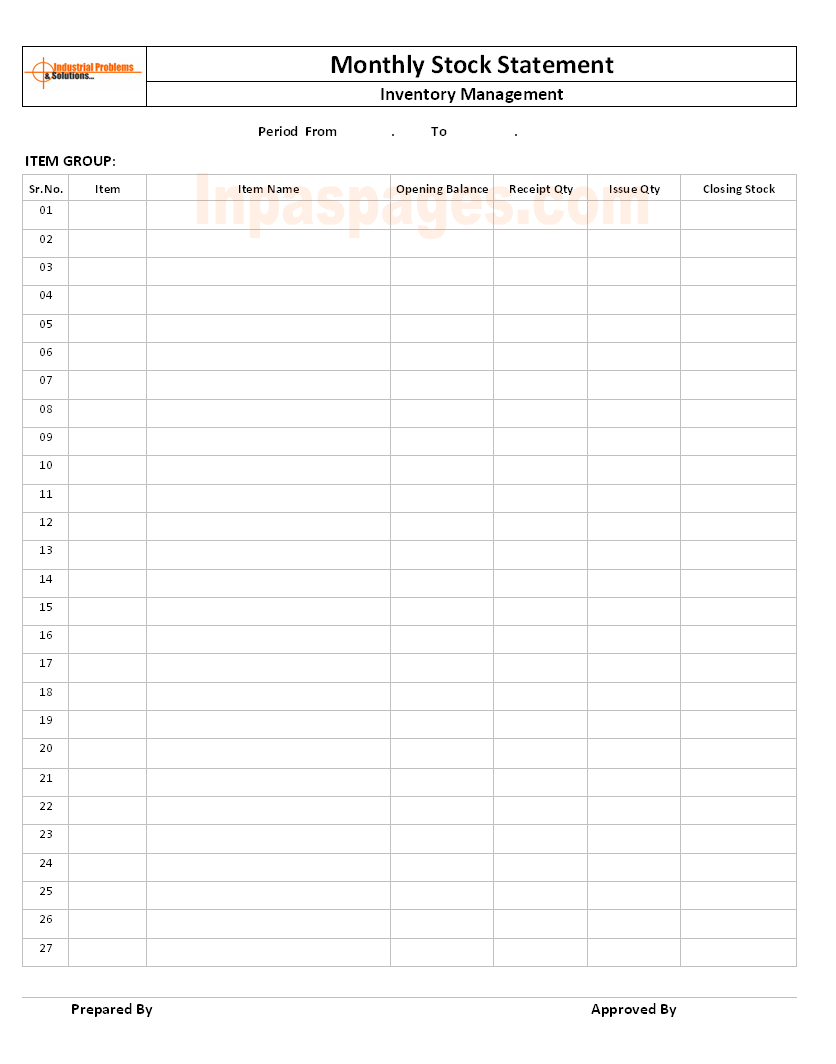 Monthly stock statement format is use to recording information of monthly stock status. The record monthly statement is provide to management for verification and review. The current condition of stock available and further requirements. Monthly stock statement is use for determine action plan for improvement of storage internal system and further requirements. The documentation is maintain as per standard documentation system.
—————————————————————————
Download format in word document | Excel Sheet | PDF format
—————————————————————————