Continual improvement of process efficiency
Continual improvement of process efficiency is monitoring and controlling system established in monitoring in-process parameters to ensure product quality.
Continual improvement of process efficiency is system to achieving best quality product by determine some actions for improvement of process efficiency in in-process monitoring and controls by monitoring measurements, control setups which step by step in-process parameters are monitors and identify causes of failures and process non compliance, to determine corrective actions and proper action planning that possible to conduct and achieve best product quality. Monitoring of in-process factors to ensure that the final product will be meet standard requirements of products, international standard requirements and customer technical specifications. Monitoring of in-process factors are conducted for manufacturing processes and quality concern systems which help to improvement continual improvement quality product through improvement in process efficiency.
Continual improvement of process efficiency and its concern responsibility are assigned by management to concern managers, generally general manager and quality manager are prime responsible to establish the process in all concern departments, and monitoring and controls to ensure procedure is properly adopted by system and follows by working environment. For the conducing and improvement of the process efficiency, concern management are conducting the some process and documentation are managed and discussed in management review meeting for further improvement, the system is needs maintain & frequently monitoring on processes for understand and get ideas for experiments and improvement without product affects. The documents are used for conducting tasks that is process efficiency improvement sheet where all concern information is collected and mentioned for recording purpose, see picture below given as example format for process efficiency improvement sheet for education purpose: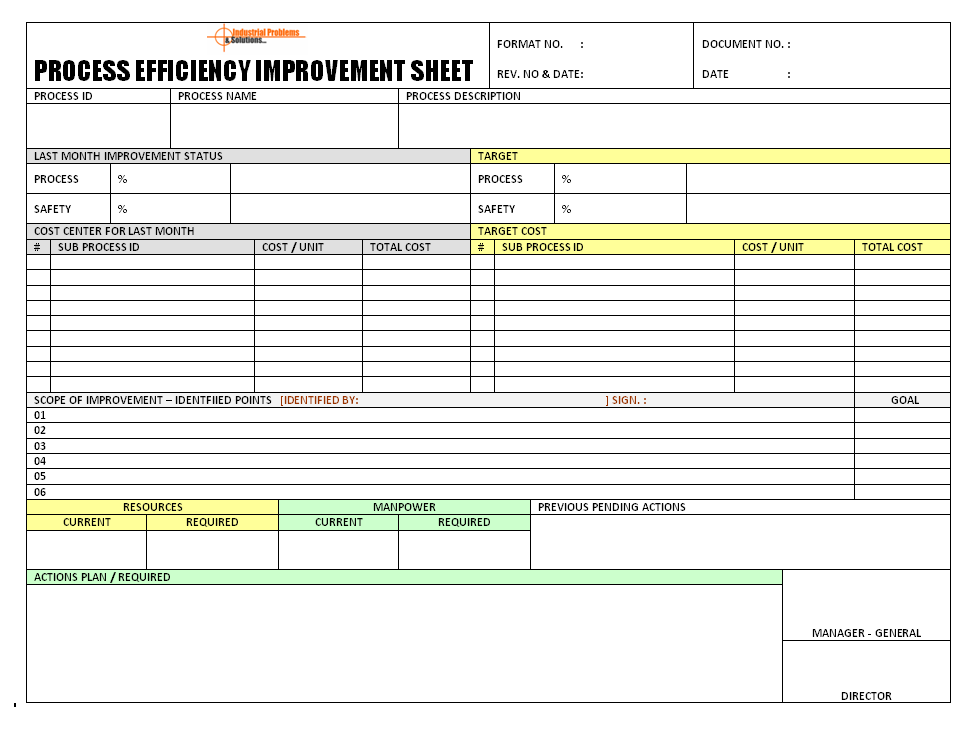 Process efficiency improvement sheet prepared by general manger and inputs from the various departments are managed by appropriate managers, general manager is responsible for conducting information from various department where key processes are running, hence department managers are responsible for provides such information and analysis results concern processes. General manger is conducting information and filled and compare with previous month for identify improvement in last months, the system is help to identify and determine requirements further to improve.
For the continual improvement of process efficiency, management team is conducting meetings and discussed some important points for improvement, actions and further requirements, there are all department managers should be available in the meeting to each can suggest for improvements, generally the meeting is conducting for reduction of the cost of processes without affecting product quality & reliability of products. In the meeting all concern peoples can suggest its own opinion for development of product and improvement in the processes with considering safety requirements, safety is first priority for the processes hence requirements of safety are considering on top, mean safety and product quality are on higher priory and to keep the same all improvement actions are conducted. One of the most important discussion topic can be, managing and implementation of targets and goals, objectives and policies, deployed standard operating procedures to improve quality of product, to consider budget of company all actions are conducted mostly for enhancement in manpower and resources which is directly concern with processes and costing too.
————————————————————————
Download format in word document | Excel Sheet | PDF format
————————————————————————