MRM Agenda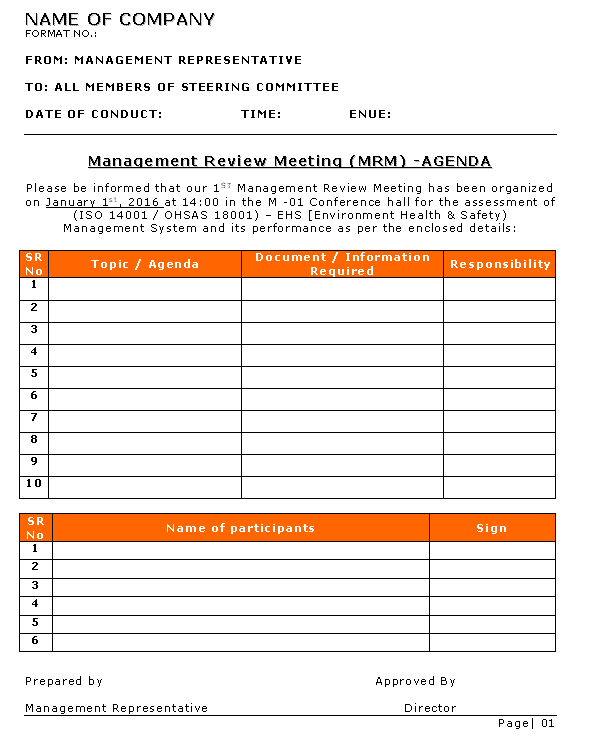 Organization discussion in general meeting concern activities, problems and improvements as same in the management review meeting (MRM) is conducting by management representative with steering committee member to discuss on the performance of environment health & safety performance.
Management review meeting are conducting as per frequency defined by organization system, which can be quarterly, six monthly or yearly as requirements of organization. In the management review meeting before the agenda of the discussion are pre defines and concern data are collecting from the various departments. Meeting directions are on base of points are need to discussion Management review meeting (MRM) agenda. The information are collecting by environment health & safety officers that following points can be discussion:
Follow-up action from previous management reviews
Results of Internal Audit and evaluation of compliance with legal and other requirement to which the organization subscribes.
Changes circumstances, including development in legal and other requirements related to its environmental aspect and Occupational health & Safety.
The Environment Health & Safety System performance of the organization
The extent to which EHS objectives & targets have been met
Relevant communication from external interested parties, including complaints.
Results of participation & consultation
 Status of incident investigations, corrective and preventive actions
Recommendation for Improvement in the system i.e. safety statistics, Suggestions scheme, training status.
All above points are mainly discussion to concern environment health & safety system concern, above points are general & each company are used similar points that cover all the activities are required for discussion in management review meeting as per ISO 14001 & OHSAS 18001 clauses requirements.
 Related Topics: