Packaging waste management
Packaging waste management established to provide structural guidelines, procedures to employee for manage packaging materials & concern activity.
Packaging waste management system is established for the managing structural information of packaging activities, packaging guideline and procedures provides to each employee, the part of management packaging materials & concern activities are managed of waste that generates during packaging activities, the records are manage of each packaging activities to conducting proper analysis of waste management in the organization. The packaging is sequence process of the whole manufacturing processes that as interaction of each processes are managed accordingly that quality process is in up sequence of packaging processes that all the materials are comes from quality department after the final inspection as we'll know. Packaging waste management system process is maintained for monitoring and controls over packaging processes & waste that generating through various processes are managed, the processes are managed according to waste management system as standards. Packaging waste management system procedures helps to determine actions on the packaging activities that generally managed for reduction of environmental friendly materials, materials that maintain quality of the product and minimization of waste during the packing process.
Packaging waste management system process is maintained by packaging management, and packaging in-charge is responsible for deployment of procedures, guidelines and activities monitoring on activities as well as controls over processes to effective management, minimization of waste in the processes that conducted for supplying materials to customers. Packaging waste management system is conducted by concern management and its documentation, see picture below given as example format of packaging waste sheet as education purpose: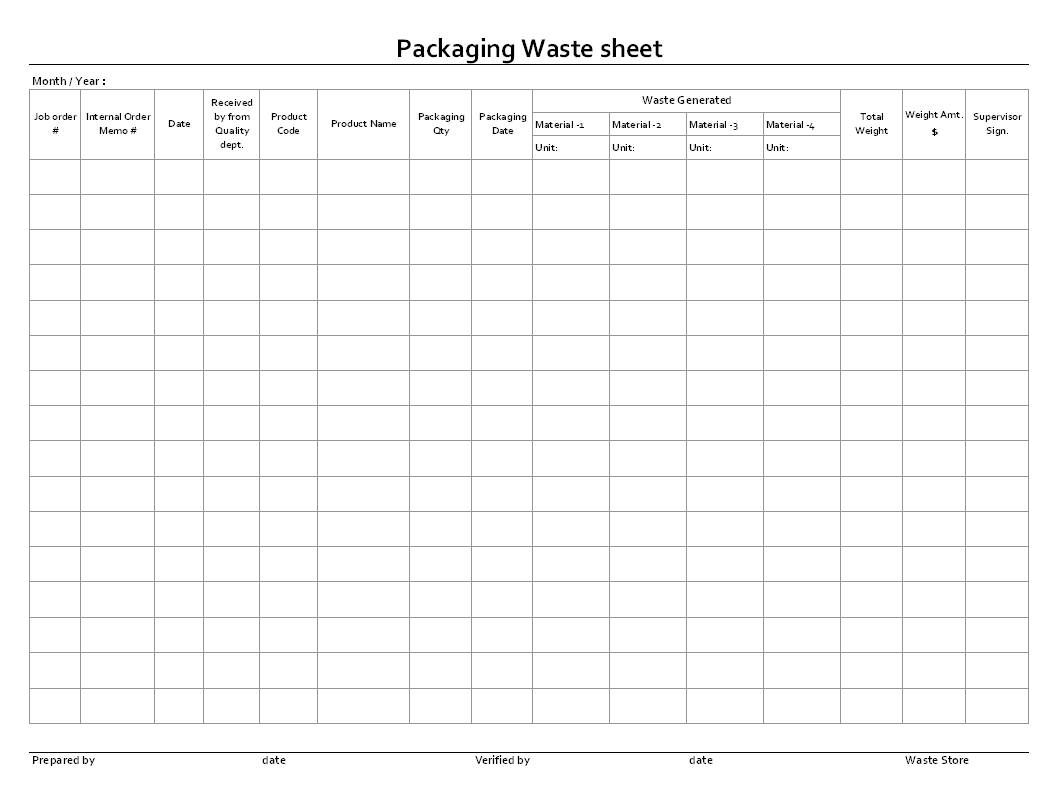 Packaging waste sheet format is used for recording information of packaging materials waste generating during packing procedures, the materials packing & ready for dispatching processes is conducted in packaging department; hence the process is maintained generated waste in packaging department. Packaging waste sheet format is managed documentations and its concern analysis handled by management, management peoples are handled analysis to reduction of waste, identification of the requirements of customers, reduction of materials that having environmental issues etc.., are considered for analysis. The documentation is maintained as per standards system.
—————————————————————————
Download format in word document | Excel sheet | PDF format
—————————————————————————