Material loading documentation
Material loading documentation is system to conducting material management and documents for shipping materials to customers.
Material loading documentations are conducted by dispatch and packaging department to managing materials for shipping to customers by systematical documentation and management instruction. Material loading documentation is dispatching and packaging processes which through materials are moved from quality department which are finished all the quality processes and to packaging the materials for dispatching to customers. The documentation of material loading at the containers, trucks are instructed by dispatch department to packaging department as formal information to load the materials to trucks or containers are per management instructed to dispatch as per customer requirements which are on contact with shipping / dispatch department peoples. The material loading is process of packaging / dispatch department which are conducted on order sequences / marketing or management instructions. When the dispatch get the information from marketing department or from management for the materials shipping to customers and all other requirements / procedures are completed that dispatch department is sending the material loading instruction to packaging department, if the packaging department is conducting the processes of loading materials for shipping or individual dispatch department having a facility and peoples to dedicated for dispatching that dispatch head is given instruction to peoples by document which is material loading ship for material load on truck or container for shipping materials to customer, see picture below given format for reference: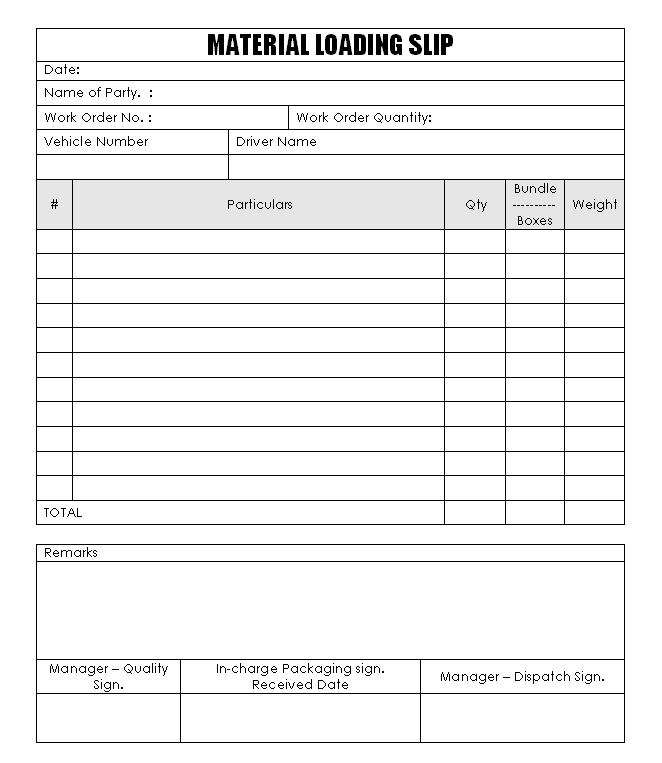 Material loading ship is prepared by dispatch department to conformation of the materials are ready from all the quality inspections are tests which are required to customers and as per its order, on quality conformation, packaging department is lifting the materials for the final packaging, when the materials are packaged that dispatch department is contact with marketing or management for the final approvals for the release material for dispatching to customers, on approvals and conformations dispatch department are prepared the material loading ship which is advise for which materials / quantity are required to load on the vehicle for dispatching, material loading slip is very important that calculated as per vehicle capacity and priority of customers requirements hence its needs to care during the loading materials, material loading team should take care and follows instruction of material loading slip to take of the materials.
——————————————————————–
Download format in word document | Excel Sheet | PDF format
——————————————————————–