Personal protective equipment storage and handling
Personal protective equipment storage and handling for the maintain safety management & comply requirements of workplaces.
Personal protective equipment storage and handling procedure is to ensure all safety equipment are storage establishment, maintain and update records & physically verification, storage and maintain personal protective equipment to comply requirements of safety equipment in workplaces and safety management. In the manufacturing, engineering and other industries are working with heavy equipment, machinery and material which are highly flammable, potential risk and red hazardous categories that required to management should be aware and taken actions for the personal protective equipment, used and proper training to peoples working in workplace. All the personal protective equipment are important for the individual works and areas of processes that need to proper handling and storage required for the comply needs as and when required and same for the used and returned on completion of the task.
For personal protective equipment (PPE) storage and handling is conducted by individual PPE department, in case the small scale industry that possible to consumable goods storage unit conducting the records and materials along with consumable goods, but the records and storage should be separate and easy for the accessible for every concern peoples. personal protective equipment storage and handling is same as other materials but its required to timely conducting inspections, audit of all the documents and visual inspection needed on frequency defined to ensure personal protective equipment are ready for used as requirements raise. All the incoming request for the personal protective equipment is conducted by storage department, storage department is issue the personal protective equipment and same is conducted returned on the completion of works for the safety concern or any potential risk at workplace. Storage department conducting record in personal protective equipment issue record which is separately recording for the transit all the records in single format, see picture below: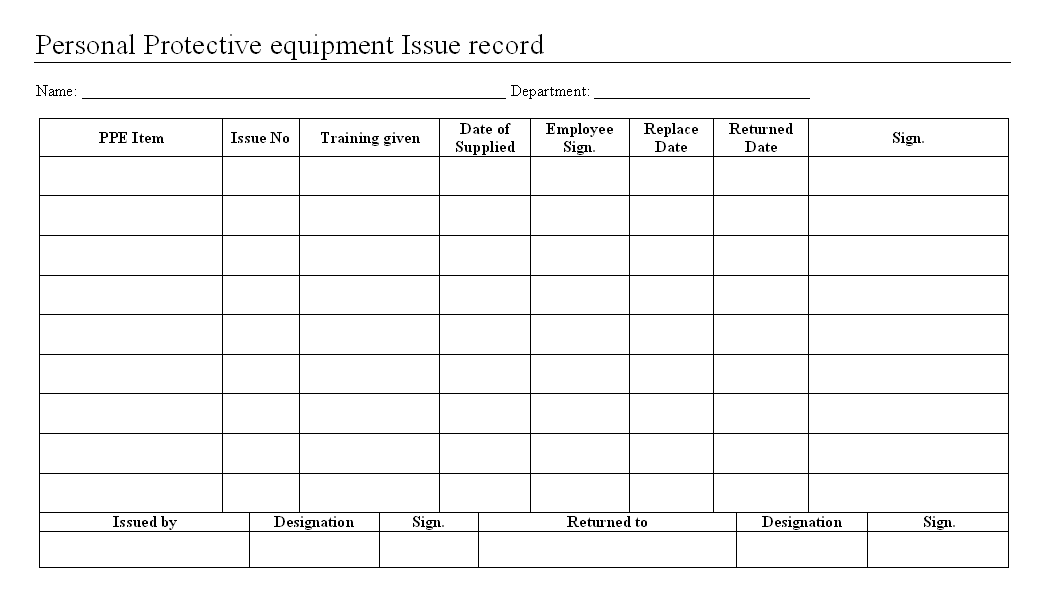 Personal protective equipment (PPE) issue records are maintained for the conducting the used of individual equipment to repairing or replacement of the equipment to used and limitation of product self life, equipment are monitored and analysis data individual for the taking care of used and at time of returned, during inspection and auditing records, documents and time of equipment purchase and no. of time used in workplace. At the time of issue in case person does not know how to use that training is also conducted for the proper used and safe the working areas and protecting self too. Personal protective equipment issue record and its concern transitions are conducted and recorded along with activities as the register format.
———————————————————————————-
———————————————————————————-