Petty Cash voucher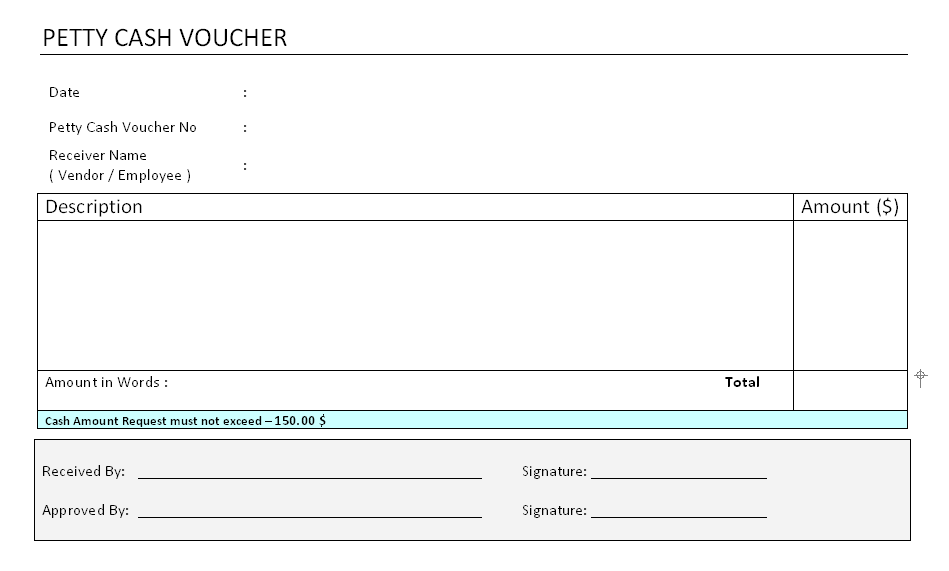 Petty cash voucher is note for small amount transition, expenses in cash which is difficult to pay by Cheque or not possible to regularly made any further transitions by others ways. Mostly in petty cash are maintain regular small amount transitions like a vehicle gas, bus frights, meal by employee etc.. Which are mostly instantly needed to pay that no any way left. Hence petty cash is active part of the main cash flow.
In the petty cash voucher, general information are enough for the transition, same as cash voucher are possible to conduct. In the petty cash voucher following points are required to full fill which helps to accounting entries & cash flow balances:
Date of petty cash voucher & sequence number of voucher

Receiver Name – receiver can be vendor or employee, in case of the small amount material, stationery or any thing purchased that if paid in cash by petty cash amount are need to show in voucher. Same paid to employee against any expenses made that petty cash voucher is required for evidence.

Full description of the expenses made by receiver, if any evidence like bill, ticket or payment receipt for the material is available with receiver need to attach with petty cash voucher.

Amounts and further sign off process fields are also important and completely complied.
EXAMPLES, SAMPLES & FORMATS