Pre dispatch inspection process
Pre dispatch inspection process is conducted to verification of the dispatching materials, packing and documentations to ensure that all activities are maintained properly.
Pre dispatch inspection process or procedure is established for inspecting all the documents, packing materials, packed products and dispatching materials which is ready for dispatch for ensure that each activities, and product which is being dispatch is current and concern records are prepared accordingly. Pre dispatch inspection is important process that is conducted on after the and before the packing the materials, the pre dispatch inspection is conducted after final quality inspection, but the difference of the this inspection is to conducting the records, packing and material as visual and randomly of the product to ensure that the product which is outgoing dispatch that is correct as per customer request in purchase order. Overall the process is verification process where all concern information of dispatch are verified and inspecting the materials before dispatching. The purpose of the pre dispatch inspection is to verification of the packing, some time huge order having big quantity of the product that are sending part order to customer for the dispatch that dispatch department should be verify the product which are being dispatch, how much quantity and which product is going to deliver or what is the sizes, specifications and tolerances will be accept by customer is conducted and inspected during pre dispatch process. In the pre dispatch by mistake the wrong sizes, specifications or product is loaded that possible to tracking and identification.
Pre dispatch inspection process is conducted by dispatch department, with support of quality department, and quality manager and dispatch head is responsible for conducting pre dispatch inspection process for verification of the dispatching materials to customers. The quality engineers are responsible for the conducting product which is going to dispatch as per standard requirements. for the conducting process of pre dispatch inspection, inspection team is prepare documents for the managing records is pre dispatch inspection report, during the process all the activities and information which are collecting during audit is mentioned in pre dispatch inspection report, see picture below given as example format of pre dispatch inspection report for education purpose: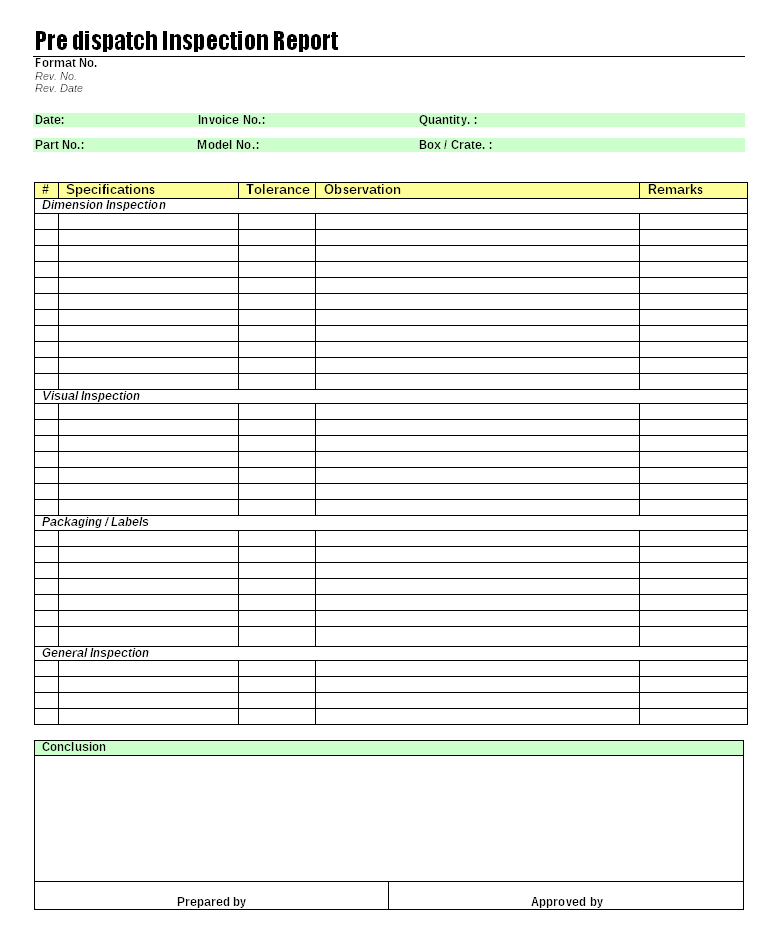 Pre dispatch inspection report is handled and storage at dispatch department, which are quality department is handled the process that the records and documents copies are conducted at quality department and managed accordingly. The records are maintained for analysis and tracking, when the part order is going to dispatch.
————————————————————————–
Download format in word document | Excel Sheet | PDF format
————————————————————————
Related: