Monthly Sales target Planning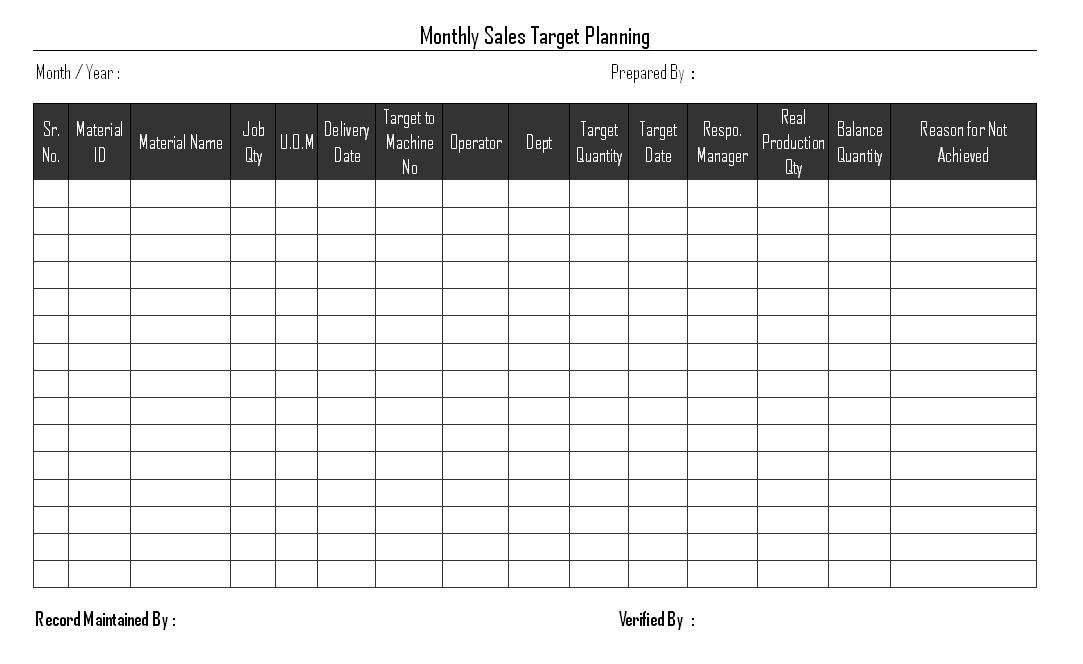 For the growth of the company, mostly companies are creating sheet for the planning of the sales to force on the team of the company to manage the each activities to make possible the achieve target of the sales which is made by company management. Monthly sales target planning is most important part of the management to command marketing to dispatch department for the create rhythm in each order cycle to minimize delivery time, reduction in the waste of the time & manage all machineries and equipment to work effectively at this case.
Monthly sales target planning sheet is maintaining the sales tracking of each order to operating mechanism of the all the concerning process of the company. To consider the serious requirements of the management team that here as below given example format to easy to manage monthly sales target planning:
Material Identification

Material Name

Job Quantity

Unit of measurement

Delivery date

Target to machine number

Operator Name

Department

Target Quantity

Target Date

Responsible manager for the achieving targets as per planning sheet

Real Production Quantity – Actual quantity at production line

Balance Quantity – Planning quantity minus actual produced quantity

Reason for Not achieved – in case of the some trouble during the manufacturing process to producing material as per planned and targeted quantity that need to mention reason for the not achieved.
EXAMPLES, SAMPLES & FORMATS
You would also like to read: