Process Change management
Process change management is provides guideline for system to proceed initiating, processing and controlling and managing manufacturing process change.
Process change management helps to manage the manufacturing process management & supporting to producing material with comfort environment, process changes is very important for the production line that needs and requirements are possible to provide flexibility on demands of the product, customer and time requirements. Manufacturing divisions are working with a system which is organized manufacturing structure called sequences and interactions, this process change management helps to makes a bridge with flexibility of the manufacturing processes on requirements to enable producing the material, monitoring and controlling on change occurred. Process change management covered all the new process, machinery changes or major repairs in machinery, equipment, layout change & major tooling changes that helps to enhance productivity are considered.
Process change management applied to all the process & activities for product design to finish product & supporting activities to directly or indirectly effects on product quality and concern factors. The process change management effective when transferred, released production concern, customer concern requests that the changes to document by change process management.
Internal change requirements are conducted by the plant supervisor that simple form are conduct to fill for the process change request to another department head by approval of plant manager, as return conformation process change can applicable, same are all the process change management responsibilities are assigned to works manager/plant manager or general manager by the management.
Process change management shall include following:
Major change to production tooling / die or supporting material
Major Change to equipment, machinery or new installation
Change of the raw material
Change to process methods, process control parameters
Layout changes
Latest development, Advance technology installation.
Key operations of the manufacturing needs to focus the change made on requirements shall be applied to all processes by management for customer satisfaction & productivity improvement.
How to manage process change?
Process changes management is structured system which can applicable to all the processes to merged its designed request & organized structure with flexibility of the effective system approach, here as below process management flow change for reference:
Process Change Management – Process Flow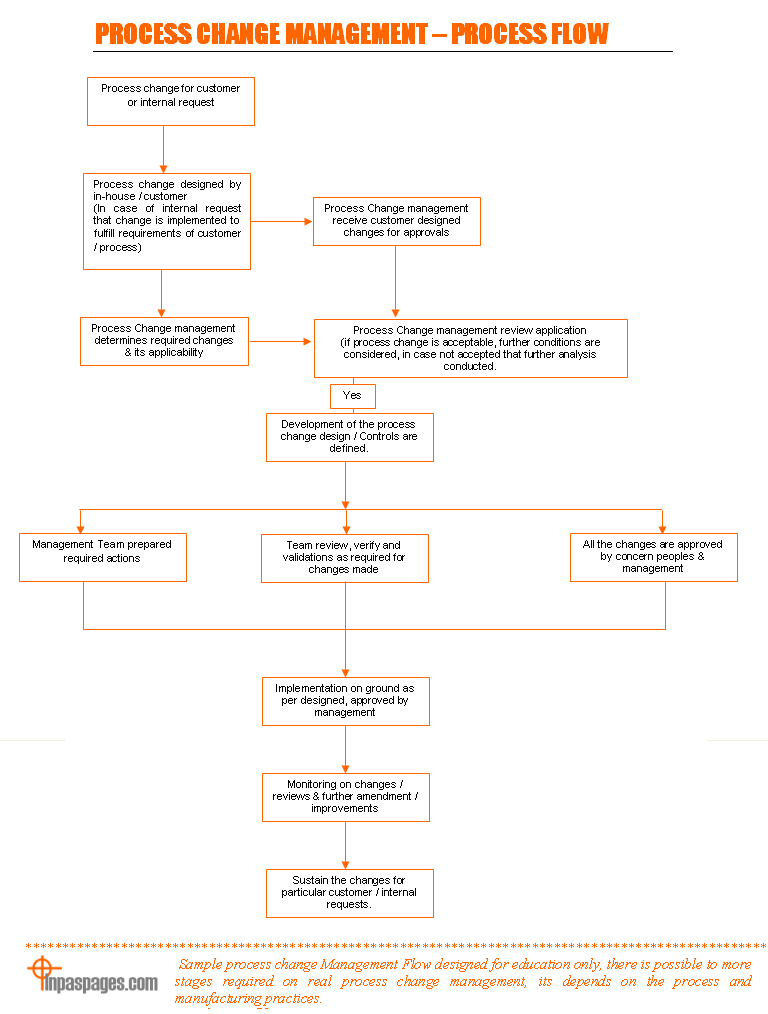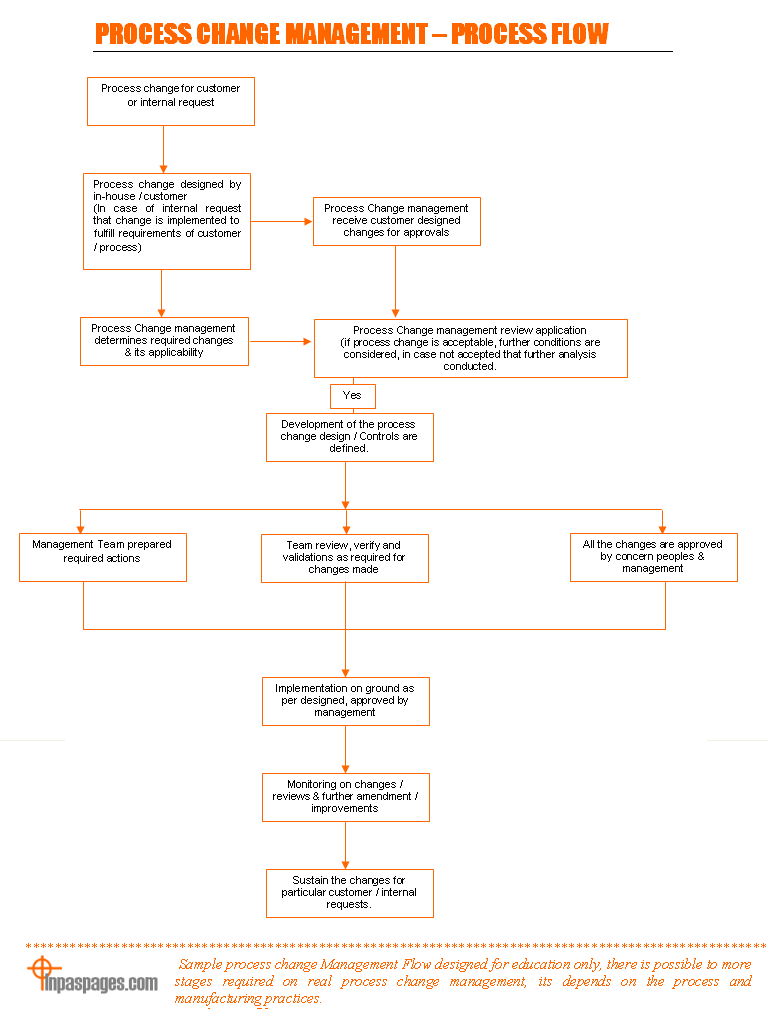 Core Requirements
All the process change shall be applicable for all process and key operations are accepted only after prior approval from the customer or if requested by internal request that department head / management approval is necessary before implementation.
PFMEA: When any process are modified, altered or change that required to analysis of each step and stage to ensure the process is effective perform in the manufacturing activities, for the analysis and identify risks and its level of the impacts on the manufacturing activities, product quality that failure mode effective analysis ( process FMEA ) is conducted, Process FMEA shall be developed and reviewed prior to change to analyze the effects of potential failure conditions and impacts risk priority can be assessed prior to making necessary changes. Process FMEA is conducted by Failure mode effects analysis form helps to find out risk levels.
Capability Study: Through process capability study each changed process are measure to identification of the capability. Process capability study is measurable values of process to measure the values of the product specification like a product sizes and parameters which is conducted on the middle of the study to ensure the product's process which is changed perform well to minimize variation and deviation in product.
Example: Capability study conduct on product measurable values, here we are considering stainless steel round tubes and understand how to capability study is measure and study is conduct for changed process. In the stainless steel round a tube having the specific property is: Stainless steel round tube – 19.05 mm Dia, 2.11 mm thk – Study Report is conducted as below: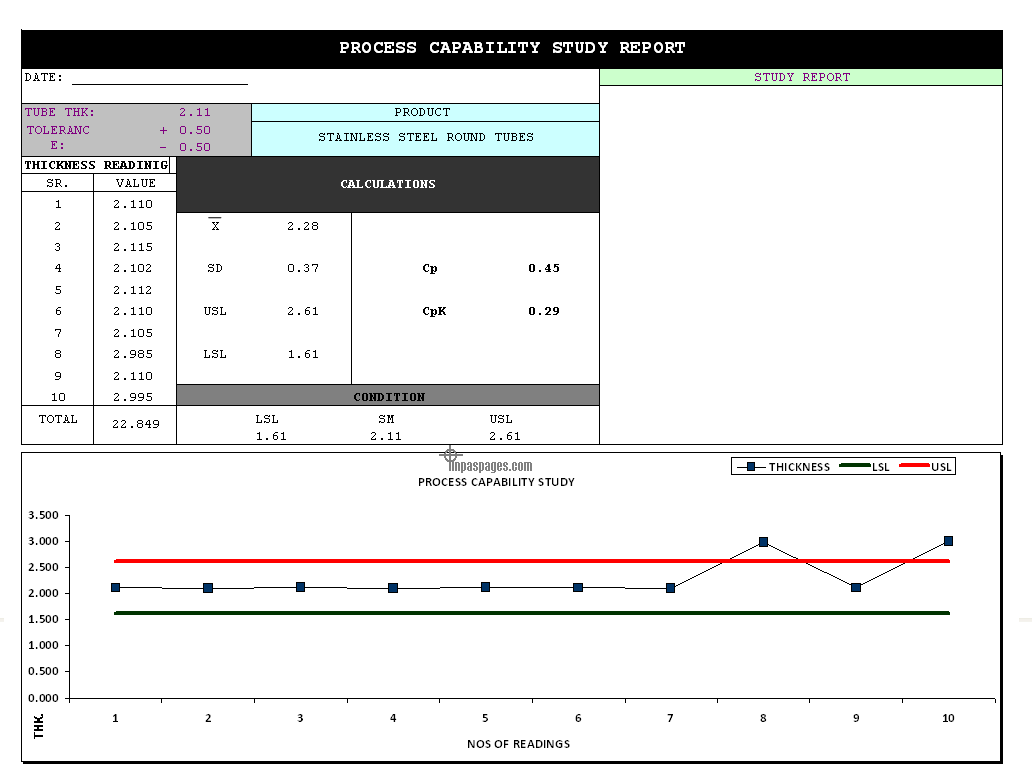 How to do process change review?
Process change management to be covered – new process, new machinery & equipment installation, major machinery and equipment repairs, company / department / plant layout change & major B.O.M. , Tooling changes. All changed process should be verified by review, management team shell be conduct review of each designed change / requested changes. Here (Download Process change Review Checklist) is ready made format available for download with complete reviews points.
Process change management is covered all the details which mean of major change in the plant level to documentation that directly or indirectly change can effect product & product quality. All evaluation & studies it should ensure that any process changes & its result in favor of the product quality improvement & customer satisfaction. On rejection of any request for the process change are also conducted by management team to analysis for the request raised by the customer or internal department peoples.
————————————————————————
DOCUMENT / REFERENCE DOWNLOAD
DOWNLOAD PROCESS CAPABILITY STUDY REPORT FORMAT IN EXCEL SHEET [XLS]
DOWNLOAD PROCESS CHANGE MANAGEMENT FLOW CHART [PNG]
————————————————————————