In process inspection form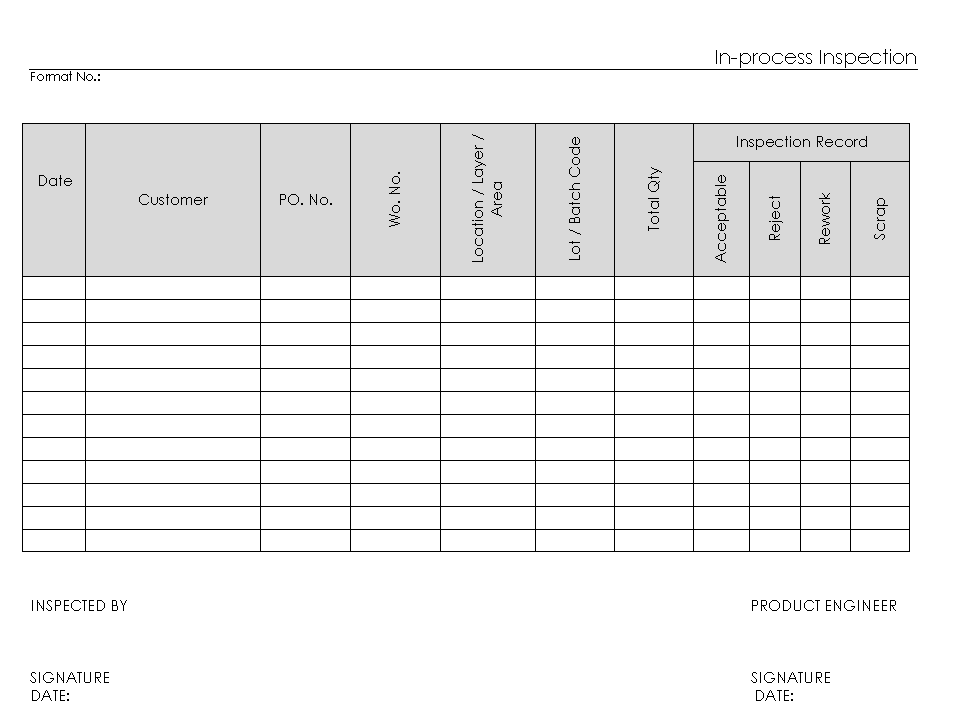 We ever listen this word "No compromise with quality", reason is quality that part had ensure the manufacturing processes and product are reliable to used for users, quality product is always appreciate by customers and increase the customer satisfaction ratio as result more sales & more profits.
Quality parts of the organization can be:
Raw material Quality Checking
Consumable goods Quality
In process quality checking
Final Product Quality Checking
Packed material – Packing & Doc quality Checking
As above is simple each organization are used if the manufacturing unit, there are also possible that numbers of internal quality that is in process quality checking can be more or extra inspections are also done if the manufacturing process are required, depends on product / process that how much and when quality inspection required.
Generally, in process some fields are in hidden form, but here we merged that to understand the process peoples are reliable like customer name. in the process inspection following Fields are required:
Customer Name
Purchase Order No.
Work order / Job order / Sale Order No.
Location / Layer / Area / Department
Lot / Batch Code
Total Quantity
Acceptable Qty / Rejected Qty / Rework Qty / Scrap
All above fields are as result of the in process inspection, result of the in process inspection records are field in this form for the records maintain. All in process inspection records are very important till order is not closed that is material dispatch and after sales services, same are retention of those record's frequency also need to defined.
—————————- Download Format —————————-
—————————- Download Format —————————-