Process mapping documents
Process mapping documents are describe process diagram that help to determine management of process to producing materials & deployment resources.
Process mapping documents are prepared for the recording information of process diagram or planning that describe process stages and its activity, integrity of activity to each others and sequences of stages that describe the map of processes to producing particular product in manufacturing processes. Process mapping is the structural informative map to manage processes to producing materials in the production lines are became very easy though understanding the stages of requirements products and its standards requirements to comply product quality, and also to helps to verification of effective communication, integration, managing stage sequences and effective verification to meet product as standards requirements as well as customer specific requirements and according to process map, concern management is conducting product to producing in manufacturing process stages. Process mapping documents are managed to conducting each process stages and managed in the mapping activity to organize each activity, resources requirements, available locations and concern, to easier for handle process to supporting manufacturing and its concern activities.
Process mapping documents are prepared by management and management representative is responsible for managing and deployment in various manufacturing stages, supporting areas and locations for development, maintain and improvement of product, activity and management parts that help to provides quality products to customers. Process mapping documents are prepared and deployed in the existing system by management representative, hence general manager is responsible for maintain procedures and process requirements, monitoring on processes and identify controls to manage each process are deployed in the system. Process mapping are managed according to product and product standards requirements, specifications and customers requirements, see picture below given as example format of process mapping are easier to manage to educate the peoples for process stages, requirements of products to manufacturing and concern, below picture for education purpose: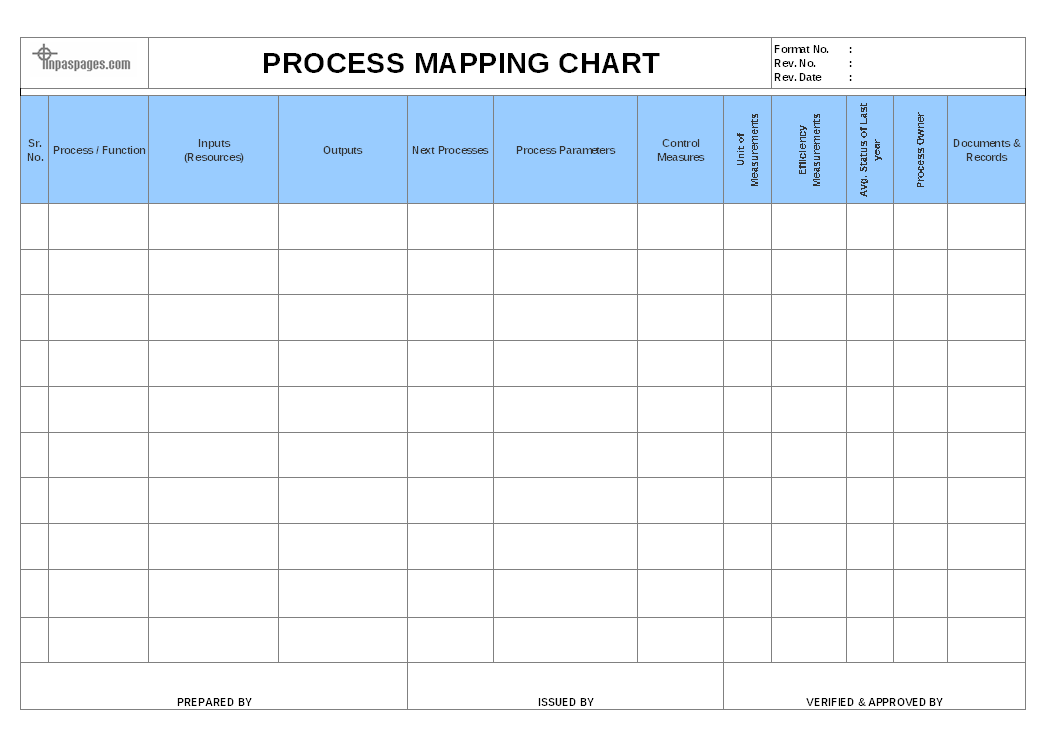 Process mapping chart is format that used to recording information of the process mapping, activity that covered internal activity, process stages that required to managing internal manufacturing activity as per standards system and customer specific requirements. the process mapping chart is covered all process concern activity that describe what the measurements are required to process and its activity, required controls over process stages, verification and validation of processes according to standards requirements for the manufacturing processes and product standards, required parameters to peoples get the manage and setup of process parameters on prime management procedures, and the process inputs are outputs are describe to easier to understand process basic requirements and resources that used in the process. the documentation are maintained and update on process change, customer requirements and management change, or end application requirements are changed, and same the documentation are managed and update accordingly.
———————————————————————————-
Download format in word document | Excel Sheet | PDF format
———————————————————————————-