Product Shortage notice document
Product shortage notice documents are established & sending to product sender department to become aware of product received is in short quantity.
Product shortage notice documents are prepared by product quantity, lot or batch receiver if short quantity received from sender department, the document is notice to sender for acknowledge for product identified with shortage. In the manufacturing processes, product is moving on department to second department to maintain sequences of process and conducting production as per customer requirements, during the production in case any department get the short quantity as per records / documents are passed along with product that receiver department immediate take action and sending product shortage notice to sender department, this is the system that helps to tracking product during manufacturing processes, when the shortage quantity delivered to receiver that notice is being closed.
Product shortage notice document is prepared by department which had received product quantity from previous manufacturing process or department for further process, so receiver department is provide this document to sender department and receiver department's manger is responsible for provide such document to manage standard system of company. The document prepared and send to material sender department is shortage notice, see picture below given format of it for education purpose: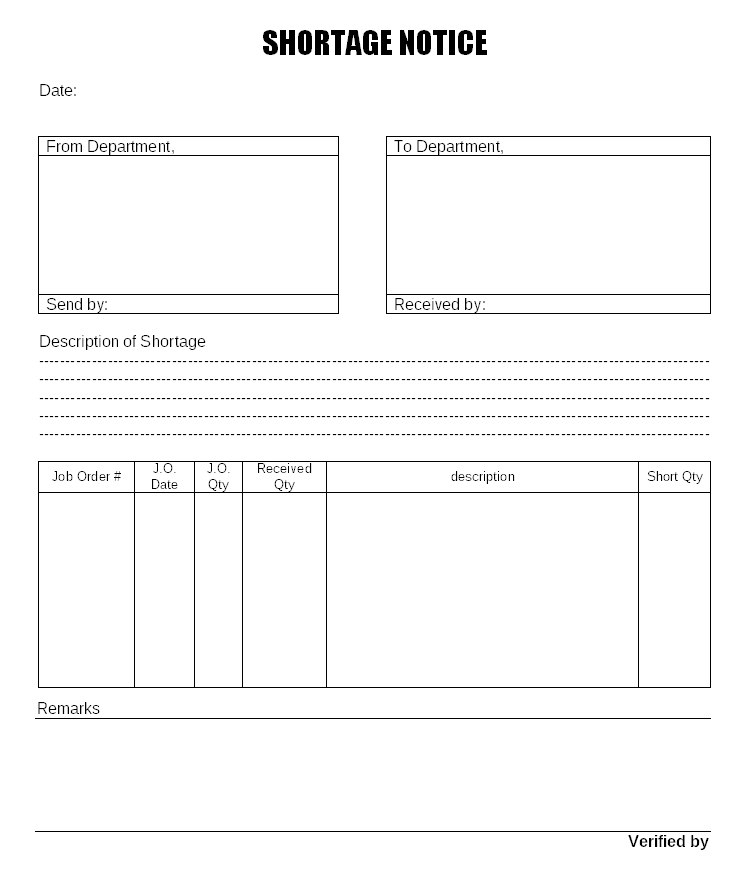 On base of the shortage notice, sender department is being active to identify mistakes where materials are shortage and quantities are identify and complying remains materials to receiver department for closing the shortage notice. This document is important of the system that each department needs to formally provide this document to others on cases raised. Shortage notice is provided on base of the job quantity and sender's documentation, sender are provides some document like list of the materials, memo, or any other document where all the details are described and given along with materials, receiver department is check the document and match with quantity sent by sender department, in case any different found that shortage notice is prepared and given to them.
—————————————————————————
Download format in word document | Excel Sheet | PDF format
—————————————————————————