What is product specification?
A product specification is a document provides valued information in sequence about product wherein design, standards, technical requirements and end application needs are merged.
What is product specification analysis?
Product specification analysis is model implement to manage standard specification of product to values end application by controls on product dimensional, parameters, manufacturing processes & resources.
How to conduct product specification analysis?
Product specification analysis is concept that use to managing records results. To determine improvement of product specification & customer expect characteristics during manufacturing activities. The product specification should be needs to maintain as standards requirements. The analysis is help to identify the causes of mistakes, misunderstanding, human errors, parameters unmatched etc. are verify.
The team can get the idea what type of implementation and where and when require to controls over manufacturing processes. To achieve better performance of processes and target values. The product specification analysis is manage as per product type, sizes, product technical requirements and characteristics at production lines.
Factors & analysis process?
For the improvement of product specification by analysis are manage to considering some require factors. That affecting regular tasks should be full control. The monitoring team should activity participate in the processes to engage with manufacturing processes by various processes.
The analysis are manage on the records collect during the manufacturing processes by concern supervisors are based information. Each supervisor should be conduct the tasks of documentation and accurately manage the require information are provide in it. Hence the department head is also equally responsible for the monitoring on the activities of each resources.
Product specification analysis
Verification of the documentation maintain by supervisors should be frequently monitor and approve. The implementation of the product specification during the manufacturing activities are manage as require. Some points that help to determine action on the implementation of product specification analysis process is conduct to considering following:
Technical
Technical requirements, standard requirements and end application requirements.
Considering product sizes, dimension and product tolerance.
Implementation of monitoring system in-process activities.
Deployment of proper measurement of product standards sizes and technical requirements
Implementation of in-process inspection, sampling planning to proper conduct inspection as standard system.
Calibrate measurement instrument to verify product dimensions at appropriate locations.
Monitoring & verification
Managing comparison, analysis planning of tolerance variation and deviation by various process and statistical techniques.
Deployment of proper monitoring system to verify the product at visual testing during in-process by process owner separately.
Verification of the procedures, guidelines & instructions to identify non-conformity in the procedures and documentation.
Verification on the tolerances as per standard product requirements of each product in-process, final product and raw material inspection if require.
The management team as well appropriate department should be aware the peoples and monitoring on the specification requirements and targets to minimize gap of product specification. Achievement for close percentage main phase of the monitoring and controls system. That product realization supporting methods are useful in the cases.
Implementation
Implementation of proper system to monitoring and controls over the process are conducting producing materials during the production as well monitoring on process parameters.
Each machine / equipment / devices or any thing use in the production, manufacturing processes should be verification of parameters should be deploy as standards manuals of appropriate resources.
Train / Education employee are engage with manufacturing facility should be well aware of the product requirements, technical requirements, general processes on product & concern.
Each type of product should be manage, parameters setup, equipment requirements, bill of materials, and resources use in the manufacturing processes should be well test. Require concern processes should fulfilled to comply requirements of product standards and specification are maintain.
The above points are use to managing product specifications and its implementation. The records are maintain for the analysis of product specification, and each actions are determine by management team. It should be verify the points that mention above are helpful for maintaining tolerance of product dimension, product specifications.
The documentation for product specification analysis is manage by concern management on require for further actions, the information are storage in the document is product specification analysis sheet. See picture below given as example format for education purpose: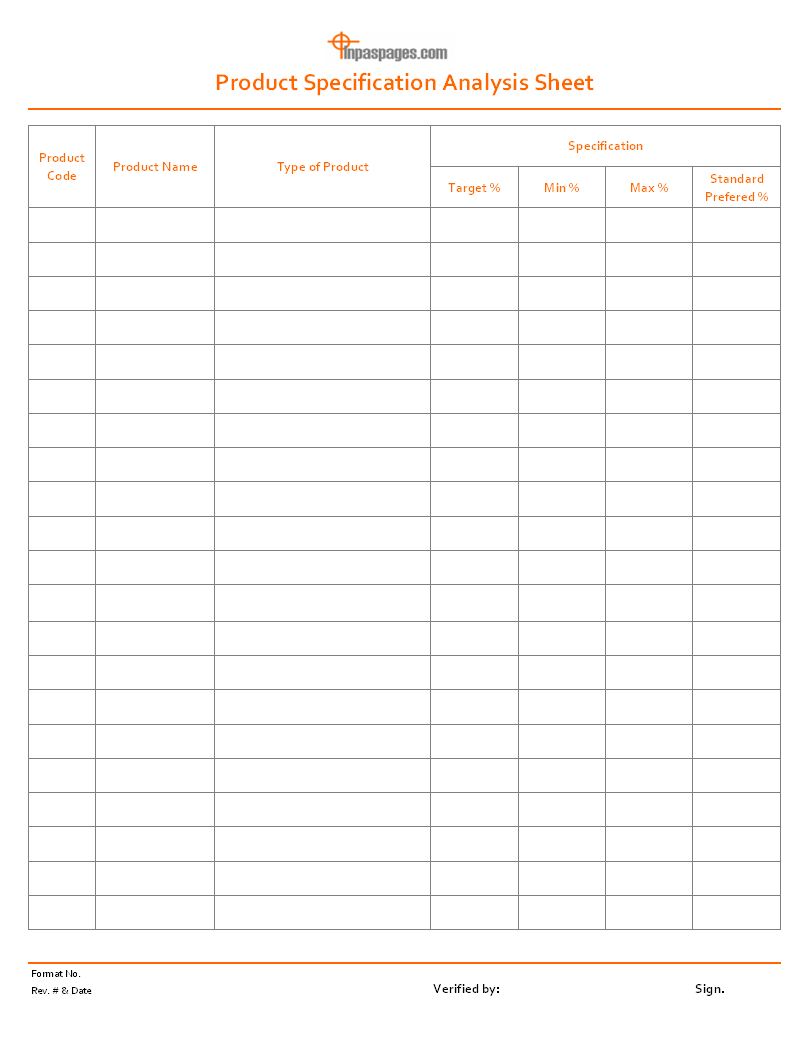 Product specification analysis sheet format
The product specification analysis sheet format is use for manage records of product specifications analysis data and information. That help to determine actions for improvement of product quality at various locations in manufacturing activity, this document is cover the specification requirements of product where each product type accordingly all concern specific targets are define, hence standards product specification are consider for reference to controls over processes to achieving and maintain close tolerance of product specification and targets. The documentation is maintain as per standard system.
—————————————————————————-
Download format in word document | Excel Sheet | PDF format
—————————————————————————-