Project inputs checklist
When project design & implementation phases, design team request for the material as the input to test out the design is perfectly working or still requirement of the change in engineering or any others to achieve the perfections. There are also possibility of the inputs at time of the production & its specification are furnishing required that material input are procurement responsibilities are on project department to finalize the product as per design.
Project design & implementation request for the material that used for the project are need to strictly maintain its requirement and closer to acceptance criteria to master creative work that possible by project design department
As per the requirement given to procurement department, all the requirements are fulfilled or not, for the checking of the project inputs are verifying through project inputs checklist format, some sample checklist points are given as below:
Input materials are complying requirements of the project design specifications?
All material's samples are sent before by supplier? If yes it was approved by consulted authority?
All material sizes, Grades, Specifications, etc… Are as per given in procurement?
Material boxes, bundles, packed had tagged on it "QC Passed"? Or Q.C.passing any evidence?
Test Certificates are given along with the materials?
Is there any hazardous material? MSDS are available along with?
On base of the checklist points are respectively checking the material for the identify any un matching criteria to project safety. If the material are pass by this checklist requirement that project department are taken in charge for the further testing and installation as requirements of project.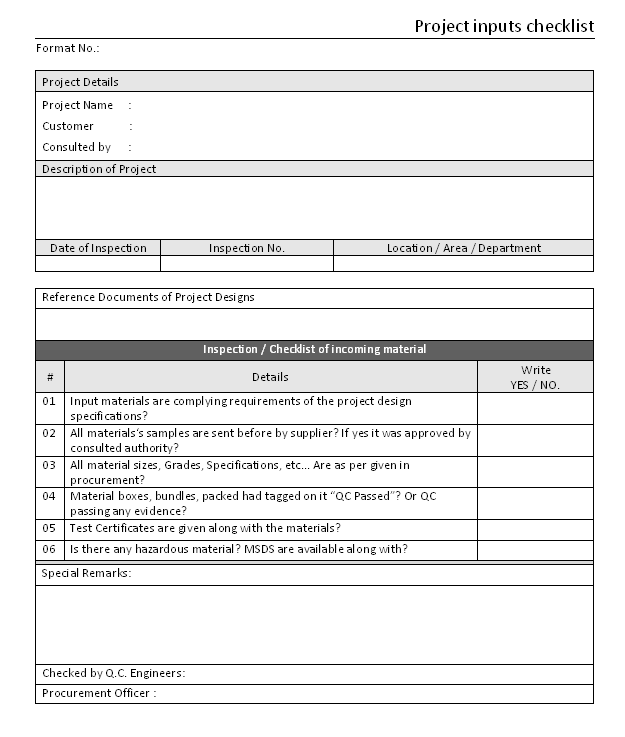 EXAMPLES, SAMPLES & FORMATS