A purchase order checklist is systematic document to verify information of purchase order to ensure all details are mention in PO is correct and sufficient. The checklist may include the verification such as vendor name, the terms of sales, billing and shipping details, addresses, and account details. The checklist use before the issue the purchase order processing in regular order.
Overview to purchase order checklist
The documentation is prepare to comply requirements for purchasing goods, services and out processing services that are concern to manufacturing products. The purchase order concern verification and its procedure should be cover procurement of goods and services includes raw materials and bill of materials, out processing services needs to comply requirements of manufacturing facilities.
The concern procurement processes and purchase order related activities, purchasing manager is responsible or designate personnel are responsible for the review the purchasing, quotations and documentation for clarity, completeness. Further the drawings, sketches other supporting documents are also part of the purchasing data and documentation, hence the verification of purchasing products should be initially verifying by engineering team to conduct for review, and on approvals and clarity further processes should conduct to finalize purchase order.
Purchase order checklist template
The purchase order verification is important before the finalization and sending to supplier, so its verification is conducting by authority with following points: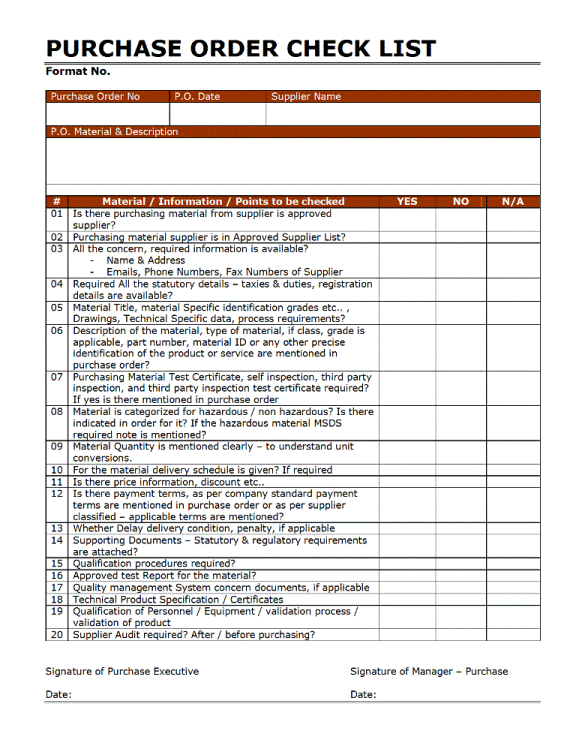 What to include in purchase order checklist?
Is there purchasing material from supplier is approve supplier?
Purchasing material supplier is in Approve Supplier List?
All the concern, require information is available?

Name & Address
Emails, Phone Numbers, Fax Numbers of Supplier

Require all the statutory details – taxies & duties, registration details are available?
Material Title, material Specific identification grades etc.., Drawings, Technical Specific data, process requirements?
Description of the material, type of material, if class, grade is applicable, part number, material ID or any other precise identification of the product or service are mention in purchase order?
Purchasing Material Test Certificate, self-inspection, third party inspection, and third party inspection test certificate require? If yes is there mention in purchase order
Material is categorized for hazardous / nonhazardous? Is there indicate in order for it? If the hazardous material MSDS require note is mention?
Material Quantity is mention clearly – to understand unit conversions.
For the material delivery schedule is given? If require
Is there price information, discount etc.
Are there payment terms, as per company standard payment terms are mention in purchase order or as per supplier classify – applicable terms are mention?
Whether Delay delivery condition, penalty, if applicable
Supporting Documents – Statutory & regulatory requirements are attach?
Qualification procedures require?
Approve test Report for the material?
Quality management System concern documents, if applicable
Technical Product Specification / Certificates
Qualification of Personnel / Equipment / validation process / validation of product
When supplier audit is require?, it may require to perform before the purchase? or it may ok to audit after the purchase the material?
EXAMPLES, SAMPLES & FORMATS: Download