Qualification criteria verification record sheet
Manufacturing units are always need to care of the processes and its concern activities should be mistake proof, qualified and verified to ensure product quality will be comply requirements of application. Customers are expecting from supplier are processing the material to considering its requirements, mostly some customer specific requirements are much important in the process sequences, generally specific process is necessary to verify and same are records maintain to other process can handle in line with requirement.
Qualification criteria verification process is unique processes that need to verify each parameter of process that need to incorporate each activities and its requirements of the customer are need to in pivot for the process qualification to particular customer and same for standard process.
Requirements of the processes for the qualifications are need to controls and monitoring as well as verified below:
Process – Process examination and verification is much important, measurements and process parameters are check to ensure process sequence, parameters and in line with product requirements.
Equipment – each equipment used in process to manufacturing the product that process and its concern activities are depends on equipment should verified to measuring and controlling assurance.
Personnel – process and equipment handling personnel should knowledge of the process and equipment used and utilizations, parameters of the machine and each checklist must aware to complete the task, for the qualification criteria verification it is necessary to personnel should be well trained and skilled to eliminate or minimize level or rejections.
To consider the requirements of the qualification criteria verification record, here ready made record sheet is available for download: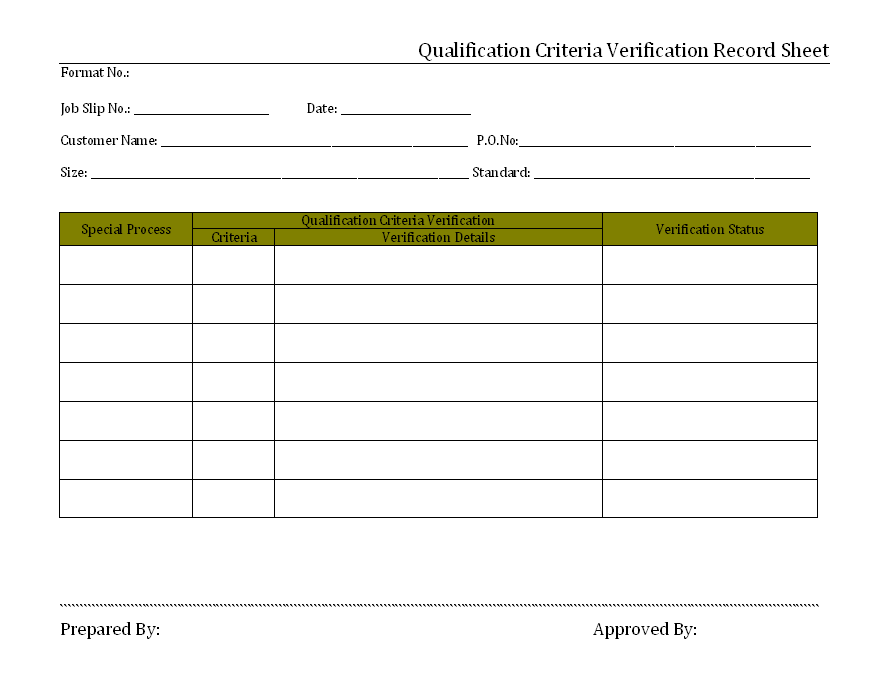 EXAMPLES, SAMPLES & FORMATS
You would also like to read: