Quality alert system for product quality improvement
Quality alert system for product quality improvement is process that conducted during manufacturing process to ensure quality of product & observant quality concern.
Quality alert system for product quality improvement in in-process system that conducting for identification of quality requirements, quality issues and quality concern alerts in the manufacturing processes, the process is conducted to ensure that the product quality requirements and product quality achieving in manufacturing processes are proper and the system is manage observation through identify quality concern issues in manufacturing processes. The purpose of quality alert system to establish system that helps to monitoring on in-process manufacturing activity and determine controls on system alerts, the procedure for quality alert system is managed by many ways, equipment, manuals and devices installation in manufacturing processes are method that used in manufacturing process where devices are pre-programmed for conducting task that defined and required alert of product is under production activity.
Quality manager is responsible for conduct each process concern quality in manufacturing processes and supporting processes, in-process activity concern quality and its improvement is also part of responsibility of quality manager, quality department is determine method to identify quality alerts required in in-process of manufacturing that suitable method are established and monitoring system for quality management is handled. The records for quality alerts which is deployed in manufacturing processes and its document are recorded in quality alert form see picture below given as format of quality alert form for education purpose: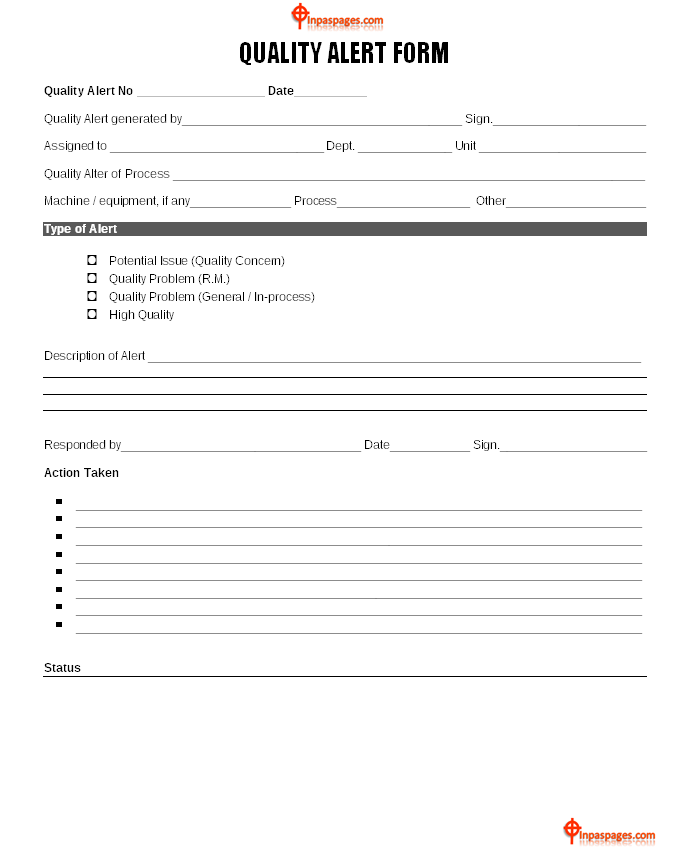 Quality alert form is document used in in-process activity to producing materials, quality alter form is used to identify potential issues to concern of quality that directly affecting product where materials is under processes in manufacturing unit, the records are managed accordingly potential quality issues, the format is used for alert requirements during manufacturing processes where in case any potential issue identify during manufacturing processes due to raw material defects, machinery and equipment concern or other that system is alert if affect product quality.
———————————————————————-
Download format in word document | Excel Sheet | PDF format
———————————————————————-