Quality inspection history record
Quality inspection history record process is established to prepare standard method to proper maintain document of quality inspection.
Quality inspection history record instruction or procedure are established to preparation of quality inspection history records by standard method to proper handling and maintain documents which is conducted during quality inspection of product. Quality inspection history record process is covered quality document receiving, handing and storage to maintain history of quality inspection arranged during the period, and records which helps to future requirements. Quality inspection history records are applicable to all the incoming materials to finish goods and final inspection of the product and on packaged materials to deliver to customers and all the concern records are conducted and maintained for the quality inspection record book. The system is determine to managing all the quality inspection concern documents handling and storage for maintained system approach for quality of product & future requirement to support quality inspection processes. The purpose of the process is to establishment of proper system and standards by define method to compliance of standard requirements for quality inspection history recording, storage, data inputs, and analysis to get the result for improvement quality inspection process system for enhancement product quality more reliable for end application requirement through conducting proper standard method to used for customer satisfaction.
Quality inspection history record procedure can applied to all documentations and concern data which including incoming materials inspection, in process quality inspection in production lines, common material and sampling tests, product assembling, packaging and shipping to customer and before the final inspection of the packaging are involved in quality inspection history records, for some engineering and manufacturing divisions are conducting third party inspection and its documentation are also covered for quality inspection history record which is important part of the quality inspection processes.
For the maintaining quality inspection history records in the storage room, that needs to proper document to remember each documents, records, evidences and other materials which is attached with in sequences and unique numbers to maintain records of particular part of the system. The quality inspection history records are the bunch of document which is conducted by the system and concern peoples who prefer the checklist before the maintaining records in single format, see picture below which maintained quality inspection history record checklist to arranging documents and record in single format: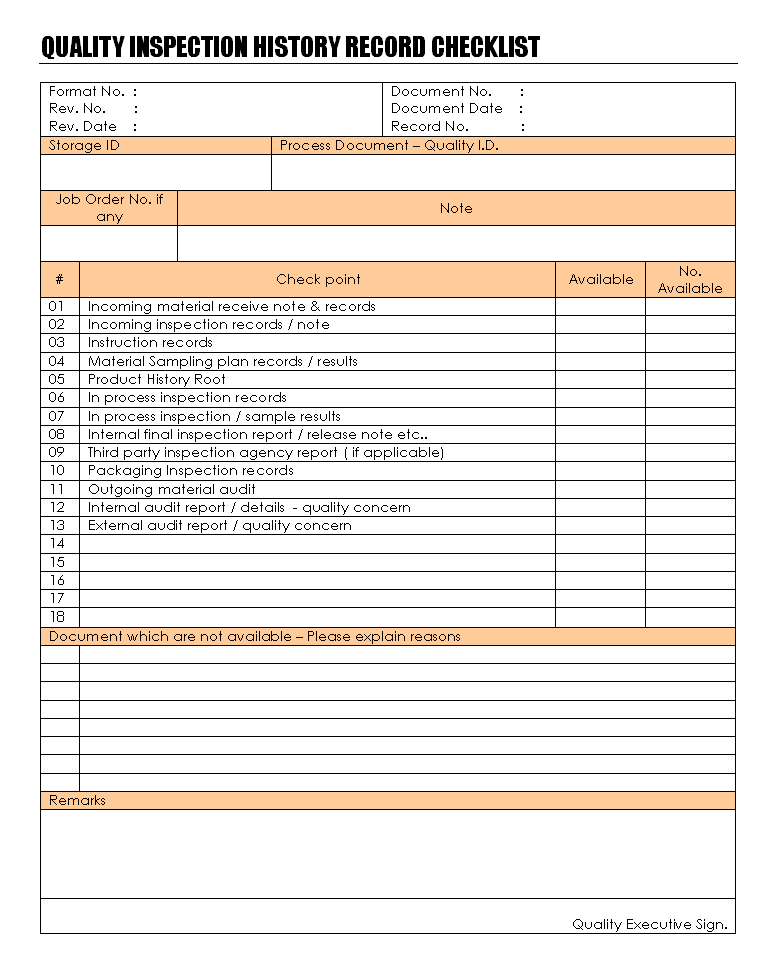 Quality inspection history record established, maintain and storage responsibility of quality head and all the document collection and submit to quality head is quality inspectors and executives, quality head is responsible to proper train to all concern people to communicate and conducting the process for quality inspection records and documentations and all quality inspection processes and inspector will follow quality inspection history process semantically in workplaces. Quality inspectors will be inspecting and recording information and same will be submit as per quality inspection procedures and its records will be maintained and stored as per quality inspection history records. Quality inspection history record process is conducted from the material received for the suppliers, material which is used in manufacturing, quality and other supporting activities which are directly or indirectly affecting quality of product that need to proper inspection and its records are important for the product manufacturing and compliances of customers and system requirements. The system will be appropriately conducted by the inspection and its product route which through possible to tracking the whole system parts and documentations support provided accordingly. All the documentation and its concern records are periodically audit is important to identify nonconformity in quality inspection history records, auditors will be verify documents and route of the records to determine the system compliances, on the audit confirmation of all the data is correct and quality of the documents are maintained that further processes are conducted. Disposal of the quality inspection history records are as per defined time for retention to be continue to recording and storage are maintained, all outdated information and records are dispose as per defined retention period.
——————————————————————-
Download format in word document | Excel Sheet | PDF format
——————————————————————-