Quality management system checklist is list of checklist to ensure the QMS system requirement are fulfill, and related processes are documented & controlled. Normally this checklist contains the each segment of process of the organization.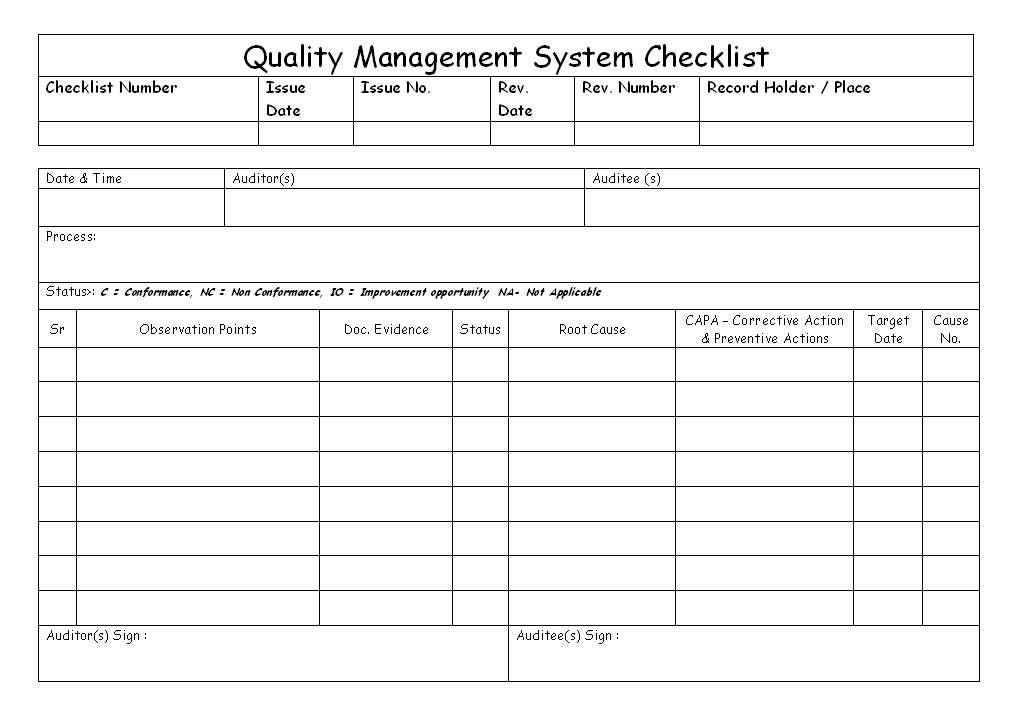 What is Quality management system Checklist?
A quality management system checklist is a well formatting document. That is establish and maintain, to ensure that all requirements of quality management system is maintained at all the places. It may addressing departmental activities through all processes are performing to consider values of quality of product.
How checklist is helpful?
A Quality management system checklist also helpful for the auditing team. All the quality management system requirements' clause wise information and scope of inspection are consider in checklist. So auditor get the easier to focus on deep requirements of process & possible to concentrate on improvement of departmental activities. Its ready format that qualified auditor takes as reference of activities. Even compare easily with activities which is going to audit.
A quality management system checklist is cover all the requirements of the quality management system. This checklist also use as primary document for the auditing which by at all the observation points against clause wise requirements are easily maintain. Hence in this checklist having all the feature that comply requirement of the audit report, this a primary document which used by auditor at time of the audit.
Document Checklist
A Quality management system checklist establish and maintain by quality management representative. This checklist use by qualify auditor to perform task on internal audit. Which is defines for monthly or quarterly to ensure the compliance of quality management system requirements.
EXAMPLES, SAMPLES & FORMATS: Download