Raw material inter processing
Raw material inter processing is conducted to correct raw materials from any minor defects identified during raw material inspection process.
Raw material inter processing is conducted when regular raw material inspection process is conducted by quality inspection to verification of raw materials, when the raw material are identified minor defects due to internal department materials handling, movement or any other reasons happened any defects that all the identified defects during quality inspection of raw materials are managed and storage separately, or in case any raw materials needs to processing for the prepared for production and need some minor change that conducted those processes in raw material department inter processing which are managed at the raw material department facility, the materials which are identified defects and required minor change in raw material facility both the materials are conducted for raw material inter processing and concern peoples are started to planning for it. The planning for processing on the raw materials are managed by raw materials department head and planning department peoples for conducting task, the planning team is manage for requirements and current condition that producing raw materials with complied all requirements to fit for production lines or removing defects from raw materials. Actually this is one type of production processes but generally it's counting as raw material departments inter process and after processing the materials still storage and handled as raw materials hence it's considered in raw material inter processing.
Raw material inter processing is managed by raw material department with planning department, but prime responsibility of processing & compliance of requirements should be raw materials department head, and all the concern activity, managing and arrangement of processing, and documentation are managed by department head, the planning department provides services to processing and its plan for the corrective actions on raw material. The documentation are managed by raw material department head, see picture below given as example format that used to managing and planning form used to recording information, below picture given for education purpose: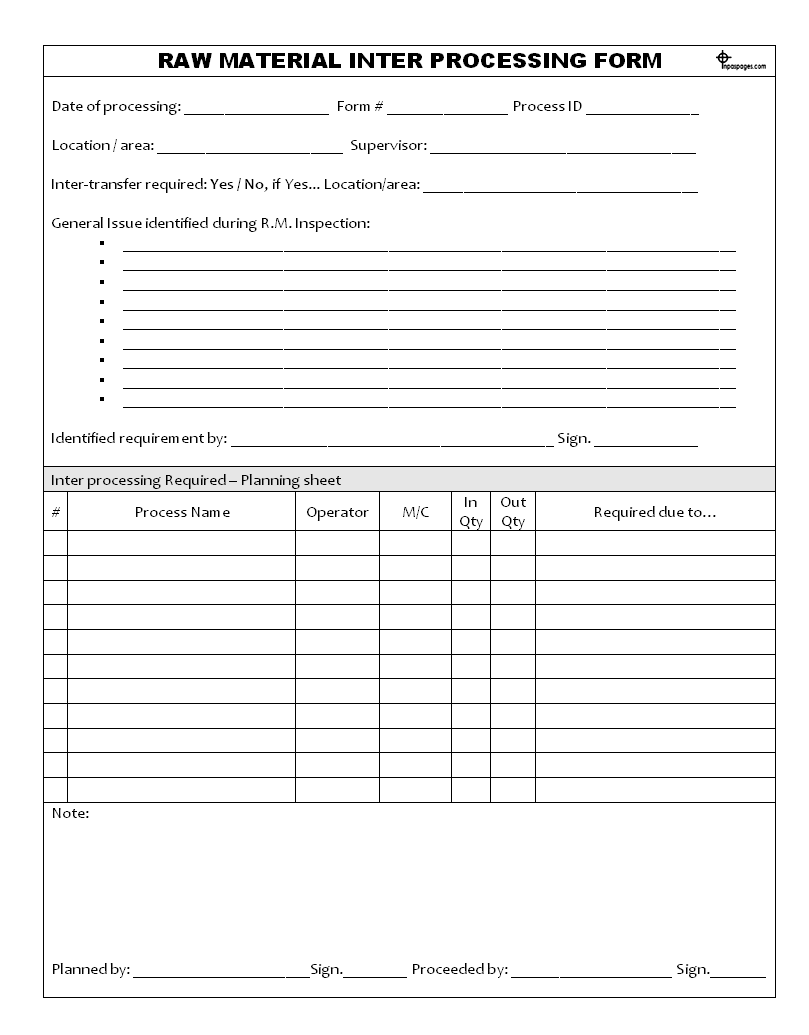 Raw material inter processing form use to recording information of processing conducted on raw materials during on defects identified by quality inspection as regular raw materials inspection, the process is managed as corrective actions that occurred due to improper material handling, moving or improper facility for raw materials that identified to investigate the defects and analysis information collect from raw materials department. This document is used to managing and planning raw materials inter processing.
————————————————————————–
Download format in word document | Excel Sheet | PDF format
————————————————————————–