Monthly safety chart – OSHA standards requirement
Monthly Safety chart is document describes records of safe hours and details of incidents occurs during working days in the workplace. The chart will help you to understand conditions of workplace and what further precaution required?, to eliminate possibility of accidents.
Overview
The monthly safety chart is document, describes records of accident and incident occurred in the workplaces. The format describes safe hours during working days to determine safety precaution at places. The chart includes:
Incidents & accidents are registered during working days.
Processes where unsafe activities are recorded.
Unsafe materials or unsafe behavior identified on records.
Monthly safety chart describes……..
The team is define safety measures at places where maximum risk, maximum incidents are recorded during the month. This safety chart is help to understand the time period, areas and processes where accident or incident happened during the month.
Another input for the action plan is near miss records. First aid box registers which are located at appropriate locations. Actually, Safety officer is prepare the monthly safety chart to collect inputs from various department. The details are where incident occurred, such as department name, location, processes, affected peoples and machinery. It will makes easier for implement proper safety guidelines, procedures and provides training if needs.
Why monthly safety chart require?
The purpose of establishment of monthly safety chart is to managing records of safety concern, incident / accident occurred during the working days at the various places, monitoring on activities to ensure the safety in workplaces. The monthly safety chart is help to safety officer for determine effective monitoring on places where previously incident records, so safety office can define controls over the activities, materials and processes to appropriate locations. Monthly safety chart also help to identify date wise records to monitoring on specific time and dates. The planning of each safety requirements, resources deployments and training are managed as per monthly safety chart. See picture below provided for education purpose: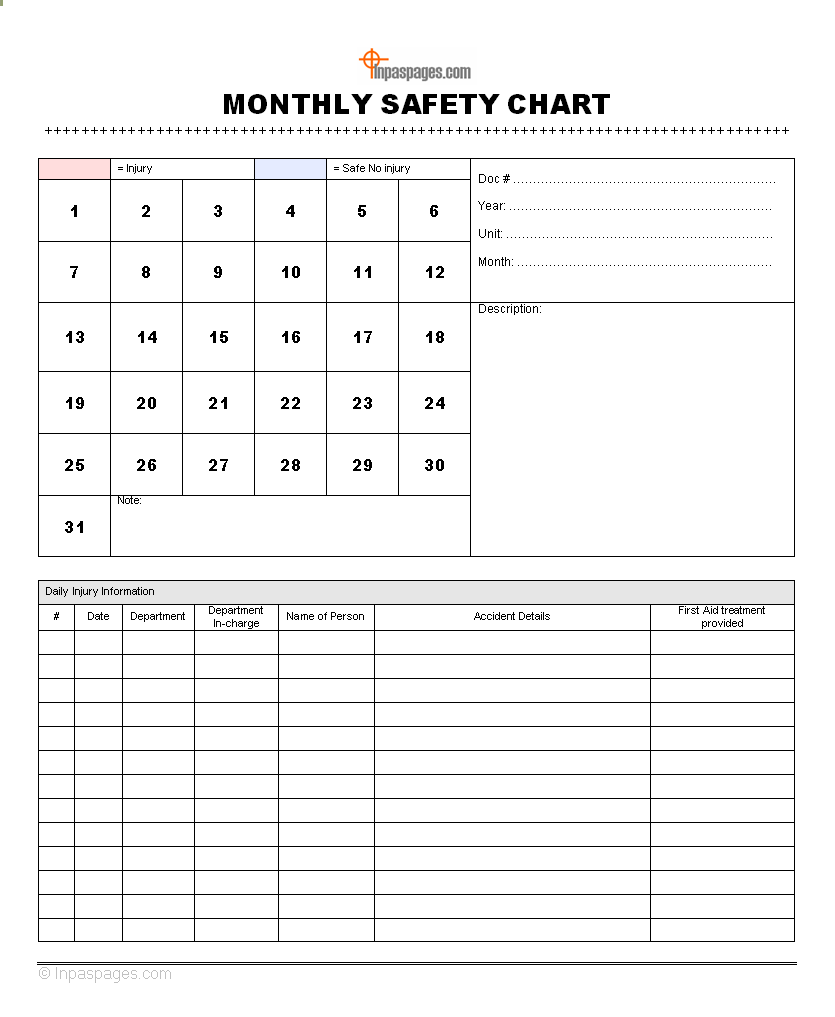 What Inputs of safety chart?
Department wise accident / incident register
Basic inputs of the safety chart is department wise accident and incident register. Generally, every department manage daily records of every incident or accident occures during working hours. Department supervisor collecting information of event and enter details in register.
First aide box register
First aid box register is also source of input for safety chart. In some cases, admin and general area are not in covered by department wise register. So, safety officer verify first aid box register where remain details can collects.
What Outputs of safety chart?
Identification of maximum location, processes, areas, machinery and equipment where injury recorded.
Identification of type of processes and materials handling, moving and used during the working hours.
Effective monitoring and determine actions plan to eliminate possibility of risk and incident at identified processes, location or machinery.
Minimize risk levels, elimination of possibility by deployment of controls
Provide safe environment to all employee working in organization.
Conclusion
The safety office is responsible for all processes related to safety requirements in workplaces. The documentation of the safety, safety guidelines and procedures, training to employee for safety during handling materials, producing materials and storage. The safety officer is also responsible for provides safety equipment, and train to peoples for used at various processes. The documents & records are managed of the monthly safety as per standard documentation system.
Document: Download Monthly safety chart : Excel sheet