Reflow oven – equipment maintenance planning
Reflow oven equipment maintenance planning is established for conducting regular equipment maintenance schedule for improvement of productivity of reflow oven.
Reflow oven equipment maintenance planning is established, maintained and update periodically for improvement of he maintenance planning and scheduling of individual equipment maintenance to enhancement of equipment productivity and self life. The system of the equipment maintenance plan is part of the maintenance that all the scheduling, maintenance process is conducted as per system of maintenance which adopted as maintenance standards by management, reflow oven equipment maintenance scheduling and planning is manage as per maintenance planning, but there are some requirements for the equipment individual features and functions are conducted and immediate actions are taken that manufacturing processes and supporting processes are not being hurt.
Reflow oven maintenance plan is part of the maintenance and each activities are conducted of inspection, auditing and further actions are taken by maintenance department, the part of the preventive maintenance task is Symantec conducted with on with planning and schedule, which are accordingly maintenance general manual instructions & procedures. The procedure is conducted as separately and each activities, documentations and inspection are managed by maintenance manager for carry out inspection of reflow oven, the documentation preparation is conduced accordingly frequency of the reflow oven, calibration status where calibration due date and its each records are verified on maintenance planning to easier for inspection team for arrangement of the processes for equipment maintenance planning.
The process for the preparation, establishment of procedures and documentations and planning and schedules are prepared by maintenance head, but general checking and verification are conducted by supervisors, supervisor performs / verification checking general requirements of the reflows oven, where cleaning, lubrications and adjustment as needs based on manufacturing requirements, usage and machinery/ equipment needs, manufacturing capability are considered and managed accordingly. The part of the preventive actions for the reflow, supervisor are conducting maintenance / audit and checking and verification as per frequency defined by management to assure maintenance is adequate, in the process which is conducted by supervisor as the part of auditing and inspection process where supervisor are physical verification are conducted hence there are not calibration requirements or calibration concern documentation and process are verified, all machine requirements and depended temperature setup are controlled as per machine profile setup at each manufacturing setup hence the reflow is needs to adequate and frequently provides support to processes. The inspection process for the reflow oven having requirements of documentation that management get the records for determine actions for improvement of reflow oven and identify requirements of resources needs, the documentation used during inspection processes according to planning, see picture below given as example for reflow oven maintenance plan, is part of equipment maintenance plan, the document given for education purpose: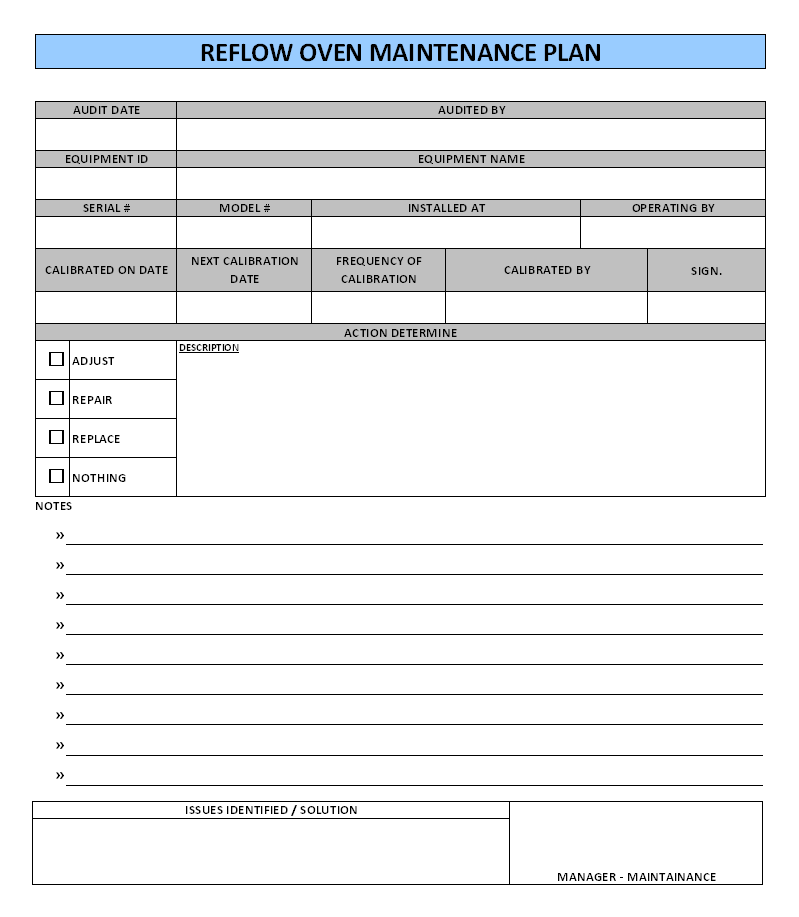 Reflow oven maintenance plan is document is conducted for the inspection / audit processes to verification of the equipment regular task, functions and usages and general condition to determine further actions for the processes requirements, The documentation is maintained according to standard management system.
—————————————————————————–
Download format in word document | Excel Sheet | PDF format
—————————————————————————–
Related: